Ben Carson Won't Suspend Campaign Unless God Tells Him To, Wife Says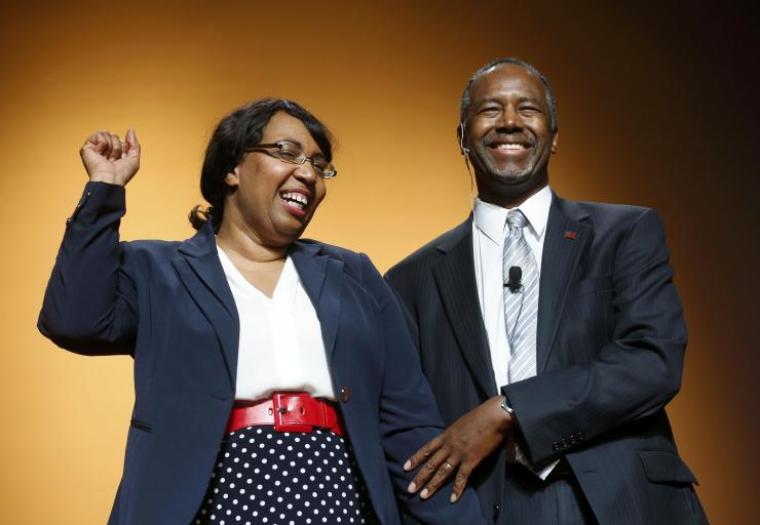 As Super Tuesday has come and gone and Ben Carson still has yet to gain any momentum in the Republican race, the retired neurosurgeon plans to continue his presidential bid until God tells him that it is time to quit, Carson's wife has said.
While speaking to students at Lee University in Tennessee on Monday, the day before Super Tuesday, Lacena "Candy" Carson explained that her husband was led by God to run for president.
Although Carson has yet to win a state Republican primary and most likely has no shot at winning any primary election, Carson asserted that her husband will stay in the race until God tells him to do otherwise.
According to the Chattanooga Times Free Press, Carson said that God called her husband to be a voice on issues like national security and the United State's enormous $19 trillion debt. Carson has also used his campaign platform to speak out about the rise of political correctness and the increasing divisiveness in the U.S. political system.
"He had a conversation with God," Carson said of her husband.
She added that her husband told God, "If you open the doors, I'll walk through."
As Carson's campaign has not had anywhere near the success that he and his supporters envisioned, Mrs. Carson blames the mainstream media for highlighting insults and the war of words between candidates instead of substance on the important issues facing America.
She called the media "stupid" and claimed that the media hype up candidates that the media can manipulate and control.
As it stands as of Wednesday morning, Carson is in fifth place overall in the Republican presidential nomination delegate count with a total of eight. Frontrunner Donald Trump has earned over 316 delegates, while Texas Sen. Ted Cruz has received 226 delegates and Florida Sen. Marco Rubio has earned 106.
"We're hoping the people will wake up and realize that the shiniest ring in the room is not the best one for the job," Carson told the Lee University students.
On Wednesday morning, one of Dr. Carson's key advisers, Armstrong Williams, told Politico that Carson has "been offered many deals" to leave the race.
However, Williams assured that Carson has no immediate plans of suspending his campaign even though there is not a clear "pathway" to the nomination.
"It's not about a pathway to him. There is no pathway," Carson's longtime friend and business manager said. "It's about his constituency and his base telling him to stay in the race."
"No one has a pathway to the nomination except Donald Trump," Williams continued. "They're all in the same boat."
Williams added that Carson is in the process of weighing a decision about whether to end his campaign but stated that Carson still wants to "wants to stay in front of voters."
"It could be next week, it could be today," Williams stated. "It is his decision."
Carson plans to be in Thursday night's Republican presidential debate in Michigan, according to Williams.
"Everybody else is telling him to get out," Williams said. "He tried to be the good guy. He did not go to make this into a circus."
GOP operatives told CNN on Wednesday that they will encourage Carson to end his presidential campaign so that he can run for Florida's Senate seat. The seat now belongs to Rubio, who will not seek re-election to the Senate.