Ben Sasse Blasts Robert Jeffress for Interviewing Sean Hannity During Sunday Service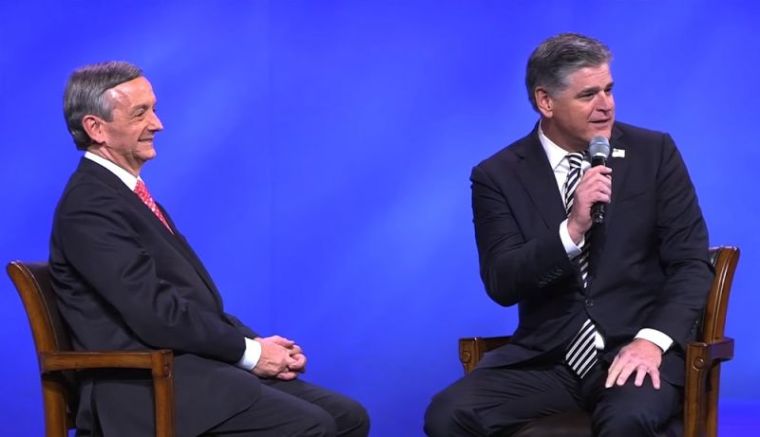 Megachurch pastor and Donald Trump's spiritual advisor Robert Jeffress has fired back at Republican Sen. Ben Sasse of Nebraska after he seemingly accused the pastor of politicizing Sunday worship by inviting conservative, pro-Trump Fox News host Sean Hannity to speak at First Baptist Dallas this Sunday.
Sasse posted his disapproval of Hannity being invited to speak at the 12,000-member megachurch during service this Sunday in a series of tweets on Saturday. In the first tweet, the senator asked: "Christians: Are we really this ignorant of the Scriptures?" He cited John 18:36: "Jesus answered, 'My Kingdom is not of this world.'"
In another tweet, the 45-year-old Sasse added: "By the way, we're talking about Sunday here... (You can be free from politics.)"
Sasse also retweeted a tweet from Michael Wear, who headed the faith outreach of President Barack Obama's 2012 campaign, which referred to the Hannity invite, "Politics as Religion, Religion as Politics."
"[T]ruly sad," Sasse wrote in response.
Both Jeffress and Hannity did not take too kindly to Sasse's tweets.
"Jesus also said His followers are to influence the world for good (Matt. 5:13-16)," Jeffress wrote in a tweet directed at Sasse on Sunday afternoon following the service.
"Time for you & do-nothing Senate to pass HB outlawing abortion after 20 weeks instead of spending your time criticizing @POTUS. Pathetic!" Jeffress argued in another tweet.
Hannity followed up with a tweet of his own.
"Mr Do Nothing Senator @BenSasse I was talking about my Faith and belief in Jesus Christ," Hannity wrote. "Worry about doing the job u were hired to do."
A video of Jeffress' on-stage interview with Hannity shows that Hannity's time in the spotlight during the Sunday service lasted less than 15 minutes.
Jeffress told The Christian Post that his interview with Hannity was just a small portion of the service and did not take away from worship.
"[The interview] was part of a bigger day," Jeffress told CP on Sunday.
During the interview, Hannity discussed the reason why he decided to leave Catholicism and stated that he identifies as a born-again believer. He also discussed his new Christian-themed movie, "Let There Be Light."
"We often have special guests who are Christians in the news," Jeffress explained. "We had Ainsley Earhardt from 'Fox and Friends' a couple of weeks ago and I did the same thing with her. I've interviewed Todd Starnes, Lauren Green and other Christians in the media. So, this is something we do on a regular basis."
Jeffress told CP that he lambasted the "do-nothing Senate Republicans" in his Sunday message to the congregation for inaction on legislation that was passed by the House of Representatives earlier this month and would ban abortions after 20 weeks of gestation.
"I sent a reply to [Sasse's] comment when he quoted Jesus as saying, 'My kingdom is not of this world.' Jesus also said in Matthew 5, which I preached from today, Jesus left us in this world to influence the world for good," Jeffress continued.
"If Senator Sasse doesn't believe that Christians are supposed to influence this world for good, and I am assuming he is a Christian, he ought to resign his Senate seat and give it to somebody who will try to influence the world," Jeffress asserted.
The Christian Post reached out to Sasse's office and will update this piece if a response is received.
Conservative writer and author Rod Dreher also criticized the Hannity interview in an op-ed posted to The American Conservative and accused Hannity of taking a theological misstep during the interview with Jeffress.
"So, Hannity is his own pope. If he were a properly formed born-again Evangelical, then he would say that Scripture alone is the ultimate authority to which he bows down. But he didn't say that," Dreher wrote. "He said that it was his conscience, and that conscience is the arbiter of whether what we do is right or wrong. The implication here is that if he feels guilty about something, it must be a sin. If not, not.
"The pastor of one of the biggest Southern Baptist churches in the country did not contradict Hannity," Dreher argued. "The congregation, which earlier applauded Hannity when he said, 'I hate liberals,' gave the Fox News superstar a standing ovation at the end."
The Christian satire site Babylon Bee also poked fun at the Hannity appearance at First Baptist Dallas by posting a satirical article titled, "Sean Hannity Leads First Baptist Dallas In Sincere Prayer To Donald Trump."