Benny Hinn Remarries in Front of 1,000 People
Televangelist Benny Hinn and his wife Suzanne remarried on Sunday at the Holyland Experience in Orlando, Fla. in front of a thousand people.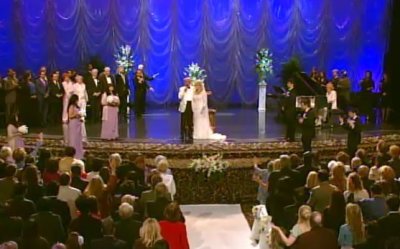 "Thank you for praying for Suzanne and me! It is because of your prayers, intercession and love, that we are where we are today," Pastor Hinn said on his Facebook page, thanking well-wishers.
The Examiner reported that the ceremony was open to the congregation and spectators, drawing close to a thousand people who showed up to give their well-wishes to the formerly divorced couple.
"The audience was inspired and comforted at the fact that God has brought these two back together again more powerful than ever," The Examiner reported.
The long-awaited remarriage was officiated by Pastor Jack Hayford and renowned evangelist Reinhard Bonnke, who is a German charismatic preacher known for his ministry outreach in Africa.
The couple had been separated since 2010, with the prosperity gospel preacher revealing that several problems had split them apart – including Suzanne's struggles with drug dependency and Benny Hinn's hectic schedule that pulled him away from his family for extended periods of time.
In a blog post on his website, the pastor revealed that the reconciliation process began on Christmas 2011, during a family holiday get-together in Florida, where he and Suzanne were surrounded by their children and grandchildren.
"It was a beautiful day I will never forget, and that is when the Lord began to do His mighty work in our hearts-individually and together," Hinn explained.
"Since that time, as Sue and I have submitted to godly counsel and oversight to ensure our past mistakes will not be repeated, God has worked so mightily in our midst. The love we shared as a young couple has been restored beyond anything we could have imagined."
Benny Hinn Ministries, located in Grapevine, Texas, has been scrutinized for their faith-healing promise and prophecy telling claims. Hinn was also the subject of a 2007 Senate investigation of the financial dealings of several high-profile prosperity preachers, and is considered a controversial figure by many.
The Hinns had been married for 30 years before their split in 2010, and have three daughters and a son, Joshua. The 21-year-old year old son was recently questioned by law enforcement officials during an evangelical trip in Brazil for allegedly beating up a deaf and mute man, but at the end was allowed to return to the U.S. with no charges filed.
Benny Hinn - Why It's Important to Pray