Benny Hinn Requests Prayer for Father-in-law in 'Critical Care'
Dr. Roy Harthern, Former Pastor of Calvary Assembly of God Church in Orlando, Battles Cancer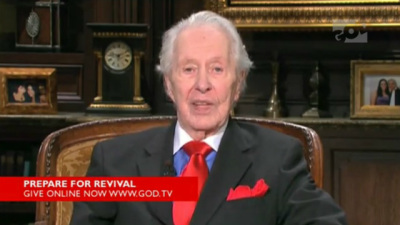 Evangelist Benny Hinn has put out a prayer request for his wife Suzanne Hinn's father, Dr. Roy Harthern, who reportedly has been battling throat cancer since earlier this year. Harthern was "in critical care," according to the notice. His brother, Dr. Paul Harthern, told The Christian Post Monday that the Christian minister has received treatment and was recuperating.
Benny Hinn Ministries said in a statement on Monday:
Suzanne and I are asking our partners and ministry friends to join together in agreement for her precious father, Dr. Roy Harthern. He has been battling serious health issues for some time and is now in critical care. Specifically, please pray that he will be healed and whole, according to James 5:15: "And the prayer of faith shall save the sick, and the Lord shall raise him up."

Suzanne and I are so happy together, and our restored marriage is living proof of the power of prayer. With all of our prayer partners joining together, we know that God can do impossible things. We are confident that your faithful prayers on her father's behalf will be answered!
Dr. Harthern, who started his Christian ministry in England, is credited with developing Calvary Assembly of God Church in Orlando, Fla., during his 11-year tenure to become one of the nation's fastest-growing congregations. He reportedly left the Orlando megachurch in 1981 after admitting to a sexual affair with a woman he was counseling, and later became pastor of Grace Covenant Church, also in Orlando.
Earlier this year, after learning that he would be battling cancer a second time, Dr. Harthern, 85, called on supporters to join him in "prayer and spiritual warfare."
"I won one battle over cancer in 2004 and I plan to win this battle also," Harthern reportedly wrote in March. "I have been called by God into the ministry and I need a strong, healthy voice to preach and teach the Word of God."
His brother, Paul Harthern, pastor of Grace Covenant Church in Carrollton, Ga., told CP that the elder Harthern and his wife currently serve through Roy Harthen Ministries. He also reminded CP of his brother's miraculous recovery from stomach cancer nearly a decade ago, although he underwent chemotherapy at the time as a precaution.
The Georgia pastor asked for the Christian community to "continue to stand with us in prayer for a full recovery."
Roy Harthern, who has two other daughters in addition to Suzanne Hinn, was one of three ministers who officiated her remarriage ceremony to Benny Hinn in March. The Christian minister called their reunion "the miracle of restoration."