Beth Moore: Christians Proud to Criticize Prosperity Gospel Have Subscribed to 'Pampered Gospel'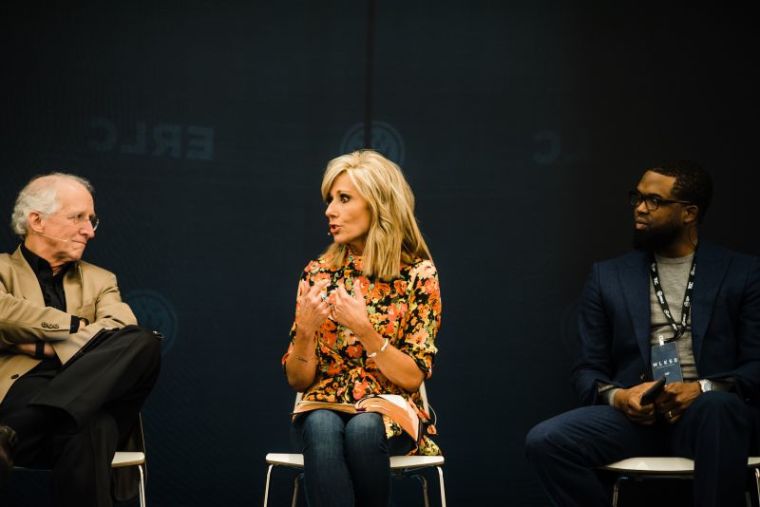 While many evangelicals in America today are proud that they don't subscribe to a "prosperity gospel," Christian evangelist Beth Moore argued Wednesday night that many are guilty to subscribing to a "pampered gospel."
Moore, the founder of Living Proof Ministries in Houston, Texas, participated in a panel discussion on "Evangelicals and the Future of Racial Unity" at the MLK50 Conference co-hosted by the Southern Baptist Convention's Ethics & Religious Liberty Commission and The Gospel Coalition in Memphis, Tennessee, on the 50th anniversary of Martin Luther King Jr.'s assassination.
As Moore has become increasingly vocal on social media in speaking out against injustices like misogyny and racism and has called for a reform within evangelicalism, she was specifically asked about her boldness on social media and how she responds to criticisms from conservative believers.
"What I saw begin to happen 18-or-so months ago was that there was such an outcry of 'shut up' to every dissenting voice and that is terrifying," the 60-year-old Bible teacher said.
"If we watch everybody shut up when they are told to, what does that say?" Moore asked. "We have got to speak out. It is part of the Gospel message. It was very much a decision to keep talking. It wasn't because I thought I had something important to say. It is because we have the right to speak. We have the right to disagree. We have the right to come in with a different outlook."
Moore explained that she struggles with that fact that some people come up to her and call her "brave" for speaking out publicly about things that some conservative Christians might find politically inconvenient.
"It is not brave," she said. "This is Gospel."
"What I think has happened here is that in our discipleship, we are not teaching what is normative in the believing life," she added. "When we carry our cross and we follow Jesus, we are walking into a storm. We were told that in Luke 10, Matthew 10 we will be 'sheep among wolves,' not wolves among sheep."
Moore said that biblical idea of being "sheep among wolves" means that Christians following and speaking the truths of the Gospel should be ready to be "persecuted," "criticized," "imprisoned" and even killed. She suggests that many believers in the United States don't understand that.
"We have been very proud of the fact that we have not subscribed to a prosperity gospel. But what we have subscribed to is a pampered gospel where we are so afraid of suffering and we are so afraid someone is going to criticize us and hurt our feelings," Moore asserted. "This is the Gospel work of Jesus Christ and we are going with Him. Whatever it takes, no matter how unpopular it is. He was hated. We have to have thicker skin than that."
As there has been increased racial tensions in the U.S. in the last few years, panelists were asked how Christians should be the "type of people that are champions for healing in the midst of this racial tension."
Moore weighed in by asserting that a "role reversal" is required in which white evangelicals and white evangelical leaders "have to become intentional students."
"I think one of the strong suits of the streams that we represent up here today and this week is that so much teaching has come from this stream of Christianity. It is a beautiful thing, but we are very accustomed to that," Moore said. "We are very accustomed to being the ones that have the seminaries and the commentaries and all the things that we learn from."
"But in the situation we are in right now, what it's going to demand is that there is also a reversal of roles, that we become listeners and students and that we learn from these voices, that we intentionally lean in," she continued.
Moore said that she has done this in her own life by being intentional about listening to other people of color that she doesn't like and agree with.
"One of the things that I hear leaders of color telling us is that we don't just want to come to you on your terms," Moore said. "When you say, 'We want unity and we want to all be together, now come over here and come be unified with us in what we do in all the ways we do it.' We can't do it that way. It's not going to work."
Moore announced that she plans to travel to Atlanta next Monday for the March for Humanity in commemoration of King's legacy.
"I need to go where I don't have any privilege, I don't have any protection," she said. "I am just going to be out there in a mass of people because I got to reverse roles and be able to go in and learn in that environment and see what that is like and learn it from that perspective."
"We can't see how codependent we are if we cannot let our relationship change and let somebody else take the lead and us follow and listen," Moore added.