Bethlehem: Priest Attacked at Church Gate by 2 Men Harassing Worshipers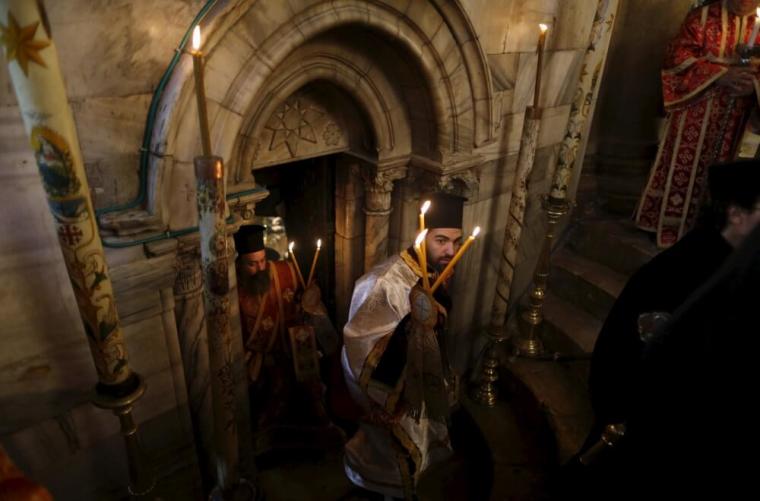 A Franciscan priest was attacked by a young man at a chapel in Bethlehem in the West Bank after the clergy tried to stop the man and his associate from harassing Christian pilgrims visiting the birthplace of Jesus.
Father Fadi Shalufa, who administers the Catholic Chapel of the Milk Grotto, which is adjacent to the Basilica of the Nativity, escaped with a minor injury, according to The Jerusalem Post.
Palestinian police have reportedly arrested the attackers but their identity has not been disclosed. The attack took place on Friday.
A video posted online by alarab.com shows Fr. Shalufa letting pilgrims in as they were being harassed by two men, one wearing a red shirt and the other in white. The priest closes the gate as the two seek to enter. The priest then exchanges words with the men, and suddenly one of the men reaches into his pocket and pulls out a blunt object and tries to hit him through the gate.
"We thank God that the injury was minor, but this action is a criminal act that is far from our human, moral and national values," Palestinian Archbishop Atallah Hanna of the Greek Orthodox Patriarchate in Jerusalem said in a statement. "We reject attacks against clerics."
A church source was quoted as saying that assaults on clergy rarely occur in the area and that this incident had crossed a red line.
Shalufa had notes in an interview last month that both Muslims and Christians come to the Milk Grotto chapel "and show their great love for the Virgin Mary."
The Franciscan Custody of the Holy Land said, "The safety of pilgrims, both local and foreigners, Christians or Muslims, is as sacred as the sanctity of the places they visit."
The chapel was erected in 1872 on the site of a former Byzantine church from around the 5th century, of which only part of the mosaic floor remains. Its name is derived from the story that "a drop of milk of the Virgin Mary" fell on the floor of the cave and changed its colour to white, according to Lonely Planet.
International Christian Concern's Regional Manager Claire Evans said in a statement that the attack on the priest and the harassment of Christians attending his church "is deeply worrying."
"While we are grateful that no one was seriously injured during this incident, the reality is that Middle Eastern Christians constantly live in fear of such attacks," Evans said. "Sadly, the escalation of intimidation, harassment, and violence towards Christians is an all too common occurrence during Ramadan."