Beyonce's Mother Tina Knowles Reveals How Strong Values Cost Destiny's Child Their First Record Deal (VIDEO)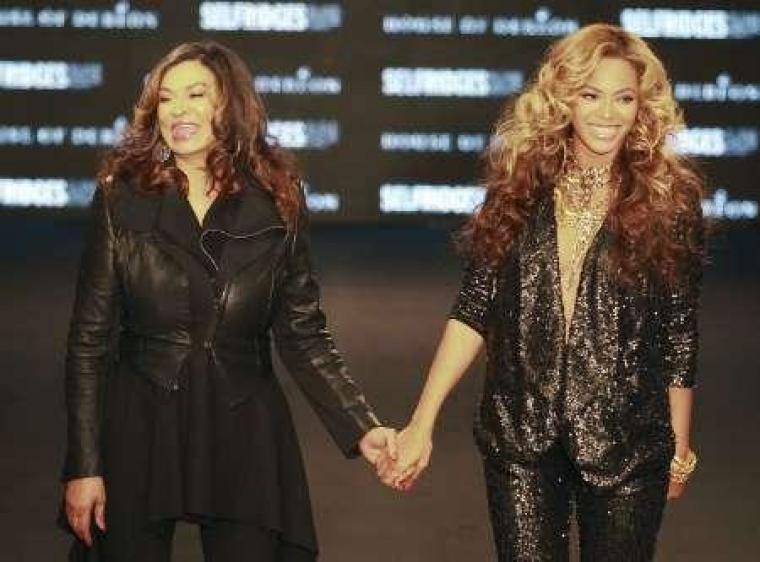 Tina Knowles recently opened up about how staying true to her strong values cost Destiny's Child their first ever record deal.
During the 1990s the 60-year-old Entrepreneur helped her oldest daughter Beyonce launch the Grammy award-winning group Destiny's Child, however, she admitted to once costing the group its first record deal. Later, God would provide them with an even "bigger" opportunity and Tina credits much of her own success to keeping her faith first.
"The first deal that they [Destiny's Child] had, I was the first person to open my big mouth to the people that signed them … Because they were actually exposing the girls to things that I just didn't feel were appropriate for them to be so young," Tina said in a keynote address at the Texas Women's Empowerment Foundation's eighth annual Women & Money luncheon in Houston last week.
"Well he ended up telling me to get out of his office, take the kids home and don't bring them back," she shared. "So I'm devastated because I have to go and tell these kids I messed up their deal. So I end up doing that and God just showed up because in three months, they got a way bigger, better deal."
The Galveston, TX, native, who is also the mother of singer Solange Knowles, went to Catholic school where she learned how to be a "warrior" at a very young age. It was through her struggles at the school, which she jokingly likened to "prison," that she was able to find her inner strength that would later help her find the courage to chase her dreams.
"The nuns picked on us a lot, my family. I didn't understand at the time but my mom did the altar cloths. She did the altar boys' uniforms. She worked for the nuns. My dad chauffeured the nuns around. My brothers cleaned the school yard," she said. "And I often wondered why we were indentured servants to the church. And the nuns were very hard on me. They would always say, 'You really don't belong here. If you only knew, you'd be very grateful to be here. You've got a rebellious spirit. We need to take down that spirit and control it.'"
Much of Tina's heartfelt speech focused on "turning the things that are adversities and hardships into something positive." She shared how "God's timing" has worked in her favor consistently throughout her life.
In junior high, the divorced mother of two learned how to make clothes for a singing group she had joined, which would later provide her with the skills she needed as the lead costume designer for Destiny's Child.
She also once worked as a makeup artist, hairstylist and a model, among other roles and she believes having had various jobs was the product of fate and God preparing her for her future.
"All of these were tools that came back to me that I didn't know I was getting at the time and that's how God works," she said. "Sometimes you don't understand it but He is giving you things that you can take out of the toolbox and use."
In 2009 Tina divorced her husband of 33-years Matthew Knowles. She was left feeling broken and admittedly suffered low self esteem.
"One day my world just exploded and I knew that I had to get a divorce and at 58-years-old that's a very difficult thing," she said. "It does something to your whole psyche and your self esteem because I had been married for 33-years I haven't known anything else. It was a very hard time."
She has since found love again with Richard Lawson, her boyfriend of over one year. She shared her hopes for her story to inspire and uplift those going through difficult times.
"It's just been a great journey. I just have to say that, most of the times in my life that things have been the toughest and the worst and I thought I would die and not get through them, they turned out to be the best times," she said. "If you are going through it, just know it's called 'going through it,' you're not going to get stuck there, you are not going to die, you are going to survive. My daughter wrote a song called 'Survivor' some years ago and it's my favorite song by them because it says, 'When the times get bad, I'm going to work harder. I'm going to keep pushing and I'm going to keep positive and I'm going to make it happen because I'm a survivor.' That's been the story of my life."