Billy Graham Explains the Deity of Jesus Christ and Why He's More Than a 'Holy Man' in 'My Answer' Q&A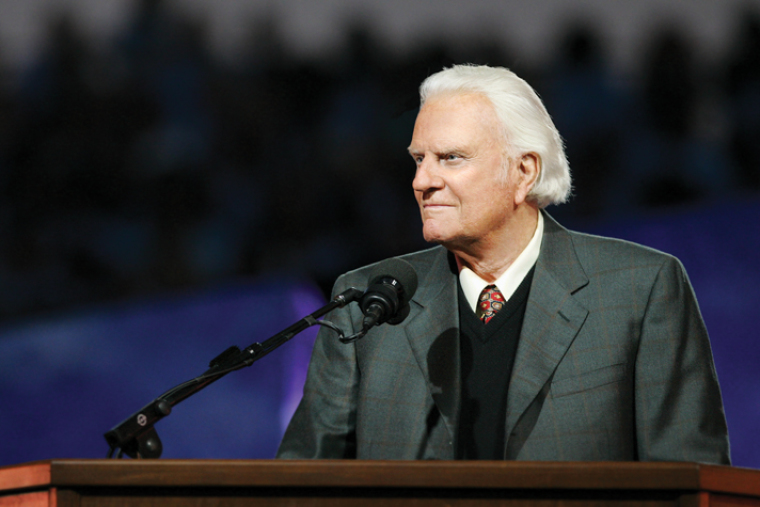 At 96, world renowned evangelist Billy Graham continues to share the Gospel by answering people's questions about Jesus Christ through his evangelistic association's "My Answer" initiative.
A person who goes by the name L.D. wrote to the Billy Graham Evangelic Association to ask the evangelist about the deity of Jesus Christ and what sets Him apart from say Buddha or Muhammad.
The reader asked: "I know Christians believe Jesus was divine, but what exactly do you mean by that? Most of the religions I've studied have their holy men and women, but what makes Jesus any different from them? — L.D."
In his reply published in the Kansas City Star last week, Graham explained: "The difference is that Jesus was not only a godly man, but the Bible says he was actually God in human flesh. This is a profound truth, and it sets Jesus apart from every other religious leader who has ever lived," said Graham.
"On one hand, the Bible makes it clear that Jesus was fully human. He was born a baby, grew up as a child and worked much of his adult life as a carpenter," added Graham. "But the Bible also tells us that Jesus was fully God."
He goes on to describe it as a profound mystery and stressed the importance of Jesus being fully man and fully God, saying "only a divine savior could save us from our sins."
Even at 96, Billy Graham's focus on the Gospel remains razor sharp, according to his daughter, Anne Graham Lotz.
"[He] never lost his focus; it was never about him. My father's a very humble man and I think that comes from his walk with God. If you walk with God, you're not very impressed with yourself. It's when people drift from God and they start reading the press or start seeing what other people say about them, they become either puffed up or the become you know, whatever," said Lotz to Premier Christian Radio in December of last year.
Graham turned 96 last November and his son, Franklin Graham, issued a statement at the time to update his followers on his father's health.
"Although his physical condition keeps him homebound, he remains interested in current events and the ongoing work of the ministry that he began more than 60 years ago," wrote The Billy Graham Evangelistic Association to the public last year.
Graham has been struggling with eyesight and his hearing; however, he still enjoys taking part in daily devotions and prayer with his staff.
Last year, the Billy Graham Association released a film titled "Heaven" which featured a never-before-seen message from Billy Graham.
The project was filmed in 2013 and it shows Billy Graham discussing his imminent death.
"I know I'm going to Heaven. I'm looking forward to it with great anticipation," said Graham in the film before explaining how others can also share in that belief by asking Jesus Christ to be their Lord and Savior.