Billy Graham Makes Gallup's Top 10 'Most Admired Man' List for 59th Year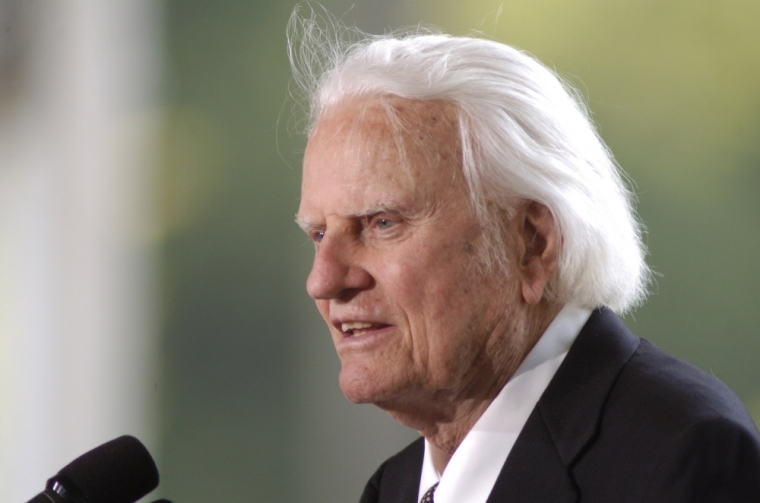 The Rev. Billy Graham rounds out Gallup's top 10 list for "Most Admired Man" in the United States in 2015, placing him on the annual list a record 59 times.
Graham has made the top 10 list more than any other person known worldwide, with the U.K.'s Queen Elizabeth coming in second by making the "Most Admired Women" list a total of 47 times.
The Southern Baptist minister has been honored every year since 1955, with the exception of 1962 and 1976, when Gallup did not ask the question. Last year, he was ranked No. 4 on the list.
President Barack Obama topped Gallup's list this year, followed by Pope Francis. Others on the list include former Presidents Bill Clinton and George W. Bush, as well as presidential Republican candidates Donald Trump and Dr. Ben Carson.
Speaking about the poll released on Monday, Graham's eldest son, Franklin, asserted in a Facebook post that his father's response would be: "'It's not about me — it's all about the Lord Jesus Christ.'"
"I remember years ago when he stood up to speak to a massive crowd of itinerant evangelists from around the world we had brought together for a conference — and they wouldn't stop applauding. He (Billy Graham) motioned for them to stop, but they wouldn't. He just kept quietly saying, 'He must increase, but I must decrease' (John 3:30). A good reminder to us all about what the focus of our lives should be," Franklin said.
The world renowned evengelist celebrated his 97th birthday in November and Franklin posted a message about his father, saying, "He came to faith in Christ just a week before his 16th birthday and went home and told his mother what he had done. He knew for sure that his heart had changed."
Graham went on to become one of the greatest evangelists of his time, preaching to millions worldwide.
In 2013, the North Carolina native prepared one last sermon titled, "My Hope America," which was released on his 95th birthday on DVD and played worldwide. In September, the evangelist released his last book, Where I Am: Heaven, Eternity, and Our Life Beyond, which he had been working on since before the release of My Hope America.
The Billy Graham Evangelistic Association announced in the 1990s that Graham had been diagnosed with Parkinson's disease. Last month, Franklin spoke about his father's health, adding: "Even though he's not able to preach anymore, his mind is still clear. ... His desire is still there to tell the world about God's love for them and how God sent His Son, Jesus Christ from Heaven to Earth to take the sins of all mankind to the cross, die, and arise on the third day. My father's desire is that all men and women everywhere would come to know Jesus Christ as their personal Savior and trust Him and follow Him as their Lord."