Billy Graham Turns 95: Milestones in Influential Evangelist's Ministry and Preaching Career (PHOTOS, VIDEOS)
Graham Marks Birthday With 'The Cross' National Telecast, Gathering at Ashevile, NC, Home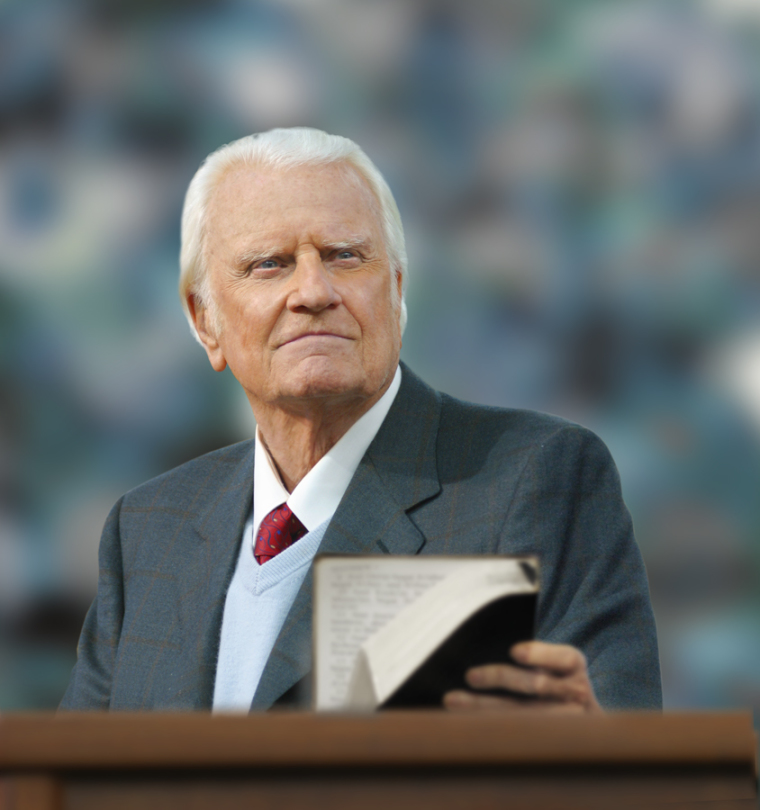 The Rev. Billy Graham, born Nov. 7, 1918, celebrates his 95th birthday Thursday, and is marking the special day with a nationally televised program called "The Cross" and a gathering of about 800 people, including singer Michael W. Smith and businessman Donald Trump, at his Asheville, N.C., home.
Graham has said that his Gospel message airing Nov. 7 on Fox News, TBN, God TV and several other cable networks, may very well be his last one to the American public.
"I've recently prepared what may well be my last message to our nation. I have prayed a great deal about this," Graham has shared.
"With all my heart, I want to remind Americans of God's amazing love and, as simply and clearly as I can, call people to 'a repentance that leads to salvation' (2 Corinthians 7:10, ESV)," he has added.
The renowned evangelist, whose career was marked by stadium preaching, has been encouraging Christians, with the guidance of local pastors, to invite their non-Christian family, friends, neighbors and co-workers into their homes to watch the "My Hope America" evangelism programs. The campaign is similar to the "My Hope World Evangelism Through Television" (or simply "My Hope") global campaign that was launched over a decade ago by the Billy Graham Evangelistic Association (BGEA) and has resulted in millions of conversions to Christianity in countries around the world.
The "My Hope America" campaign culminates this month with Graham's "The Cross" message, which will also be telecast in Canada and on Spanish-language television. The program was also available for limited online viewing as well as on DVD. While the "The Cross" premieres on television beginning Thursday, Nov. 7, the program, which features strong testimonies from recording artists LeCrae Moore and Lacey Sturm, will re-air through Nov. 11, 2013.
Learn more about "My Hope With Billy Graham" online at http://myhopewithbillygraham.org, and how to tune in beginning Nov. 7 for "The Cross" telecast: http://watchbillygraham.com.
Graham's Ministry Milestones
Graham, who lost his wife Ruth Bell Graham in June 2007 and with whom he fathered five children, retreated to his North Carolina mountain home in 2005 after nearly 60 years of preaching. He has authored nearly three dozen books, his latest being The Reason for My Hope: Salvation (Oct. 2013).
Below is a brief overview of the Christian evangelist and preacher's life and ministry career. Graham…
Was born William "Billy" F. Graham in Charlotte, N.C., to William Franklin and Morrow Coffey Graham, who died 1962 and 1981, respectively.
Made a decision for Christ in 1934 as a teen through the ministry of traveling evangelist Mordecai Ham
Was ordained to ministry by a Southern Baptist Convention church in 1939
Graduated from Florida Bible Institute (Trinity College) in 1940 and earned his B.A. degree from Wheaton College in 1943
Married fellow Wheaton student Ruth McCue Bell in 1943, who was born to missionary parents in China
Fathered with Ruth Graham: Virginia, Anne Morrow, Ruth Bell, William Franklin, III, Nelson Edman; and has 20 grandchildren and numerous great-grandchildren
Served as pastor of First Baptist Church in Western Springs, Ill. from 1943-1945
Founded the Billy Graham Evangelistic Association (BGEA) in Minneapolis, Minn., and began airing his "Hour of Decision" weekly radio program in 1950
Has published about three dozen works since 1947, with his first published book titled Calling Youth to Christ
Has received numerous awards and honors, with his first being bestowed in 1948 when he was counted among Gallup Poll's "Ten Most Admired Men in the World," which Graham since has been featured on nearly 60 times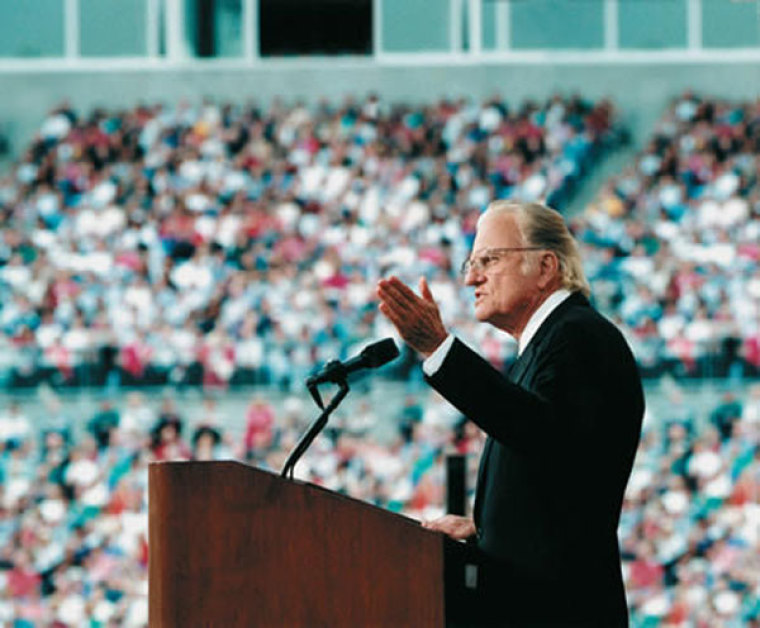 About 215 million people in over 185 countries have heard the Rev. Billy Graham preach the message of salvation in Jesus Christ, a feat accomplished by no other minister. The BGEA reports that "millions more have been reached through television, video, film, and webcasts."
Although his first crusade was held in 1947, Graham's worldwide preaching career began in 1949 when he was invited to speak at the Los Angeles Crusade, which was initially scheduled for three weeks but eventually extended for an additional five due to the huge crowds who came to hear the young evangelist preach. Graham's crusades were marked by a Gospel message and an invitation for hearers to respond to the message by making a decision for Christ.
In addition to preaching to millions of everyday people, Graham's counsel and presence has been sought by U.S. presidents, celebrities and many state dignitaries, including kings and queens.
Perhaps one of his most notable relationships was the one Graham developed in the '50s and '60s with the Rev. Dr. Martin Luther King, Jr., whom the evangelist called a "social leader and a prophet" after his assassination.
While Graham himself seemed to waver on issues like segregation, and sometimes clashed with King on this pivotal aspect of the Civil Rights Movement, he declared during a Jackson, Miss., crusade: "There is no scriptural basis for segregation. It may be there are places where such is desirable to both races, but certainly not in the church." He later added, "The ground at the foot of the cross is level, and it touches my heart when I see whites standing shoulder to shoulder with blacks at the cross."
While admired by a great many people, Graham has not been without detractors, with his approach to evangelism having been described as "simplistic" and even "harmful" by other Christian leaders. Fresh criticism came during the 2012 presidential elections, when Graham was questioned by some conservative Christians for supporting Republican candidate Mitt Romney, who belongs to the Mormon Church, whose doctrines and beliefs had previously been compared to that of a cult on the BGEA website.
Christians from around the world continue to admire the Rev. Graham, who has suffered from prostate cancer and Parkinson's Disease, and he continues to be an inspiration to ministers today.
Rick Warren, founding pastor of Saddleback Church in Lake Forest, Calif., shared such sentiment with The Christian Post on the eve of Graham's 95th birthday and "The Cross" telecast.
"One of the things that a lot of people don't know about Billy Graham is that he was also an encourager to pastors," Warren told CP. "One time in Amsterdam he brought in 12,000 evangelists from all around the world. I had written a book on Bible study methods and Billy had bought a book for every one of those evangelists and had me come in and teach it."
"He was first and foremost an encourager," Warren added.
Watch a playlist from the BGEA of excerpts from the Rev. Billy Graham's crusade messages at YouTube or below (click the "playlist" icon on to top left to access the various preaching clips).