Bishop T.D. Jakes Promises Believers a Life-Changing Experience at MegaFest 2015 (Video)
Joyce Meyer, Christine Caine and Tyler Perry's Madea Among Speaker Lineup
Bishop T.D. Jakes Promises Believers a Life-Changing Experience at MegaFest 2015 (Video)
Megachurch pastor Bishop T.D. Jakes of The Potter's House in Dallas, Texas, says attendees of this year's MegaFest are in for a "mega experience" and shared why the festival is so dear to his heart.
In August, Jakes will kick-off the three-day revival in "Big D" as tens of thousands from around the world are expected to attend. Since launching in 2004, MegaFest has grown to become one of the largest faith-based multi-day festivals in the United States with organizers saying it has so far reached nearly 1 million people worldwide.
"It's very, very dear to my heart because I think it creates an atmosphere that people of faith need," Jakes told The Christian Post. "To come into an environment that is designed for people of faith that still has church and has worship and all of that, but also has fu n— [such as] comedy shows so you can bring your kids or your grandmother too."
The festival will incorporate other Jakes initiatives including Woman Thou Art Loosed, ManPower, FireCode Mega-Youth and Destiny World Mega-Kidz.
"We've got concerts that they can come out and enjoy; we've got empowerment sessions and they can strengthen themselves and their career, so it's one stop shopping," he shared. "We've got something for all ages — teenagers, young adults. And particularly with so many single parents today, to have your values reinforced in your kids right before they take off to school, that's a good thing!"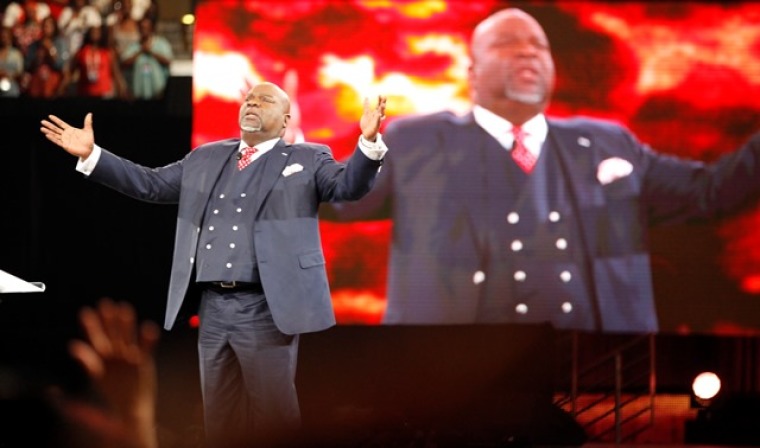 The evangelical leader recently announced the addition of Tyler Perry (as his famous Madea character) to his impressive lineup of speakers, which also includes internationally-acclaimed pastor Joyce Meyer and Australian activist Christine Caine.
"You know, I try to bring in fresh voices and fresh words," said Jakes. "It's something we really pray about (to get the right person) because the speaker has a lot to do with the atmosphere at the event."
Meyer and Caine, both leading figures in the evangelical world, will join the likes of Bishop Tudor Bismarck, R.A. Vernon, Archbishop Nicholas Duncan Williams and Jakes' wife, pastor Serita Jakes, at the three-day event that will run Aug. 19-23.
"... To get Joyce Meyer was not easy, we've been working on that for a while to find an open date on her calendar but she agreed to come," he said. "Christine Caine is absolutely amazing, she's going to do an incredible job. R.A. Vernon is going to be speaking to the men, Bishop Tudor Bismarck is going to be speaking to the men, and then [there's] singers from all over the place, it's going to be incredible."
In 2013, festival attendees hailed the event on social networking sites and one uplifted Twitter user described her experience as "life changing."
"Oh absolutely," Jakes replied when asked if changing lives is something he set out to do when he launched MegaFest.
"I don't think that people can afford to come to experience what they had at home. Today, these are discretionary dollars and if you're going to travel, you want to have a mega experience. And so, the whole MegaFest is we want life changing experience. We do alter calls, we work with people who are coming back to Christ, we have ministers to sharpen their gifts and skills. We only have it every other year, so we want you to be buzzing it for two years."
FOR MORE INFORMATION ON MEGAFEST CLICK HERE.