Blind Man Shouts 'I Can See!' at Controversial Pastor TB Joshua's Healing Service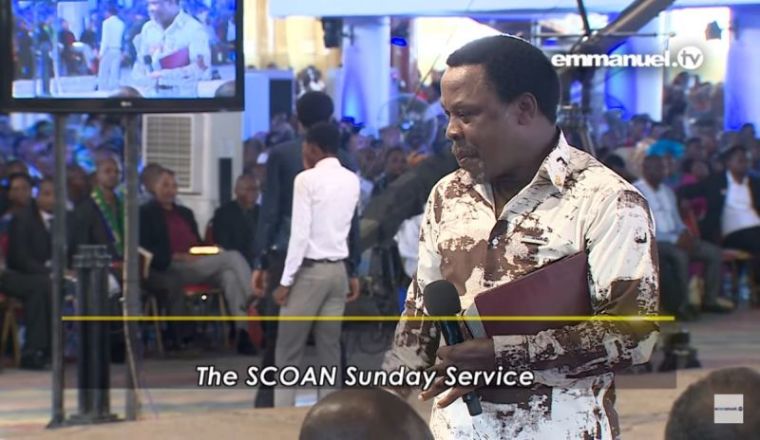 Controversial Nigerian megachurch pastor and televangelist T.B. Joshua posted a testimony earlier this week of a blind man who he claimed was suddenly able to see after he prayed over him at a healing service.
"At the Monday Healing Service, the once blind is shouting 'I can see! I can see!' the once lame is now walking, running and dancing to the glory of God; the once weak in body is now demonstrating strength; the once deaf is now shouting I can hear!' Viewers all over the world, the anointing in the house is in abundance and exceeds the demand," the T.B. Joshua Ministries claimed in a Facebook post on Monday.
The website Naij said the blind man, who wasn't named, was reportedly scheduled to have an operation on his eyes when he arrived at the Synagogue Church of All Nations on Monday in Lagos, where Joshua serves as the general overseer.
The man was placed in the prayer line during the healing service, with photos from Emmanuel T.V., a Christian network founded by Joshua, showing him with open eyes thanking the pastor after the supposed healing.
As the Daily Nation reports, Joshua is a popular but controversial figure in Nigeria, making his name by holding services where he claims to heal people and through prophecies.
In February 2012, for instance, he predicted that a president of a southern African country would die, and just two months later Malawi's President Bingu Wa Mutharika died at the age of 78.
Joshua, who has predicted other notable deaths in the past, said on Emmanuel T.V.: "It's a gift of God. There's nothing I can do. If you're in my position, when you see something you have to say it. If you don't say it, the gift will remain dormant."
Many of his prophecies have also turned out to be wrong, however, such as when he predicted that Democrat Hillary Clinton would beat now-President Donald Trump in the U.S. elections in November 2016, though he later said he was speaking about the popular vote, which Clinton won.
Other megachurch leaders in Nigeria have long questioned his alleged miraculous healings, however, along with many of his other claims.
"He is an occultist," once said Anselm Madubuko, pastor of the 12,000-member Revival Assembly Church in Lagos. "Joshua claims he was born again in his mother's womb. It is tragic that Spirit-filled people are led astray by him."
The Pentecostal Fellowship of Nigeria has distanced itself from the pastor as well.
"As far back as 1996, PFN has unequivocally alerted unsuspecting Christians and the general public on the dangers of infiltrators who have modernized cultism by injecting the name of Jesus Christ into their largely unbiblical practices," Bishop Mike Okonkwo has said.
What is more, back in July 2015 the Synagogue Church of All Nations was indicted by a coroner of criminal negligence in a building collapse in September 2014 that killed 116 worshipers.
While Joshua had initially tried to argue that Islamic extremists from Boko Haram could have been behind the collapse, experts ruled out the suggestion, with coroner Oyetade Komolafe placing the blame on the church for not obtaining the relevant approval before constructing the building.