Boko Haram Declares 'Islamic Caliphate' in Captured Christian Town in Nigeria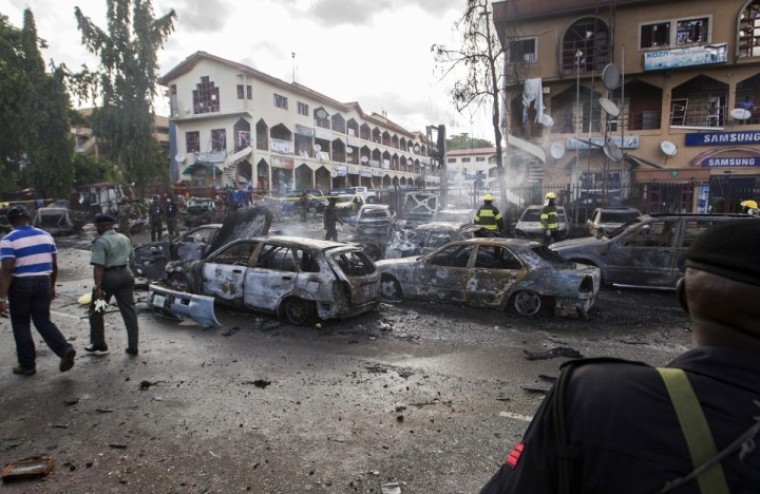 Nigerian terrorist group Boko Haram has declared an "Islamic Caliphate" in the predominantly Christian town of Gwoza, which it seized earlier in August and slaughtered over 100 civilians.
"Thanks be to Allah who gave victory to our brethren in (the town of) Gwoza and made it part of the Islamic caliphate," Boko Haram leader Abubakar Shekau says in a 52-minute video obtained by AFP on Sunday, which also apparently shows the execution of civilians.
The Nigerian military has rejected the claim, stating that the "sovereignty and territorial integrity of the Nigerian state is still intact."
The Islamic extremist group has waged a war on the central government and targeted Nigeria's Christians and moderate Muslims for over five years, bombing churches, schools, villages and government buildings; killing pastors and entire congregations; kidnapping schoolchildren by the hundreds.
Human Rights Watch announced in July that the extremist group had killed at least 2,053 civilians in over 95 attacks during the first half of 2014 alone. HRW accused Boko Haram of committing "atrocities" which constitute "crimes against humanity," and insisted that that the extremist need to be held to account.
Shekau has voiced his support for Islamic militant group ISIS, which has captured significant territory and also declared an Islamic Caliphate in Syria and Iraq, but it is not clear whether and to what extent Boko Haram has associated itself with ISIS.
Shekau is shown in the video speaking in Arabic and the Hausa language, standing in front of three SUVs along with four other fighters, sporting a Kalashnikov rifle.
"By the grace of Allah we will not leave the town. We have come to stay," the militant group said.
Defence spokesman Chris Olukolade said in his statement that military will do everything possible to retake Gwoza.
"Any group of terrorists laying claim to any portion of the country will not be allowed to get away with that expression of delusion and crime," Olukolade said. "Operations to secure that area from the activities of the bandits (are) still ongoing."
International Christian Concern Regional Manager for Africa Cameron Thomas said that "far too many" Christians have been "martyred, displaced, and terrorized at the hands of armed extremist."
ICC, which has been closely tracking the violence against Christians committed in Nigeria, noted that the Boko Haram video shows the militants executing civilians that had been forced to lay face-down in a ditch.
The persecution watchdog group added that the militant group has been attacking and occupying towns for weeks around Maiduguri, the capital of Borno State.
"For years, Boko Haram has waged a campaign of terror against Christians, moderate Muslims, educators and students, and law enforcement and military personnel for the establishment of a separate Islamic state; which, today, they felt capable of declaring," Thomas stated.
"Such a declaration should serve as rallying point for the international community to come together and lend its full support to the Nigerian state in its battle against Boko Haram, and all other extreme ideologies plaguing the stability of not only that state, but the entire region. We mourn with the families of those brutally executed on camera, and join with others in praying for the security and well-being of those under the oppressive hand of the world's newest self-declared regime."