Boko Haram Kidnaps 60 Women Despite Ceasefire Reports, Continues Killings in Nigeria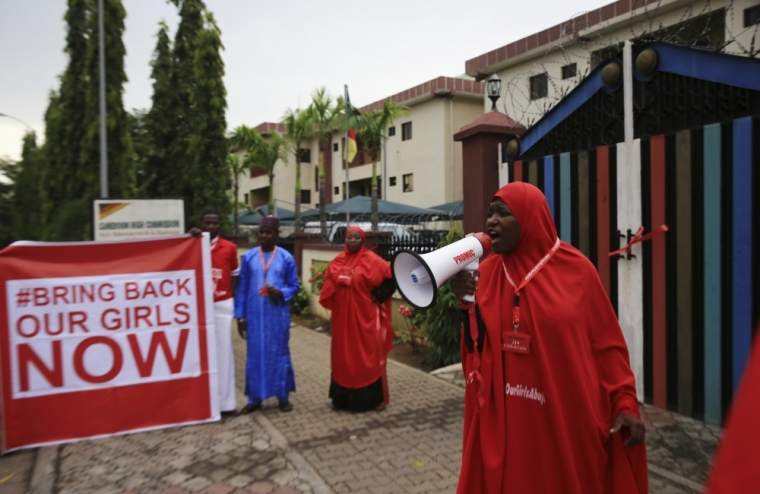 Terror group Boko Haram has reportedly kidnapped another 60 women in Nigeria and continued its violent attacks despite reports of a ceasefire and negotiations to release the over 200 Chibok schoolgirls abducted in April.
"The insurgents are still in the area. They slit the throats of three men in Garta and abducted many young women. We also heard from residents of Waga that they killed two men and took 40 women away," said Tizhe Kwada, a local from the village in Garta.
This Day Live reported that 40 women have been abducted from Waga Mangoro, while another 20 were taken from their homes in Garta.
Boko Haram's attacks have continued despite the Nigerian government announcing that it had reached a ceasefire with the Islamic militants late last week.
U.S. State Department deputy spokeswoman Marie Harf also confirmed the ceasefire earlier this week, and said that "the negotiations about a deal to release the girls continue," referring to the Chibok schoolgirls.
There have been conflicting reports around the ceasefire, however. BBC News noted that there has been no confirmation about a truce from Boko Haram, while the Nigerian government has insisted that talks with the terror group will continue later this week in the neighboring country of Chad.
The government of President Goodluck Jonathan recently had a $1 billion loan approved by MPs to upgrade military equipment and training in the war against Boko Haram, which has waged on for over five years.
The Islamic militants' efforts have been heavily concentrated on the northern Borno state, which has been under a state of emergency, along with Adamawa and Yobe states, for more than a year.
The Borno Elders Forum, a local group made up of retired senior civilian and military officials from the state, suggested that the government has not reached a deal with the real terror group.
"If they are aware and they are in agreement that there is a ceasefire, I don't think they would continue attacking innocent people and taking over places," said spokesman Bulama Mali Gubio.
"It is either (that) those the federal government is negotiating with are not the Boko Haram but the usual 419ers, or it is just some kind of mockery," he added, referring to a section of the Nigerian penal code that deals with fraud.
Mark Schroeder, vice president of Africa Analysis at the Stratfor consultancy, added that the announcement of a deal could have been premature and aimed at boosting the administration's image ahead of elections next February.
"I sense Nigeria rushed to announce the deal with electoral-political calculations in mind," Schroeder said, according to Reuters.
"Getting a victory with the schoolgirls and a short-term truce with Boko Haram could be positive for President Goodluck Jonathan's campaign."
A senior Chadian diplomatic source who requested anonymity argued, however, that just because the ceasefire has been broken does not mean that there was no deal reached.
"Our feeling is that they acted precipitously. They should have waited until they at least had some of the girls. I don't know anyone in the country who actually knows where they are," the diplomat said.