Bombings Kill Over 80 at Syrian University; State and Rebels Trade Blame (VIDEO)
Deadly Bombings on Aleppo Campus Caught on Tape; Government Calls it 'Terrorism'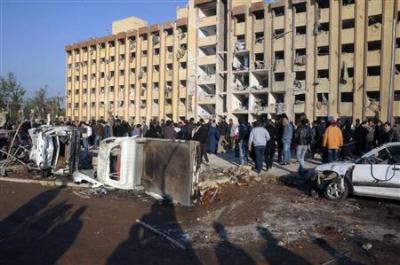 Over 80 people have been killed on the first day of exams at the University of Aleppo in Syria, after bomb blasts ripped through the country's biggest university on Tuesday, with the government and rebels pointing fingers at each other.
As civil war rages in Syria, the government-run state media has accused "terrorists" of launching rockets at the campus, while the rebel opposition has said the blasts came from missiles fired from government warplanes.
BBC News reported that the bombs apparently went off at Aleppo's halls of residence, as well as at the architecture faculty on campus. While the government has said that 82 people have been confirmed dead so far, the Syrian Observatory for Human Rights put the death toll at 83 and the number of injured at 150.
"So far there are 82 fatalities and more than 160 wounded in a terrorist attack that targeted students on their first day of exams at the University of Aleppo," Mohammed Wahid Akkad, Aleppo's governor, told AFP news.
Rebel forces, who have increasingly been receiving vocal support from Western leaders, are accusing Syrian President Bashar al-Assad of imposing a tyrannical rule on the people, while the government administration has been doing everything in its power to quell the rebellion that has been ongoing for well over a year.
With foreign journalists having little direct access to the conflict in Syria, it remains difficult to assess the situation other than through reports coming in from the opposing sides. A government military personnel shared with news agency AFP that stray surface-to-air missiles fired by the rebels hit the university, which is in a government-controlled area. The nearest rebel base, however, is over a mile away, BBC News noted.
The Local Co-ordination Committees (LCC), one of the activist networks used by the rebels, has posted an online video which allegedly shows warplanes bombing the buildings. The 57-second video recorded on a hand-held camera documents the second explosion at the university, where a large blast is heard followed by thick white smoke rising from the campus in the distance. The camera shakily points up at the sky but then quickly drops to the ground.
"The warplanes of this criminal regime do not respect a mosque, a church or a university," an Aleppo University student identified as Abu Tayem shared with Reuters.
Students were not the only targets – Al Jazeera noted that the campus houses close to 30,000 people who have fled their homes since fighting intensified back in July.
Bomb blasts and gunfire exchanged between government and rebel forces have killed more than 60,000 people so far, the United Nations has report. Late last year there were even fears that President Assad was getting ready to use chemical weapons on his own people, although his administration has denied such a possibility.
"Ultimately, what we should be thinking about is a political transition in Syria and one that should start as soon as possible," Secretary of State Hillary Rodham Clinton has said about Assad's regime. "We believe their fall is inevitable. It is just a question of how many people have to die before that occurs."
Aleppo University bombing caught on tape: