British Survey Finds the Bible Is 'Most Valuable to Humanity;' Beating Out 'Origin of Species,' '1984'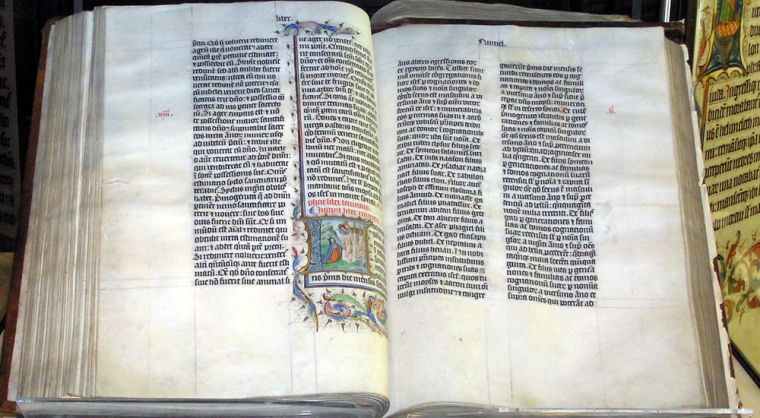 The Bible has been crowned the book "most valuable to humanity," beating out Charles Darwin's The Origin of Species and George Orwell's 1984.
In a survey of 2,044 British adults, 37 percent of respondents named the Bible most valuable, versus 35 percent for Origin of Species.
Conducted by YouGov on behalf of the Folio Society, other literary works ranked included Stephen Hawking's A Brief History of Time (17 percent), Albert Einstein's Relativity (15 percent), Orwell's 1984 (14 percent) and Harper Lee's To Kill A Mockingbird (10 percent).
"We weren't overly surprised by the results, just intrigued by some of the dynamics of science and religion being perceived as the most significant forces in today's society," Tom Walker, editorial director at The Folio Society, told The Christian Post.
"I was expecting more fiction — Shakespeare's First Folio or Homer's Iliad perhaps — and classical philosophy, but in many ways the top 10 does display a balance of ideas which are most valuable to understanding our world."
Survey respondents were given the names of 30 books, both fiction and nonfiction, and then asked to choose three books as being "most valuable," according to the U.K. publication The Guardian.
"Mary Wollstonecraft's A Vindication of the Rights of Women received 4 percent of the vote, as did Alice's Adventures in Wonderland, and Pride and Prejudice. The Communist Manifesto landed 5 percent, as did War and Peace and Hamlet," the Guardian reported.
"A few of the 30 titles received no votes: Cicero's Orations, Salman Rushdie's Midnight's Children, and Kurt Vonnegut's Slaughterhouse-Five."
The top 10 books, in order of one through 10, were: The Bible; The Origin of Species, A Brief History of Time; Relativity; 1984; Philosophiæ Naturalis Principia Mathematica by Isaac Newton; To Kill A Mockingbird; the Quran; The Wealth of Nations by Adam Smith; and The Double Helix by James Watson.
Andrew Hood, managing director of communications at the American Bible Society, told CP that they were "delighted to see that the Bible was selected" by Britons as most valuable.
Hood also told CP that ABS' research, specifically, "our annual state of the Bible research," has shown that Americans are "pro-Bible."
"In 2014, 79 percent of those surveyed said they believe the Bible is sacred. Fifty-six percent of Americans believe the Bible is the actual or inspired Word of God, and 50 percent believe the Bible contains everything a person needs to know to live a meaningful life," said Hood.
"While we haven't asked about the Bible as compared with other books in terms of its value to humanity, we do know from our research that 50 percent of Americans believe the Bible has too little influence in society."