BuzzFeed Gets Blowback for Controversial 'I Am a Christian but I'm Not …' Video Featuring Gay, Feminist Christian Millenials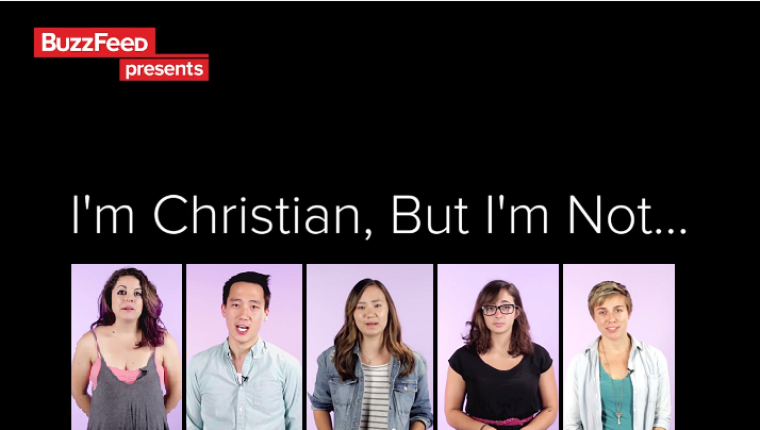 A just under 2-minute video created by viral media outlet BuzzFeed featuring a group of gay, feminist and liberal Christian millennials explaining why they don't fit the stereotypical view of Christians is now getting flak from conservatives online who argue that it does nothing to promote Christ.
The video, which was posted to Facebook on Sunday, had been viewed more than 10 million times as of noon on Wednesday. It features five women and one man declaring that they aren't homophobic, closeminded, uneducated or judgmental. One woman even noted that although she doesn't believe in sex before marriage she gives sex advice.
Days prior to the release of the video on Facebook, former White House staffer Michael Wear appears somewhat prescient in a tweet on millennials and Christianity.
"The Christianity of too many millennials is built around proving what type of Christian we are not. This is not edifying," he noted.
Writing for conservative website The Federalist, Mollie Ziegler Hemingway, a senior editor, summed up her reaction to the video:
"Let us all beware of smug complacency and measuring ourselves against others. The Christian measures himself against God's standards, then repents. As my study Bible says of this verse, 'God is ready to justify the worst of sinners by His generous grace in Christ.' Let's join the tax collector and cry out, 'God be merciful to me, a sinner!' And forgive BuzzFeed while you're at it — particularly when it comes to religious content, they could use your prayers."
YOU CAN WATCH THE VIDEO BELOW:
In reaction to the video, public commenters cast doubt on whether or not the people who appear in the video are really Christian.
"I'm Christian, but I'm … no. Really. Hi, I'm Christian," wrote Christian Burton of Indiana in a comment that has been liked more than 12,000 times.
Another commenter, TD Randolph, in a post that was liked more than 10,000 times, pointed out how incompatible accepting homosexuality is with biblical standards.
"Acknowledging the fact that homosexuality is a sin is not homophobic. It is a sin just like the many sins I commit. We don't have to pretend God said its okay because He didn't. But He DID teach us to love the sinner not the sin. Meaning we can believe that it is sin and still be friends with people," wrote Randolph.
Commenter Darragh Grace Dickson added: "This video is extremely frustrating. Not ONCE was Christ mentioned. Or salvation. Or sin. This is a misrepresentation of true Christianity. No, I am not homophobic. I will be kind and loving to all people. BUT I will believe God over what society is telling me I must believe. If any of these people were truly Christians, their desire would have been to share the Gospel, not to clear their own names."