Canadian Megachurch Pastor Captured in North Korea Confesses to 'Crimes Against the State' in Video Released by the DPRK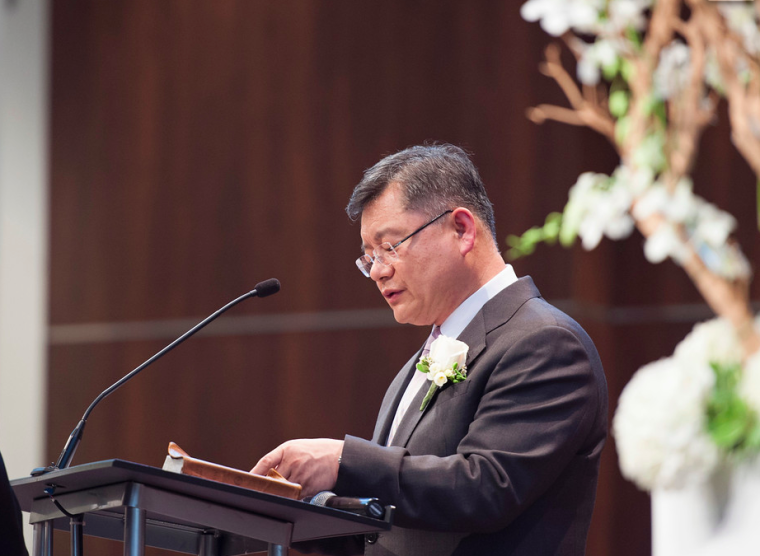 North Korea released video footage on Monday of detained Canadian pastor, the Rev. Hyeon Soo Lim, confessing to various crimes against the Communist State. The megachurch leader, who was taken into custody by DPRK authorities in February, appears to be reading from a script.
In a video recorded on Aug. 2, Lim, the senior pastor of Light Korean Presbyterian Church in Toronto, is seen speaking to a congregation at Pyongyang's Pongsu Church, where he describes his alleged crimes to those in attendance.
"The worst crime I committed was to rashly defame and insult the highest dignity and the system of the republic," said Lim, according to footage posted by the Uriminzokkiri propaganda website.
Pongsu is a state-controlled church. Open Doors USA, an organization that monitors Christian persecution around the world, said Pongsu could be what it described as a "show church."
"These churches are only in the city, and anyone who goes to North Korea on a traveling trip is only allowed to go with a tour guide and they only show you specific parts of the city. And many times westerners will be exposed to churches to make it seem like there's religious freedom in North Korea, like there is in the U.S., but the fact is these are government run," said Open Doors USA Communications Director Emily Fuentes to The Christian Post on Monday.
Fuentes said Lim's situation is common among Christian missionaries and those conducting humanitarian work in the region. Many of them are detained by the North Korean government and are forced to make public confessions in order to gain their freedom.
"They say that they've committed crimes against the state and that the North Korean government is very fair and it's usually used as an attempt to allow them to be released. We've seen several foreigners be released that way, but it's difficult to know for sure if this is the same situation," said Fuentes.
She also reiterated Open Doors USA's classification of North Korea as the worst country for Christian persecution in the world and said that "religious freedom is nonexistent" while emphasizing that owning a Bible is a crime punishable by death there.
"We estimate that there are between 20,000 and 70,000 Christians [who are serving] time in labor camps in North Korea right now," added Fuentes, who said believers are forced to meet underground in the DPRK.
And while Lim might be taking steps to ensure his release, there's no way of knowing if North Korea will grant him freedom, according to Fuentes.
Lim first disappeared in February while making the journey to North Korea for missions work, and he finally resurfaced last week, making his first public confession to his alleged crimes at the People's Palace of Culture, a venue where North Korean authorities have arranged similar events in the past.
"The most serious crimes I have committed are that I severely slandered and impaired the supreme dignity and system of this country and perpetrated a scheme to overthrow the state," said Lim in his forced confession last week.
"In order to create the impression that it is God, and not the Worker's Party and this country's government which give things to eat and provide means to live, we intentionally drew the cross and wrote the name of the church and Bible phrases on the sacks of provisions that were donated to several parts of the country such as Chongjin and Jagang Province," added Lim. "The purpose that I traveled about several parts of the country on the pretext of "aid" was to build a base to overthrow the system."
Lim has helped establish orphanages and nursing homes in North Korea and has visited the country more than 100 times. He's also been involved in several businesses there, including ramen and wig factories, gas stations, and farms and fishing operations, according to Canadian media.
Lim traveled to North Korea in February to support on-going ministries he's involved in including orphanages, nursery and nursing homes, according to Light Korean Presbyterian Church spokesperson Lisa Pak.