Carrie Underwood Sings About Jesus During Emotional CMA Performance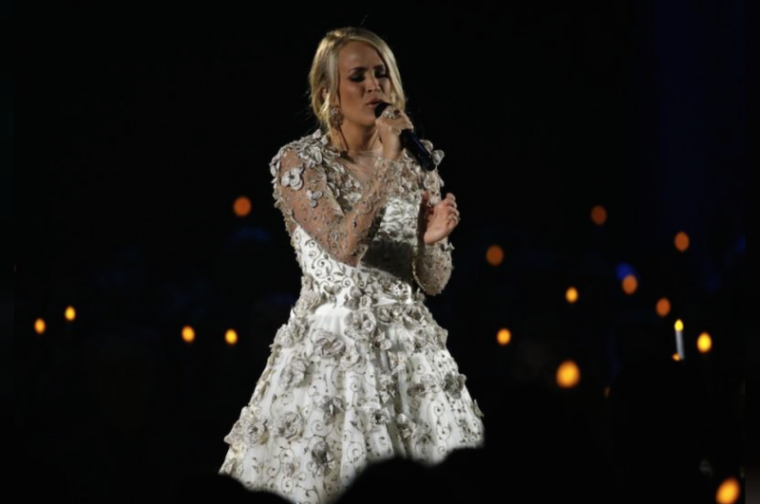 Carrie Underwood did more than co-host the 51st Annual Country Music Awards on Wednesday; she performed a hymn about the love and mercy of Jesus Christ in the wake of tragedy.
Underwood, the 34-year-old country music star who got her big break on "American Idol," became emotional when she sang the hymn "Softly and Tenderly." As she sang, a video montage showcased the country music singers who died over the past year including Glen Campbell, Troy Gentry and Don Williams.
At the end of the performance, the faces of the 58 people who died at the Route 91 Festival shooting in Las Vegas, Nevada, appeared on screen and Underwood became visibly emotional as she sang.
"Softly and tenderly Jesus is calling, Calling for you and for me," she sang. "See on the portals, He's waiting and watching; Watching for you and for me."
During her opening monologue with CMA co-host Brad Paisley at the Bridgestone Arena in Nashville, Tennessee, Underwood set the tone for the evening by telling those in the audience that they would pray together for the victims of the multiple tragedies that took place this year.
"Las Vegas, Charlottesville, New York, Sutherland Springs, historic storms in Texas, Puerto Rico and Florida and the list goes on and on," Underwood said. "This has been a year marked by tragedy impacting countless lives including so many in our country music family. So tonight, we're doing to do what families do, come together, pray together, cry together, and sing together too."
Aside from Underwood's performance, a number of other entertainers came together to honor those who have lost their lives this year. Eric Church opened up the show with "Amazing Grace" which transitioned into Hootie & the Blowfish frontman Darius Rucker being joined onstage by Reba McEntire, Tim McGraw, Faith Hill, Keith Urban, Lady Antebellum, Luke Bryan, Little Big Town and more for his 1994 hit "Hold My Hand."
"This is why we call the #CMAawards COUNTRY MUSIC'S BIGGEST NIGHT," a post from the CMA Twitter account read after the performance.
For more information about the awards, visit http://www.cmaworld.com/.