Catholic Peace Leaders Disagree With US Airstrikes in Syria, Say They Aid ISIS Recruiting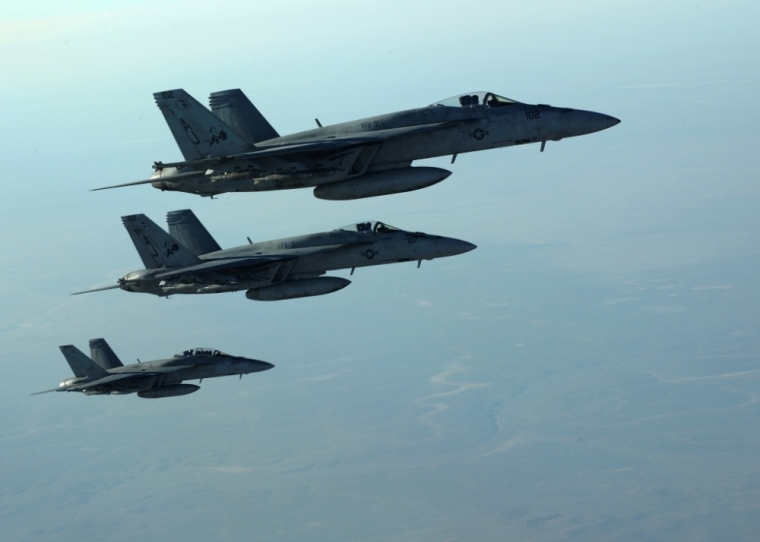 The leaders of a Roman Catholic peace movement and network have stated that they disagree with American-led airstrikes on terror group ISIS in Syria, arguing that all they do is place more innocent people in danger and serve as a recruiting tool for the Islamic militants.
"We believe that especially the expansion of bombing is more likely to create significant recruiting bonanza for some of the extremist groups, ISIS included," Marie Dennis, Pax Christi International co-president, told Catholic News Service.
"The Islamic State, ISIS, is very well funded and steps must be taken to identify the sources of their funding and to stop them."
The U.S., which has been hitting ISIS targets in Iraq for the past few weeks, recently began operations in Syria as well, seeking to take down terror targets wherever they operate. The strikes on Syria also hit an al-Qaeda-linked Islamist extremist group, the Khorasan, which the Pentagon said also poses a threat to America.
President Barack Obama has said that the U.S. is building a strong coalition of allies who will counter global terrorism, but has insisted on using airstrikes to achieve objectives without any ground troops.
"The terrorist group known as ISIL must be degraded, and ultimately destroyed. This group has terrorized all who they come across in Iraq and Syria," Obama declared at the United Nations General Assembly in New York on Wednesday.
"Mothers, sisters and daughters have been subjected to rape as a weapon of war. Innocent children have been gunned down. Bodies have been dumped in mass graves. Religious minorities have been starved to death. In the most horrific crimes imaginable, innocent human beings have been beheaded, with videos of the atrocity distributed to shock the conscience of the world," he explained.
Some church leaders in Syria have spoken out against the airstrikes, however, and one Aleppo pastor told The Christians Post in an interview earlier in September that war can never stop war.
"I think war is stopping sin by committing sin, or by committing the same sin," Pastor Mouner Ajji of Aleppo Baptist Church told CP.
He also discouraged support for what Obama called "moderate" rebel groups in Syria, who are neither aligned with ISIS or with the government of President Bashar al-Assad.
"Second, and you need to be on ground to know this, there is no such [thing] as moderate rebel groups, all rebel groups are very Islamic ones. All of them want to establish an Islamic state," Ajji said.
The Pax Christi leadership, including Dennis, Bishop Kevin Dowling of Rustenburg, South Africa and Jose Henriquez, the organization's secretary-general, suggested that there are alternative steps that can be taken to achieve peace in the region.
They supported wide-ranging diplomacy, direct talks with ISIS leaders, and limiting the terror group's access to weapons and assets in oil revenues.
The Catholic leaders said that the violence that began with the U.S.-led invasion of Iraq in 2003 has not ceased and continues to sow discord along religious and ethnic lines.
"Here we have a situation where going in there and investing so heavily in war and violence has not solved the situation. We are now reaping the fruits of the fact that there wasn't an inclusive political, social response," Bishop Dowling said.
"It's this inclusive dialogue and nonviolent way of bringing people together, of facilitating understanding, that's what has to be done. Otherwise, we simply perpetuate a situation where people's only thought is, 'We've been violated, so we will take revenge, and to restore our sense of dignity, we have to respond to violence done to us.'"
He added: "But that doesn't achieve anything either. So we've got to find other ways, nonviolent ways, inclusive ways."