CBS Pulls TV Show 'Living Biblically,' Replaces With 'Big Bang Theory' Reruns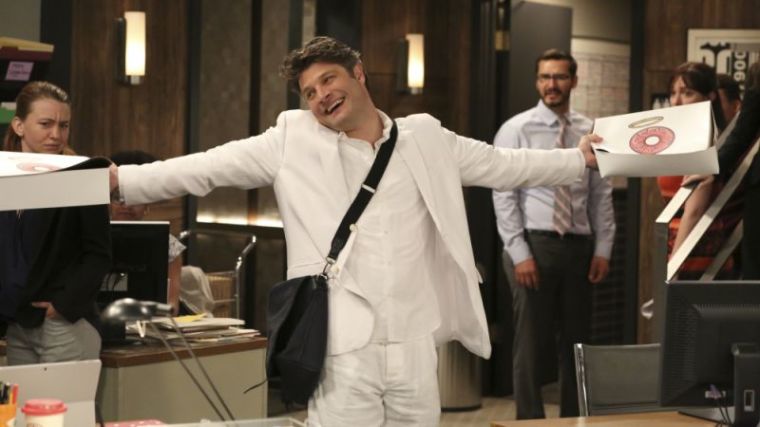 CBS has pulled its new comedy series "Living Biblically" off the network's primetime schedule and replaced it with reruns of the "Big Bang Theory." 
According to Variety, "Big Bang Theory" reruns will air in Monday's "Living Biblically" timeslot for the next two weeks and no return date for the program has been set. Thirteen episodes of "Livingly Biblically" were created by Patrick Walsh for the first season, but it's unknown if it will return for the remainder of its episodes to run later.
The show is centered around a man named Chip Curry (Jay R. Ferguson) who drastically changes his life to live strictly by the Old and New Testaments of the Bible. It's based on the best-selling book by A.J. Jacobs, "The Year of Living Biblically."
The series was scored CBS' lowest-rated originals. It's February open was 0.8 rating in adults 18–59 with 5 million viewers. The numbers dropped, however, after airing just eight episodes. It was ranked at 0.7 and 4.2 million viewers per episode in Live+Same Day.
Ironically, Johnny Galecki who plays physicist Leonard Hofstadter on the hit comedy series "The Big Bang Theory," is the one behind the camera of "Living Biblically" as the executive producer for the CBS show.
"Living Biblically" creators said they sought the counsel of various consultants to ensure the script was accurate and respectful to a faith audience while still being a comedy series.
"When I started my production company, it was No. 1 at the top of the list to try to do a comedy about religion," Galecki told a panel at the Television Critics Association's Winter Press Tour in a past interview. "I recognized that these conversations [about religion] weren't being had despite the fact that ... 80 percent of people in the world subscribe their lives to some sort of spiritual belief."
The actor then set out to create a series that could "inspire a conversation around the water cooler" about the Bible.
"One of the biggest hurdles is the fear to have the conversation about [religion] ..." he continued. "The best way to approach [a topic] that people may be uncomfortable with is with comedy."
Unfortunately, CBS bumping the show for reruns is not a good sign for a potential second season for the freshman series. The network has announced the renewal for 17 of their current series, however, none include their Monday comedies.
Fellow Monday series "Scorpion" is also awaiting its fate. "Kevin Can Wait," "Man With a Plan," and "Superior Donuts" all await words on potential season renewals as well. First season series "Me, Myself, and I" was previously pulled from the CBS schedule, and the dramatic series "Wisdom of the Crowd" was not renewed beyond its original 13-episode order.