Chip and Joanna Gaines 'Blessed Beyond Belief,' Welcome Baby No. 5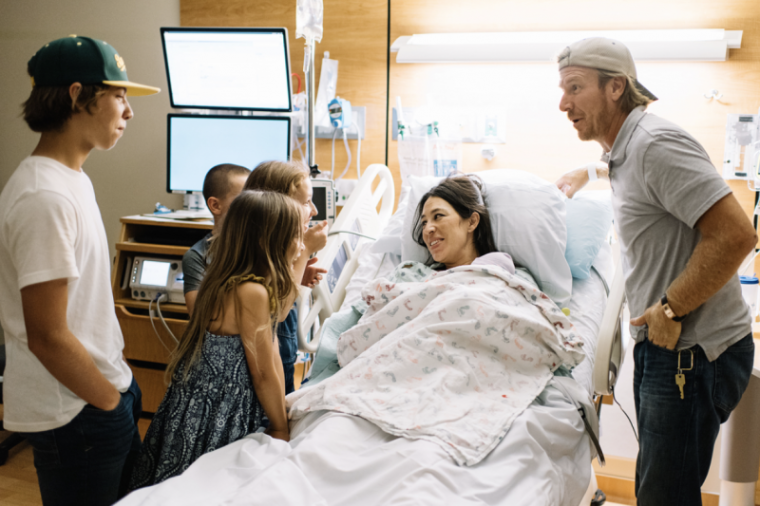 Popular Christian couple and "Fixer Upper" stars Chip and Joanna Gaines are basking in the "blessing" of their fifth child, a son born on Saturday.
"And then there were 5. The Gaines crew is now 1 stronger! 10 beautiful toes and 10 beautiful fingers all accounted for, and big momma is doing great! #blessedBeyondBelief," Chip tweeted.
The proud father first revealed that his wife was pregnant in January via a funny photo posted on social media. Chip had posted a photo on Instagram of the couple wearing similar grey sweatshirts and comparing their "baby" bumps.
"Party of 7," he wrote. "If you're still confused ... WE ARE PREGNANT."
Joanna later posted a video on Instagram of her sonogram with the caption, "Chip swears he can already tell it's a boy. Look at the little heartbeat!!"
"Our baby boy, Crew Gaines, is here and we couldn't be more in love. He made an unexpected (and speedy) entrance into the world two and a half weeks early, which is fitting given he was a sweet surprise from day one. Thank you for all your thoughts and prayers. We are so grateful." Joanna wrote on Instagram along with a few sentimental photos of the family and their new addition.
Sharing her pregnancy experience, she added:
"Pregnancy has been so fun, in fact my two favorite things to do are take naps and eat! Since it's been over eight years since I was pregnant with Emmie Kay, I joke with my friends that it feels like it's my first time being pregnant. The best thing about all of this is the excitement that my kids have shown for their new baby brother. Since I had our first four babies so close to one another, none of them actually remember me being pregnant. They love my growing belly (and boy is it growing), and they cannot wait to meet him. I truly believe this baby is a gift from God for our family in this season."
Turns out Chip was right about his new baby's gender. The couple are already parents to Drake,13, Ella Rose,11, Duke, 9 and Emmie Kay, 8.
Chip and Joanna Gaines shocked fans in September 2017 when they announced that they were canceling "Fixer Upper" after five very successful seasons.
Along with being successful home renovation gurus and reality TV stars, the Gaineses own Magnolia Homes, a remodeling and design business in Waco, Texas. They also have a retail shop called Magnolia Market at the Silos (which draws up to 40,000 visitors a week), as well as paint, rug, wallpaper and furniture lines, a real estate company, a quarterly magazine, a luxury vacation rental, and now a restaurant.
On the blog in April, Joanna went on to reveal that their restaurant, Magnolia Table, is also "finally up and running." Joanna disclosed that she also finished her cookbook, Magnolia Table, which is out now, and said she's working on a design book as well to help others learn the art of home designing.
Furthermore, the couple will really have their hands full as they continue to renovate homes with their company Magnolia Design and Construction, which they've operated for over 15 years.