Christian Conservatives Outraged by CPAC Speaker Invite to Gay Breitbart Editor Milo Yiannopoulos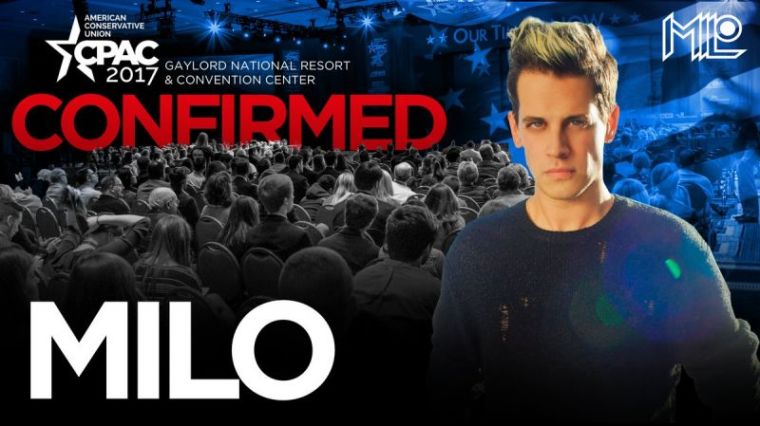 Prominent Christian conservatives, many of whom were "NeverTrumpers," are now voicing outrage over a controversial speaker invite made by the Conservative Political Action Conference to gay Breitbart Tech editor Milo Yiannopoulos as video surfaced over the weekend purportedly showing him defending pedophilia.
"In 2016 I said normalization of hebephilia (adult sexual interest in pubescents) was next. Just didn't think it'd come from a CPAC speaker," tweeted Joe Carter, an editor and writer for Acton Institute, The Gospel Coalition, and the Southern Baptist Ethics and Religious Liberty Commission. 
Daniel Darling, vice president of communications for the ERLC, agreed, "This is sick and disgusting."
"If your keynote speaker would be welcome to give an address at either CPAC or NAMBLA, you're doing something wrong," Carter added in reference to the pro-pedophila North American Man/Boy Love Association, alongside more tweets condemning CPAC.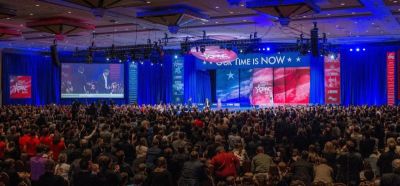 Gregory Thornbury, president of The Kings College in New York City, tweeted the video of Yiannopoulos's apparent defense of pedophilia with the simple phrase, "The abomination of desolation," a reference to an apocalyptic vision in Daniel that Jesus cited in Matthew 24 and Mark 13. 
Matthew Franck, director of the Simon Center on Religion and Constitution at Witherspoon Institute and Prof. Emeritus of Political Science at Radford University, also agreed that Yiannopoulos has no place at CPAC.
"Milo needs our prayers, and real human sympathy if he has been a victim himself. This does not mean he needs to be heard from at CPAC," he tweeted.
Yiannopoulos's booking for the CPAC conference was first reported on Saturday by the Hollywood Reporter. Matt Schlapp, chairman of the American Conservative Union, which sponsor's CPAC, later publicly confirmed the booking in a tweet declaring that "free speech includes hearing Milo's important perspective."
The conference will feature President Donald Trump, Vice President Mike Pence, Texas Sen. Ted Cruz, former presidential candidate Carly Fiorina and Wisconsin Gov. Scott Walker. None of the 60 or so confirmed speakers, though, according to the Hollywood Reporter will have more stage time than Yianoppoulos at the conference, which is set to run Feb. 22-25 at the Gaylord National Resort & Convention Center outside of Washington, D.C.
"We realize that this invitation will be accompanied by controversy which we think the conservative movement and our CPAC attendees can handle," Schlapp, told The Washington Post in an email Saturday. "Each will use his or her individual judgement as to the worthiness of each speaker, including Milo. ACU has publicly taken on racism and the alt-right and will continue to do so aggressively, like ACU's founders before us. We look forward to hearing Milo's message and having him sit down with Scott Walter to answer some tough questions. We believe that all of us are up to the challenge at a time when political correctness is properly being discarded."
As video emerged Sunday of what many interpreted as Yiannopoulos advocating pedophilia, however, prominent conservatives and others had a lot to say.
"We get hung up on this child abuse stuff ... this arbitrary and oppressive view of consent, which totally destroys the understanding that many of us have of the complexities and subtleties," Yiannopoulos argued in making a case for relationships between young gay men and older men.
"In the homosexual world, particularly, some of those relationships between younger boys and older men — the sort of 'coming of age' relationship — those relationships in which those older men help those young boys discover who they are and give them security and safety and provide them with love and a reliable, sort of rock, where they can't speak to their parents," he said.
ACU board member Ned Ryun publicly voiced his disapproval of the Yiannopoulos invite on Twitter by sharing a tweet from comedian Michael Ian Black that said: "In prison, pedophiles are the lowest of the low. At CPAC, they're the Keynote Speaker."
He also dismissed the Breitbart editor as "vile" and "hateful" pointing out his racist ideology while noting that the ACU board was not consulted and that the invitation to Yiannopoulos was an affront to "basic decency."
"While I'm all for free speech, there is such a thing as vile, hateful speech that does not deserve a platform," he tweeted.
Other unidentified ACU board members told The Blaze that the board has not met in over six months and confirmed Ryun's allegation that they were not in any way consulted or informed that Yiannopoulos would speak.
[WARNING: VIDEO CONTAINS STRONG LANGUAGE]
The decision they say was unilaterally made by Schlapp and predicted that when the board meets this week prior to the start of the conference it will be a major point of discussion.
If the invitation to Yiannopoulos is not rescinded one board member said multiple resignations can be expected and major sponsors could also be lost.
Even white nationalist David Duke denounced Yiannopoulos in a tweet.
"Milo isn't Alt-Right. He isn't an ethnic nationalists, he's Jewish, he's a homosexual and we don't want him. I think we've made that clear," Duke noted.
Responding to the controversy in a Facebook post he called "a note for idiots" late Sunday night, Yiannopoulos denied the allegation that he supports pedophilia.
"I have never defended and would never defend child abusers, as my reporting history shows. The world is messy and complicated, and I recognize it as such, as this furor demonstrates. But that is a red line for any decent person," he wrote.
"The videos do not show what people say they show. I *did* joke about giving better head as a result of clerical sexual abuse committed against me when I was a teen. If I choose to deal in an edgy way on an internet livestream with a crime I was the victim of that's my prerogative. It's no different to gallows humor from AIDS sufferers," he said.
"I did say that there are relationships between younger men and older men that can help a young gay man escape from a lack of support or understanding at home. That's perfectly true and every gay man knows it. But I was not talking about anything illegal and I was not referring to pre-pubescent boys," he continued.
"I shouldn't have used the word 'boy' when I talked about those relationships between older men and younger gay men. (I was talking about my own relationship when I was 17 with a man who was 29. The age of consent in the UK is 16.) That was a mistake. Gay men often use the word 'boy' when they refer to consenting adults. I understand that heterosexual people might not know that, so it was a sloppy choice of words that I regret," he added.
He also blamed the furor over his comments on "establishment conservatives who hate Trump."
"This rush to judgment from establishment conservatives who hate Trump as much as they hate me, before I have had any chance to provide context or a response, is one of the big reasons gays vote Democrat," he said.
According to The Washington Post, Yiannopoulos' invitation underscores how much the presidential victory of Trump — whom Yiannopoulos calls "daddy" — has changed the tone of mainstream conservatism.
Earlier this month, after University of California at Berkeley police canceled a talk by Yiannopoulos and put the campus on lockdown amid protests against his speech, Trump threatened to pull federal funds from the institution.
[WARNING: VIDEO CONTAINS STRONG LANGUAGE]