Christian Florist: Gay Couples Have 'Every Right to Live the Way They Believe,' Christians Want the Same Freedom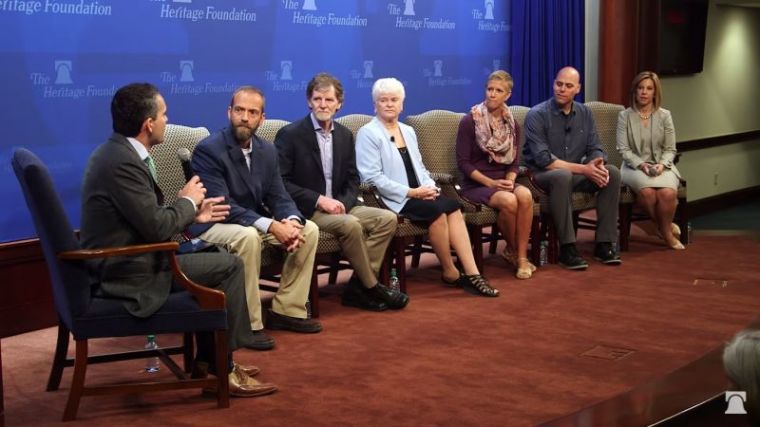 Colorado baker Jack Phillips and and Washington florist Barronelle Stutzman recently joined other Christian business owners and revealed their major concerns, including death threats and potential loss of their life's work, as they battle against lawsuits from same-sex couples.
Gay couples have "every right to live the way they believe," said Stutzman last week during a religious liberty panel organized by The Heritage Foundation, but added that Christian business owners are also asking for the same freedom.
Stutzman, who lost a court case earlier this year after she declined to provide flowers for a gay couple's wedding and has appealed to the U.S. Supreme Court, said she would still embrace her long-time gay patron, Rob Ingersoll, who sued her.
"I'd be so excited if Rob came into my store," an emotional Stutzman said when asked by The Heritage Foundation moderator Ryan T. Anderson how she would respond to Ingersoll if he were to come back to her flower shop.
"I would wait on him another 10 years. I would hug him and catch up on his life. He is missed," she added.
Stutzman revealed that she stands in danger of losing her entire life savings if she loses her Supreme Court battle against gay couple Ingersoll and Curt Freed, who sued her in 2013.
Phillips, a Denver-area bakery owner who like others on the panel said that he still serves gay customers but does not serve gay weddings, explained that he has received some serious death threats that have left him quite shaken.
"Somebody called one day to say that he was on his way and he was going to come shoot me in the head," recalled Phillips, who lost a court case after he turned down a request for a wedding cake from a same-sex couple in 2012.
He said that his great concern was for his daughter and her 4-year-old child, whom he called, urging them to stay locked indoors until police took care of the situation.
Police officers were unable to trace the phone call, and the baker said that that was "the way things went for weeks."
Although it was not his job, he started taking the phone calls at his Masterpiece Cakeshop, fearful of other death threats.
Phillips explained that much like Stutzman, his business is in danger unless he wins his upcoming Supreme Court case. The high court agreed in June to hear his appeal. Masterpiece Cakeshop v. Colorado Civil Rights Commission is a major religious liberty case that is being closely watched by both sides of the same-sex marriage debate.
Blaine Adamson, owner of t-shirt company Hands On Originals in Lexington, Ky., recently won in the Kentucky Court of Appeals, which allowed him to refer gay pride t-shirts to another vendor.
When asked what advice he would give other business owners, Adamson said:
"We all at some point in our lives will find ourselves at crossroads, where we have an issue of conscience, where we know there's something that we need to do. But whether it's out of fear or because it's the easy road, we decide to go against our conscience.
"When we make that choice, we lose something — in my case, what would have been freedom. We can't just kick the can for the next generation."
Carl and Angel Larsen of Telescope Media Group, who refuse to use their video and film production company to document gay weddings, explained that they want to use their talents to capture truth.
"For us as storytellers, we want to tell the truth as we see it through the Bible. From the beginning to the very end," Carl Larsen said, conveying their belief that marriage is between one man and one woman.
The Christian business owners on the panel emphasized on a number of occasions that they are not discriminating against gay people, but want to be afforded the freedom to live out their beliefs.
Stutzman said at the conclusion of the hour-long panel:
"If we lose this case, we lose everything. We lose our business, our retirement, our life savings, everything we've worked for for our kids and grandkids, because the attorney fees are going to be well over seven figures.
"Our employees lose their job, the city loses its taxes, our suppliers lose our business, simply because we don't have the same idea of marriage that Curt and Rob have."
Stutzman expressed that when her grandchildren ask her what happened to her flower shop, or the Christian faith, she doesn't want to say "I did nothing."