Christian Leaders Arrested for Peaceful Capitol Hill Protest in Support of Dream Act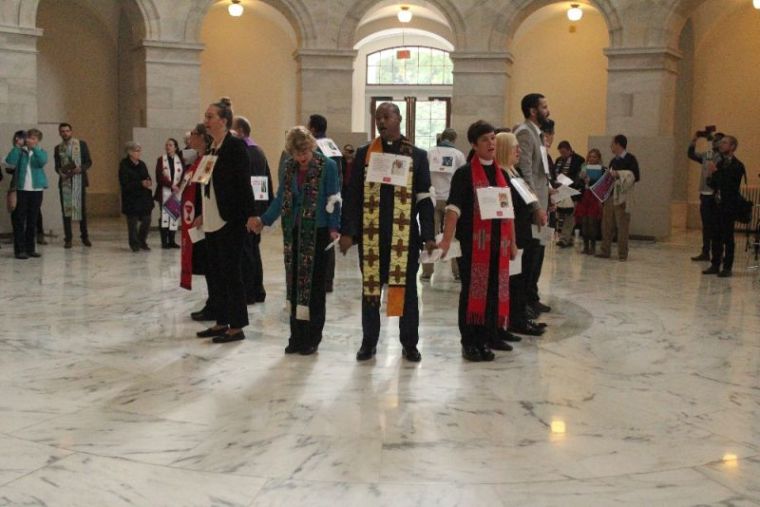 WASHINGTON — Several religious leaders and activists were arrested for engaging in an unlawful demonstration inside a United States Senate office building on Wednesday afternoon. They demanded a "clean" passage of a legislation that would protect hundreds of thousands of undocumented "dreamers" from deportation.
At least 15 people were arrested after they gathered in a circle and sang in the rotunda of the Russell office building, calling for the passage of the Dream Act before the end of 2017.
Among those who were detained and arrested were Rev. Dr. Sharon Stanley-Rea, director of refugee and immigration ministries for the Christian Church (Disciples of Christ); Lori Tapia, national pastor for the Disciples of Christ's Hispanic Ministries; Rev. Kate Shaner, the minister of mission at First Community Church in Columbus, Ohio; Taylor Burgoyne from the Evangelical Covenant Church in Tucson, Arizona; Reuben Eckels, a pastor affiliated with Church World Service; and Sierra Dawn Salgado Pirigyi from Urban Abbey United Methodist Church in Bacon, Nebraska.
"I am inspired by my faith that, when we dare to take risks for justice, we help create a path of fresh hope, step by step. I am committed to doing all that I can to support the passage of a clean Dream Act," Stanley-Rea said in a statement. "And, in honor of families facing separation far too often through detention and deportation, I submit to arrest today with the prayer that I can honor my own father, who died three decades ago on All Saints Day."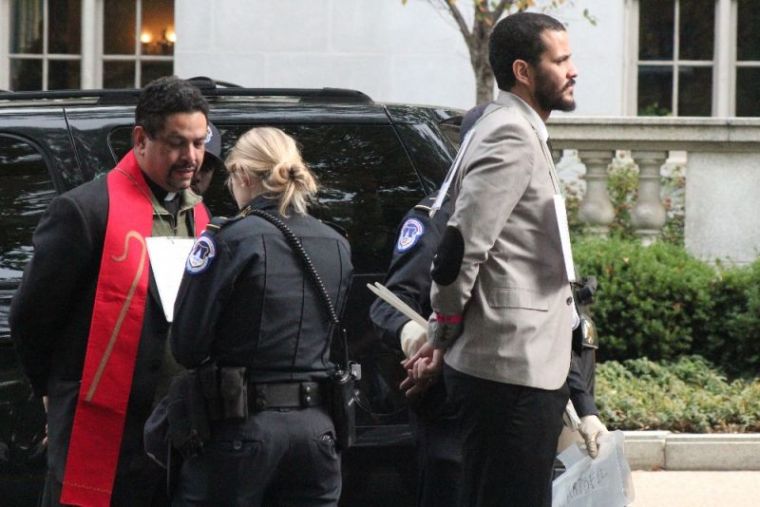 The unlawful demonstration inside the Russell building came minutes after a press conference was held outside of the U.S. Capitol building in which interfaith clergy and political leaders from across the nation spoke out about the need to pass the Dream Act after the Trump administration put an end to the Deferred Action for Childhood Arrivals (DACA) program established under the Obama administration.
The Trump administration's move ended protections for nearly 800,000 undocumented immigrants who came to the country as minors — a group of people who activists say know of no other home but the U.S. and are now at risk of deportation.
The Dream Act of 2017, which has been introduced in both legislative houses, seeks to provide undocumented "dreamer" immigrants who grew up in the United States a way to earn lawful permanent residence and a pathway to citizenship.
Social progressive evangelical leader and activist Rev. Jim Wallis, president of the social justice organization Sojourners, spoke at the press conference and called on conservative members of Congress who are opposing the Dream Act to stop being "Bible thumpers" and start being "Bible readers."
"I do think the soul of the nation is really at stake here and the integrity of faith. I am so excited [to see] Christians across boundaries who vote different ways on other issues [supporting this legislation]. This isn't a political gathering. It's a faith gathering," Wallis told The Christian Post after the press conference. "'Welcome the stranger.' That's what Jesus taught [in Matthew 25] and that passage is my conversion passage. That passage brought me to Christ. For me, this isn't just a political rally."
"I want members of Congress, especially those who say they are Christian, I want a biblical reason why they won't vote on the Dream Act — not a political reason, not the political base, not Donald Trump — I want a biblical reason why they won't pass a Dream Act."
Wallis, who has himself been arrested over 22 times in his life for participating in civil disobedience protests but was not arrested on Wednesday, offered his thoughts on the younger activists who were arrested inside the Russell building.
"There are many, many things to say and do. So, civil disobedience sometimes is a part of what we are saying and doing. Dr. [Martin Luther] King Jr. wanted us to lift up issues and [we saw that] in Birmingham, or in South Africa with my friend Desmond Tutu," Wallis told CP. "You act in nonviolent civil disobedience to raise your voice and then you pay the consequence and you go to jail. I have been to jail several times. This isn't about a tactic. It's about a message. So, we are doing different things in different ways. Finally, we have to obey God and that is what civil disobedience is."
Other evangelical leaders have voiced their support for a legislative protection of dreamers.
National Hispanic Christian Leadership Conference President Samuel Rodriguez, National Association of Evangelicals President Leith Anderson and leading Southern Baptist ethicist Russell Moore signed onto letters sent by the Evangelical Immigration Table to President Trump and congressional leaders calling for the protection of dreamers in August. Over 3,000 people added themselves as signatories to the letters.
"There are deep evangelical roots in support of these young dreamers," Wallis assured.