Christian Militia in Iraq Liberates Village Once Held by ISIS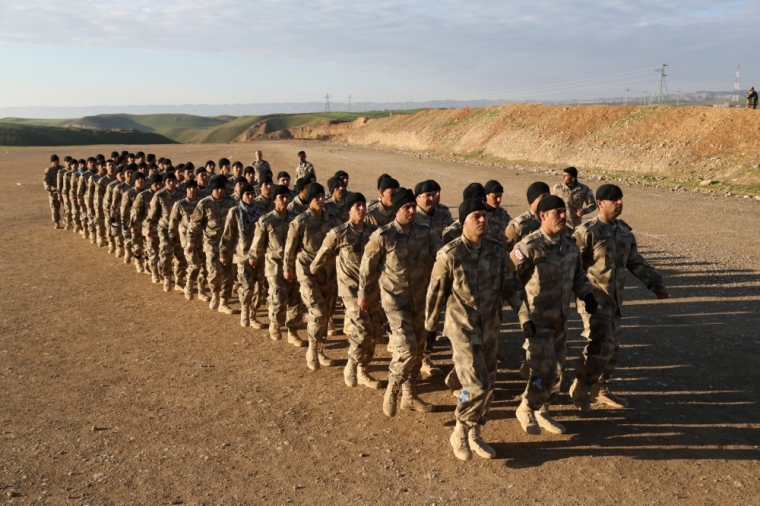 A Christian militia in Iraq, called the Nineveh Plain Protection Units, has said it has taken back a traditionally Christian village from the Islamic State terror group with the help of the U.S.-led international coalition.
The Assyrian-led militia announced on its Facebook page that it has liberated the village of Badanah in in the southern Mosul countryside.
The militia also said this was their "first operation" supported by airstrikes and weapons from the international coalition, according to Vocativ.com.
The militia has shared pictures and a video showing their fighters with their flags in the village, which had been destroyed by Islamic State, also known as ISIS, ISIL or Daesh.
Christians and other minorities are among the main targets of ISIS, an offshoot of al-Qaeda and which seeks to establish a caliphate in the Levant region and beyond. It has captured large territories in Iraq and Syria, and also some in Libya.
In May, the U.N. Secretary-General's Special Representative and Head of the United Nations Assistance Mission for Iraq, Jan Kubis, submitted a briefing to the Security Council condemning "in the strongest possible terms the continued killings, kidnapping, rape and torture of Iraqis by ISIL, which may constitute crimes against humanity, war crimes and even genocide."
In March, U.S. Secretary of State John Kerry acknowledged for the first time that genocide being committed by Islamic State, which is also known as IS, ISIS, ISIL or Daesh, against Christians and other religious minorities in the Middle East.
While the Sunni terror group is losing territory in Iraq and Syria, from where it mainly operates, it still has 18,000 to 22,000 fighters there despite some 13,000 airstrikes by the international coalition, according to CIA director John Brennan.
The terror group uses brutal methods to torture and punish those who it considers to be its enemies. In its English propaganda publication, ISIS last year sought to justify its barbarity, saying it is "Islamic" to capture and forcibly make "infidel" women sexual slaves.
"Before Shaytan [Satan] reveals his doubts to the weak-minded and weak hearted, one should remember that enslaving the families of the kuffar [infidels] and taking their women as concubines is a firmly established aspect of the Shari'ah that if one were to deny or mock, he would be denying or mocking the verses of the Qur'an and the narration of the Prophet … and thereby apostatizing from Islam," stated the IS' propaganda magazine "Dabiq."