Christian New York Times Editor Dispels Perception of Paper's Bias Against Evangelicals as 'Misguided'
Michael Luo Recalls Encountering 'Most Overt Hostility' Among Conservatives at Voters Values Summit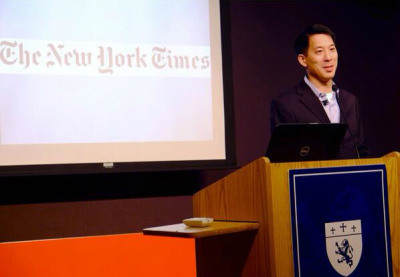 A New York Times reporter-turned-editor recently shared his experience in working for over 10 years in various capacities for the liberal-leaning publication, and insisted that the "paper of record" is not intentionally biased against Christians, as some conservatives might believe.
Michael Luo, who attends Tim Keller's Redeemer Presbyterian Church in Manhattan and became a Christian at Harvard University, told an audience at The King's College last week that whenever his colleagues at The New York Times do happen to botch a report that casts Evangelical Christians in an unfair light, that it is mostly due to ignorance.
"When we screw up, it's not because of some overt prejudice," explained Luo.
"A lot of reporters at The New York Times do not know any Evangelicals, or know very very few. Maybe they've set foot in church, but it was probably a long time ago for a lot of them. And obviously, they have worldviews that are very different in a lot of cases from Evangelicals, so they might not know that evangelicalism is a theological orientation."
He added, "Ignorance can obviously lead to inaccurate and misleading characterizations. And yes, it can lead to bias sometimes seeping through in the way Christians are depicted."
Luo, recently named The Times' deputy metropolitan editor, emphasized, however, that such errors are rarely, if ever, committed by paper's regular religion reporters.
Before explaining those particular challenges, however, Lou, who has covered everything from presidential campaigns to Christians in Iraq to the gun lobby, recounted the difficulty he had in gaining the trust of conservatives at the Values Voter Summit several years ago.
"The most overt hostility I've ever encountered as a reporter for The New York Times, more than Baghdad, more than presidential campaigns, more than taking on the gun lobby, was when I went to the Values Voter Summit in 2008," said Luo.
"People literally were sneering at me after I introduced myself [as a New York Times reporter]," he added.
Relating his interaction with one couple that was at first skeptical, Luo said that they were put at ease once he shared that he was a believer and attended church.
"Then, they introduce me to this fairly prominent Christian conservative leader who's walking by," he said. The unidentified leader requested that Luo "prove" that he was a Christian, although he eventually relented, said Luo.
"Obviously, the reason I got that hostility at the conference was because of the widespread belief that The Times is dominated by secular elites who are hostile to faith," he added.
"As a believer who's worked at The New York Times for more than a decade, I can tell you that that perception is misguided in a lot of ways," said Luo, who revealed that he recently organized a breakfast with other believers who work at the publication.
"It's certainly not the easiest place to say you're a Christian," he added, noting that much of The New York Times' staff is reflective of its highly cosmopolitan surroundings.
The Times' urbane staff and readership also was noted by the publication's public editor, Margaret Sullivan, in an interview last year with CNN.
When asked about The New York Times' liberal bias, Sullivan responded: "I mean that is obviously something people feel about The Times, and I think maybe the best way to think about it is that The Times reflects its readership, its community. It's an urban paper; it's a New York City paper. I mean that's a reasonable criticism, I think."
Sullivan referenced Daniel Okrent, The Times' first public editor, penning a 2004 column titled, "Is The New York Times a Liberal Newspaper?"
As for Luo, he believes he has a "kingdom purpose" as a reporter of faith working at The New York Times, and suggested that both his employer and other Christians benefit from his presence at the publication.
He explained to the audience at The King's College last week that his motivation in choosing to pursue journalism as a career as an undergrad at Harvard, and what drives much of his work today, is the Bible verse Micah 6:8, which reads in part: "... what does the Lord require of you? To act justly and to love mercy and to walk humbly with your God." Luo noted that a desire to show love and do mercy propelled much of his early work as an investigative journalist, for which he has earned awards.
Luo, 38, went on to explain issues he personally grappled with as a Christian working at The New York Times, including the expectation among fellow believers that his position would entail bringing "Christian truth to the pages of The Times." He also wrestled with concerns over being a visible Christian, and explained how former New York Knicks player Jeremy Lin's "Linsanity" craze provided the opportunity for him to come out as a Christian at The Times.
Watch the video of Luo's remarks at The King's College on being a person of faith at The New York Times in the player below, or on YouTube. The occasion of Luo's remarks was to deliver the inaugural lecture for the college's Phillips Journalism Institute.