Christian Sweet Cakes Bakers Fined $135K for Not Working Gay Wedding Send Care Package to 10 LGBT Groups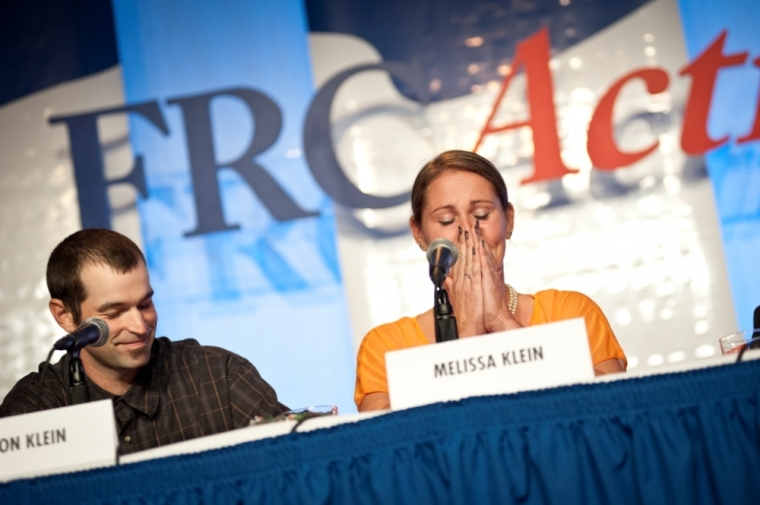 The Oregonian Christian bakers who were sued and fined $135,000 for refusing to make a cake for a same-sex wedding have sent a care package that includes a DVD of a Christian film, a cake and a gift card to 10 gay rights organizations in what the bakers have deemed a simple expression of "love."
Aaron and Melissa Klein, the owners of the now closed Sweet Cakes by Melissa bakery in Gresham, Oregon, said this week that they sent care packages to 10 different LGBT organizations in order show how much they "really do love" those activists despite their differing viewpoints.
The packages includes a copy of the Christian film "Audacity," a cake with the words "We Love You" written on top of a big red heart, a $25 restaurant gift card provided by "Audacity" director Ray Comfort and a letter.
Melissa Klein told TheBlaze that she had been communicating back and forth with Comfort about his new movie, which focuses on the Christian perspective on homosexuality, and then they came up with the idea to send the cakes. The cakes are about eight inches in radius with white frosting with a giant red heart on the top. The inside of the cakes are red, white and blue in order to symbolize freedom.
According to the Daily Signal, the care packages were sent to the following organizations: California LGBT Arts Alliance; Asian and Pacific Islander Wellness Center; Californians Against Hate; CFAC Headquarters; Equality California; Out and Equal; The South Bay LGBT Community Organization; The LGBTQ Center Long Beach; Los Angeles LGBT Center McDonald/Wright Building and LGBT of Southern Nevada.
"We're doing it in hopes that they can hopefully see [how] to understand us as being Christian, and why we believe the way we do — and why we do the things we do. They don't understand the things we do," Melissa Klein said. "We wanted to have the cake represent freedom — that we all should have freedom and to live our lives the way we want to. But I also feel like I should have the right to live the way I want to, and that should be my choice."
The LGBT group Canvas for Cause has also reportedly received a care package, although they were not included on the Daily Signal list. A representative of the the San Diego-based group told LGBT Weekly that the package was received in the mail but the organization was less than thrilled to receive it.
"A box came in the mail to a radical queer rights organization; the box said fragile, dry ice, and cake — so we weren't exactly sure what to make of it. We had already received hate mail earlier this week so we were naturally wary of potential danger," Em Sal, a program director for Canvas for Cause, said. "Once we opened the package, we were genuinely excited to see that it was in fact a cake … and then we saw the movie and knew this cake came with some homophobic strings attached."
According to LGBT Weekly, the letter the Kleins sent the organizations states that Christians are not the "enemy" of the LGBT community.
"We're the bakers who declined to create a cake for a same-sex wedding and were ordered to pay the girls $135,000. We want you to know that our actions were not motivated by hatred, and we personally baked this cake as a small token of our love," the letter reads. "Enclosed is an award-winning movie that further expresses our feelings. I would be honored if you would watch it."
"On behalf of Christians, we want you to know that we do love you, and we are not your enemy (America is about freedom, and freedom for everyone)," the letter continues.
The Kleins said they did not plan to tell the media about sending the care packages, however, it was revealed through a conversation with the The Daily Signal about other issues.
"That's the whole narrative that they've put forth this whole time, that I'm this big hateful guy," Aaron Klein said. "I don't get where that comes from because I've never been that guy."
After being sued by a lesbian couple for declining to bake them a cake for their wedding reception on the grounds that it violated their Christian beliefs, the Kleins closed up their bakery. Melissa Klein still bakes goods for other people from her home.