'Christianity Is Not an Ornament,' Says Creator of Controversial 'Jesus the Homeless' Sculpture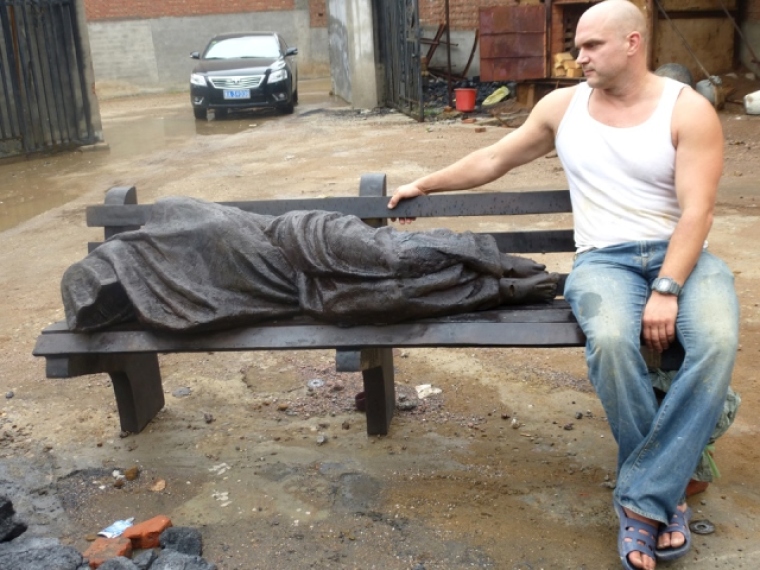 Chicago is the most recent city to give the controversial "Jesus the Homeless" sculpture a permanent residence. Even though some Christians feel that the image of Jesus as a homeless person is offensive, the artist believes it's a clear representation of the Gospel message.
The life-size bronze sculpture depicts Jesus Christ as a homeless person sleeping on a park bench and was unveiled Monday at its newest location, which is in front of the Catholic Charities of the Archdiocese of Chicago.
Earlier this year, a woman in Davidson, N.C., called police fearing for the safety of her upscale community after believing that the statue was a vagrant sleeping outside St. Alban's Episcopal Church.
Cindy Castano Swannack, the woman who had called police, told NBC Charlotte that even after she discovered the person she saw is only a sculpture of Jesus depicted as a homeless person, she further commented that the image is offensive.
"Jesus is not a vagrant; Jesus is not a helpless person who needs our help. We need someone who is capable of meeting our needs, not someone who is also needy," Swannack asserted.
Christian artist Tim Schmalz, who created the "Jesus the Homeless" sculpture after witnessing the enormity of homelessness in wealthy cities such as Toronto, Canada, told The Christian Post that Swannack is not alone in her criticism.
"When some people look at it — and I've heard comments — they've expressed that it creeps them out. And they ask, 'How can you represent Jesus like this?'" Schmalz explained.
"The criticism is that Jesus wasn't a bum. And it makes me realize, after half a year of having the piece out there, how much the piece is needed. This representation should be out there to confront people and their hatred toward humanity, in a sense," he added.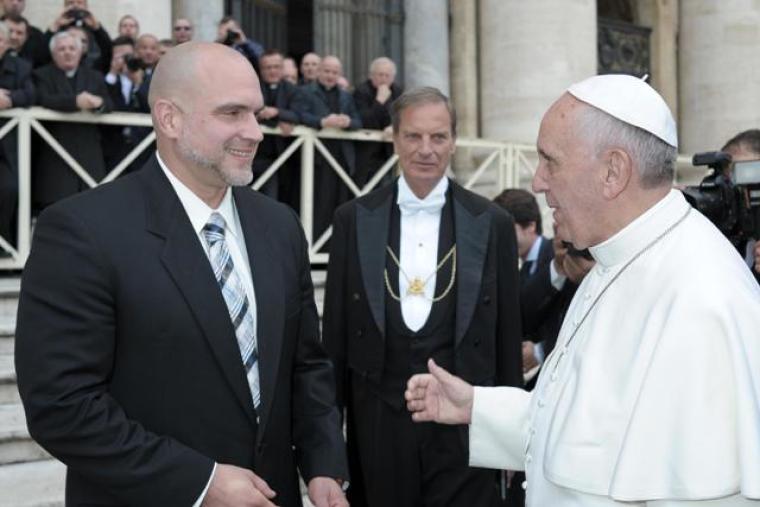 When he was in downtown Rome in November before he presented Pope Francis with a bronze model of "Jesus the Homeless," he told CP that he thought about Mother Theresa and her emphasis on Jesus wearing many disguises, as the sick and the marginalized.
He further commented that he sees people's reaction to the piece as a cultural expression of "the value we place on people."
"This sculpture is not an ornament," he asserted. "Some people say it frightens them. But I'm glad about that, because Christianity is not an ornament. Many people are used to putting their faith in a specific compartment of their life and bringing it out like something that can very much comfort them."
He continued, "This sculpture, unlike so many other sculptures in the past, treats it not like an ornament, but an absolutely powerful spiritual force that is haunting, challenging and will make you shake. It's not something just to make you feel better."
Schmalz said Christians need to remember that Jesus was attached to the broken and marginalized people in society, even if their gut reaction is: "Jesus did not look like that."
"When Jesus said to the rich young man, sell everything and give it to the poor, what he's saying to me and what he's saying to America and the rest of the world today is: What you value isn't that valuable. As a matter of fact, what you value is actually negative. What a strong and powerful message."
Since he first made the sculpture two years ago, Schmalz said he's become more sensitive to the idea of the homeless and the feelings of those who've lost their homes, and subsequently their self-esteem and their sense of self-worth.
"One thing I notice is that, when you're friendly to homeless people, you can really see that it means something to them," he said, "because most people just basically consider them invisible. And I think what that does is it destroys one's being, and one's happiness and peace.
"This sculpture is for the marginalized people, so that when they come by it on a city street and they see the Son of man looking a lot like them, I think it will give them back something. And that's part of the power."
Other cities that will so be displaying "Jesus the Homeless" are Dallas and Washington, D.C.