Christians in India Warn of 'Spiraling Hatred' in Letter to PM Modi With Photo of Hindus Burning Cross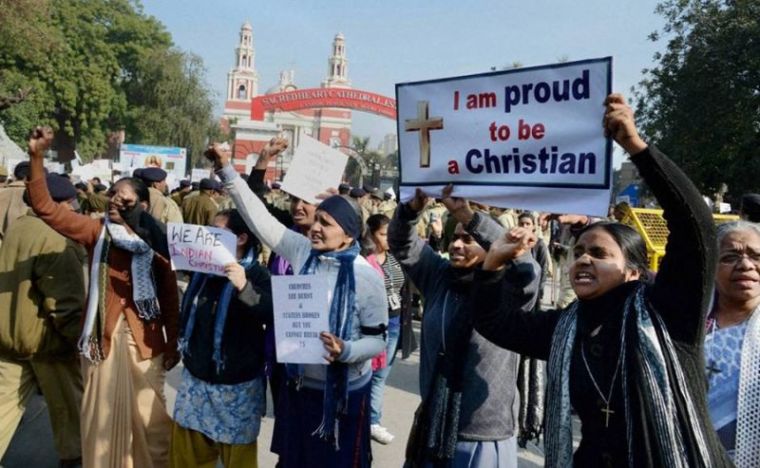 Catholics bishops in India have written an open letter to Prime Minister Narendra Modi, warning him of an apparently organized campaign against the Christian minority in an eastern state which is governed by Modi's Hindu nationalist Bharatiya Janata Party. The letter carries a picture showing Hindu nationalists burning an effigy of a cardinal with a large wooden cross.
The letter by the Catholic Bishops' Conference of India expressed concerns over "spiraling hatred" being spread by Chief Minister Raghubar Das of Jharkhand state, where alleged members of a Hindu nationalist group, Hindu the Jagran Manch (Hindu Revival Group), recently burned an effigy of Cardinal Telesphore Toppo, according to La Croix.
Signed by CBCI Secretary General Bishop Theodore Mascarenhas, the letter said the state government sees the Catholic Church as its enemy because Christians are seeking to protect land rights of tribal, or aboriginal, people.
Tribals comprise more than one-fourth of the population of the state, which wants them to vacate their ancestral land for large mining projects.
The letter warns that if the ongoing hate campaign was "not controlled immediately," a social calamity could erupt.
Bishop Mascarenhas described the attached photo as "frightening, disquieting and scary."
"Perhaps those leading this ideological hatred targeting the Christian community do not know what they are doing, where they are leading the people to: on the road of hatred and division," the letter read, according to Catholic News Service.
"We have a chief minister who is openly sowing seeds of hatred and destroying the social harmony. This is not acceptable," the bishop was quoted as saying.
Christians, most of them Catholics, account for less than 5 percent of Jharkhand's 27 million people.
Last month, the Jharkhand Assembly passed a bill that seeks to restrict religious conversions.
Known as the "anti-conversion" law, the Religious Freedom Bill, 2017 states that no one shall use "force" to convert others. "Force" also includes the "threat of divine displeasure," which means a Christian cannot talk about Hell or God's judgment.
Christians are fearful across the country, not just in Jharkhand.
The first quarter of 2017 saw 248 incidents of persecution in the country, and by June-end, the number grew to 410, a recent report by Open Doors said, noting that a total of 441 incidents were reported in all of 2016.
Apart from physical attacks, Open Doors' partners recorded 37 incidents where Christians were socially boycotted and 34 incidents where Christians were forced to leave their homes.
The governing Bharatiya Janata Party, which came to power at the federal level in 2014, is widely seen as the political arm of the umbrella Hindu nationalist group Rashtriya Swayamsevak Sangh (RSS, or National Volunteer Corps).
The report noted that the group's founder, M.S. Golwalkar, said: "The non-Hindu people in Hindustan (referring to India) must either adopt the Hindu culture and language, must learn to respect and revere Hindu religion, must entertain no idea but the glorification of the Hindu religion, that is they must not only give up their attitude of intolerance and ingratitude toward this land and its age-long tradition but must also cultivate the positive attitude of love and devotion instead; in one word they must cease to be foreigners or may stay in the country wholly subordinated to the Hindu nation claiming nothing, deserving no privileges, far less any preferential treatment not even citizen's rights."