Church Settles Case After 13-Year-Old Oklahoma Girl Raped In Stairwell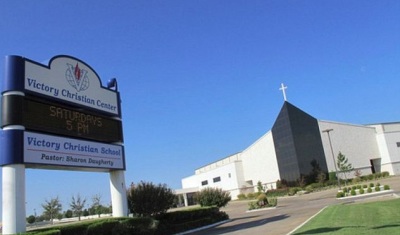 An Oklahoma mother who sued a mega-church last year after her then-13-year-old daughter was raped on church property by the janitor has been awarded a settlement.
A Victory Christian Center spokesperson declined to share the details of the settlement, citing the confidentiality of the family.
This lawsuit's decision comes after the now-21-year-old former janitor Chris Denman pleaded guilty in 2012 to "first-degree rape, forcible oral sodomy, lewd molestation, making a lewd proposal to a child, and two counts of using a computer to facilitate a sex crime."
The former church employee was ultimately accused of sexual allegations by four girls under the age of 18.
Denman was sentenced to 55 years in prison, but he was not the only church member against whom the court ruled.
The son and daughter-in-law of the church co-founder and head pastor Sharon Daugherty, John and Charica Daugherty, were charged with failure to report a crime after they waited two weeks before reporting the girl's rape to police.

A judge gave the Daughtery's five-year deferred sentences with no jail time and indicated that he hoped that the sentence would not just be a mild slap on the wrist.
"'I want the hammer over your heads, Mr. and Mrs. Daugherty, for a longer period of time. I want to make sure things are done right," he said.
Three other church employees were also charged with failure to report a crime. The judge sentenced Paul Willemstein and Anna George to 30 days in jail and Harold Sullivan for a year.
Last month, Israel Shalom Castillo, 24, who also worked as a janitor at Victory Christian Center, was sentenced "to 18 months in prison for making a lewd proposal to a child." The victim in Castillo's case was not the same as Denman's.
Victory Christian Center is based in Tulsa and has a congregation of about 17,000.