Churches Housing Muslim Families Fleeing Violence in Iraq, Says World Vision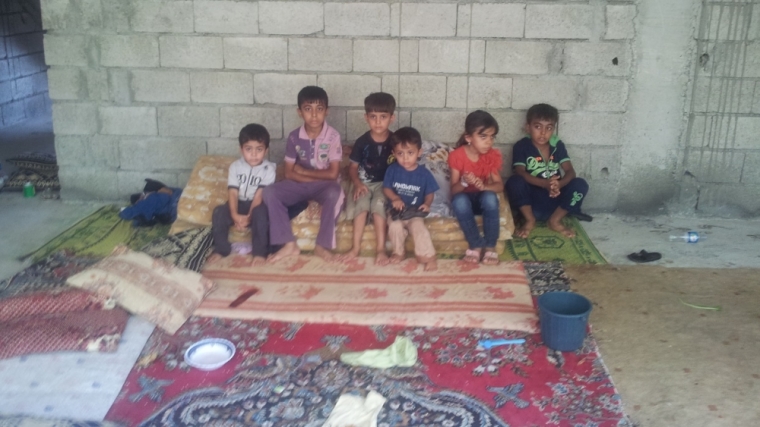 While Iraq is struggling to cope with the severe humanitarian crisis that has seen close to 1.2 million people flee their homes on the run from terror group ISIS, Christian Churches are opening their doors and housing Muslim families in acts of generosity, Christian humanitarian group World Vision has said.
Refugees, who are constantly increasing in number, are in need of basic necessities and are praying for the end of hostilities, which have disrupted the lives of millions, including many children who are now unable to go to school.
The Iraqi government has been locked in a battle against ISIS, which has captured large amounts of territory in Syria and Iraq, with humanitarian groups playing a crucial part in providing relief to the millions of people in need.
Kathryn Taetzsch, World Vision's Senior Emergency Response Leader in Iraq, detailed relief efforts in Erbil, the capital of the Kurdistan Region of Iraq, in an email interview with The Christian Post on Friday:
CP: How has the situation at refugee camps in Iraq changed in the past couple of months with the advance of Islamic militants?

Taetzsch: The humanitarian situation has significantly deteriorated, and more Iraqi families are becoming displaced from their homes. Approximately 1.2 million people have been forced to leave their homes. In just one week, in the beginning of August, 200,000 Iraqis were displaced as the violence escalated.

In the northern part of the country, an estimated 117,000 people have relocated to Erbil and neighboring Sulaymaniyah is housing another 81,000 people. These numbers are expected to increase as families continue to flee the violence and seek safe shelter. The majority of these families have moved several times, fleeing insecurity, searching for adequate food and water, and looking for a safe place to house their families. The United Nations recently declared a "Level 3" emergency to urgently scale up their response.

CP: What are the threat levels in Erbil and the surrounding region? Has the World Vision team encountered any difficulties relating to security?

Taetzsch: Erbil is generally secure, and the World Vision team there is conducting a rapid assessment to quickly determine the most-urgent needs and begin our response. It is critically important that aid agencies continue to have safe, secure humanitarian access to provide emergency relief to the most vulnerable refugees and displaced people, including children, pregnant and breastfeeding women, and the elderly.

CP: What are the greatest needs and concerns of refugees in Iraq right now? What are the main ways in which World Vision and other humanitarian groups are helping?

Taetzsch: Immediate basic needs are food, water and shelter. Families are temporarily living in local schools, unfinished buildings, churches and other community centers. Some are living out in the open.

There are often more than 20 to 30 family members in small spaces like classrooms, and, given the very hot summer temperatures (more than 100 degrees Fahrenheit most days), plus overcrowded accommodations and poor sanitation, this is a very serious challenge for humanitarian organizations.

Some communities have told aid workers that they cannot cope with the influx of arriving families and may need to send them elsewhere.

Recognizing that children are always disproportionately affected by conflict and displacement, World Vision's global rapid response team is on the ground in Iraq, setting up operations to help these families.

Initially working through local partners, our team is preparing to deliver food, water and other aid supplies to children and their families. To support World Vision's work in Iraq, please visit www.worldvision.org or call 1-888-56-CHILD (1-888-562-4453).

CP: Which parts of Iraq do most of the refugees World Vision has encountered come from? Roughly how many Christians are among them?

Taetzsch: The refugees and displaced people are from several religious groups, including Christians, Sunnis, Shiites and Yazidis. It is difficult to estimate exactly how many of those fleeing are Christian, however, World Vision remains concerned for all families who have been persecuted because of their faith. It is a very dangerous situation for them.

Despite the challenges, we have seen incredible generosity — Christian churches housing Muslim families and others reaching out to help their neighbors, regardless of their faith. One local government leader told our team that in an earlier conflict, half of the population in his sub-district had been displaced to a neighboring country; and because of this, they now readily welcome anyone who comes to their community in need of shelter and support.

CP: How do the refugees feel about the international community's response to the advance of ISIS militants?

Taetzsch: The people we spoke to are very distraught by what they have experienced over the past several weeks, and unfortunately, for many, this isn't the first time they've had to flee their home.

Violence in Iraq over the past several decades has forced some families to repeatedly run for safety. This region urgently needs peace; children are losing the opportunity to go to school, and they are seeing a future full of violence and fear instead of hope.
Other Christian relief groups working in Iraq, including Open Doors, have also spoken out about the "unbelievable suffering" they have seen in the country, as well as efforts by Christian churches to host as many people as possible.
"When the church is full, the people go into other buildings or the halls of the church. If these are full, too, then the people flow over into the gardens or courtyard of the church. Also, several floors of buildings under construction are taken over by refugees as a place to stay. They are everywhere," an Open Doors field worker reported earlier this week.
This year World Vision has also been aiding Syrian refugees fleeing the ongoing civil war between rebel groups and President Bashar Al Assad.
The Syrian death toll has topped 191,000 people, the U.N. High Commissioner for Human Rights Navi Pillay said on Friday, and well over 9 million people, close to half of them children, are in need of humanitarian aid.