Comedian Michael Jr. Is 'More Than Funny,' Uses Punchline Analogy as A Worldwide Call to Action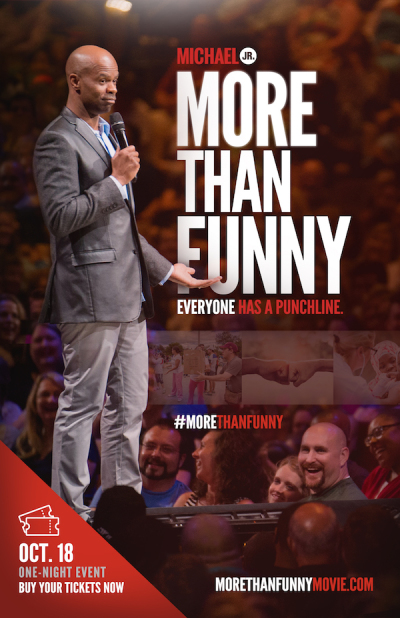 Michael Jr. is releasing his new comedy special "More Than Funny" this month, and in the film, the Christian comedian blends comedy and real-life inspiration in an effort to encourage people to find their "punchline."
"More Than Funny" hits theaters nationwide for one night only, Oct. 18, and will feature some of Michael Jr.'s one of a kind clean comedy along with three inspiring testimonies. He is currently touring the country and has had mainstream success with his clean skits, has been featured on shows such as NBC's "The Tonight Show," ABC's "Jimmy Kimmel Live," "The Late, Late Show," and was even in the box office hit "War Room."
However, he never once thought he'd be a Christian nor a comedian.
"The Gospel wasn't even a thought in my mind and doing comedy wasn't a thought. I had no idea what I was going to do in high school," Michael Jr. told The Christian Post in a recent interview. "Senior year, people were going off to different schools and joining the army and going to university and they were like, 'Michael, 'What are you doing after school?' I was like, 'I'm going to go make a sandwich. I'm hungry.' I didn't have any plans past that."
What sets him apart from others in his industry is his heart to do more than "just" make people laugh. He treats his comedy specials as ministry and said it's because of the call on his life.
"I think it's a matter of me recognizing that I'm actually called to comedically inspire people to walk in purpose," he explained. "So if I could get people to laugh, that's great because laughter opens up their heart, but I don't want to just actually open up a heart, I want to make a deposit.
"I want to help people understand if they have a purpose they should walk in their purpose. The story of Jesus is one of the stories that I tell on the way to that goal. So it just happens to be the most powerful story that people are really, really responding to."
The father of five specified that he's "all about action." His goal is to help people get inspired to act on their call, rather than just be entertained at one of his shows. At the end of "More Than Funny," Michael Jr. issues a call to action and people are already catching on to it.
"Even the people in the media who have seen it, they're taking action to these things in a really cool way," he shared. "In school, I used to struggle with my reading and had different obstacles there, so I've always had to create an experience around things to learn them. That's what I love to do for my audiences too. I want them to laugh, I want them to feel that, but at the same time I want them to do something."
Michael Jr. is gifted at bringing laughter to very uncommon places such as homeless shelters and prisons with his inspirational sketches, stand-up and short films. His shows evolved one day while at a Los Angeles comedy club.
"I felt like God said to me instead of trying to get laughs from people, I want you to go up there and give them an opportunity to laugh," Michael Jr. testified. "That night, I noticed a homeless guy across the street. I had never seen a homeless guy before outside of this club and I've been there many times, but I noticed him and was like, what about him? How could I give him an opportunity to laugh?"
God has since given the comic a new meaning for the term punchline.
"The way comedy works, whenever someone laughs in any form, there's a set setup which makes the audience think in one direction. Then after the setup is when the punchline happens. It's when we change the direction without much warning at all to the audience," he explained.
"I felt God was showing me that there's a setup and there's a punchline. Your setup is your talents, your resources and your opportunities. Your punchline is what you're called to deliver," he continued.
Michael Jr. said he often thinks about how many people do not know what their punchline is because they remain stuck on their setup.
"If you don't know it, you'll feel like something's missing and you're trying to fill that void and think what you really need to be fulfilled is more setup — if I could just get married, if I could just buy a house, but you really just need to know and understand what is your punchline," he advised. "The best way to do that is taking steps to deliver a punchline right now today, meaning there's something that you can give to someone else."
Filmed before a live audience, "More Than Funny" features three real-life stories of people from different walks of life. Michael Jr.'s shows are also very diverse and when asked to share his input on what could bring people from different walks of life together in divisive times he said it all goes back to serving one another by using their punchline.
"I think more times than not people are just pointing their finger at other people and saying, 'What you should do is this, or what you should do is that' but it starts with the man in the mirror," the humorous minister told CP. "So if we would just look for those opportunities based off of our setup on how we can give to someone else, we would just, by default, be in a better place."
"If everyone who was disagreeing with someone else thought to themselves, 'What can I give to somebody else? As opposed to, 'What can I take?' the disagreement would stop immediately. The fighting would stop immediately," he maintained.
He encouraged everyone to use what God has given them to "help other people and show His love to others."
Michael Jr.'s "More Than Funny" issues the call to use one's "punchline." Tickets to see the film are now available on FathomEvents.com.