Horror Film 'The Conjuring 2' Seeks to Promote Christian Message, Good Conquers Evil (Exclusive Clip)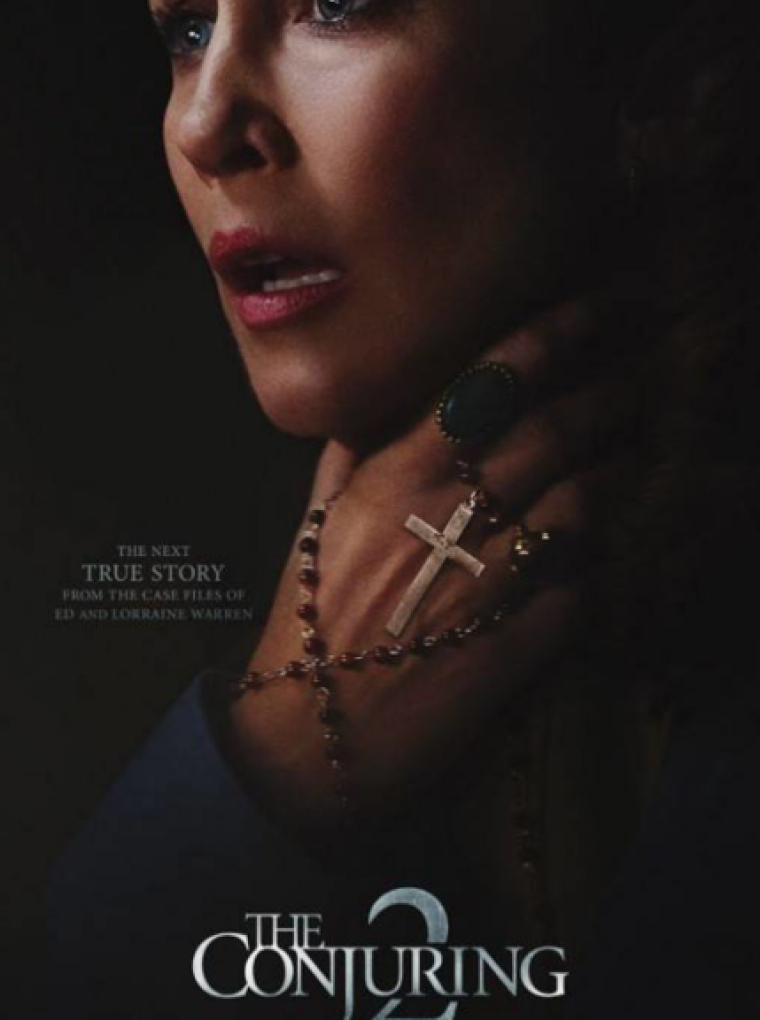 "The Conjuring 2" is written by Christian screenwriters Chad and Carey Hills, and in their new horror film they hope to spread the message that God will conquer evil.
New Line Cinema's supernatural thriller "The Conjuring 2," directed by James Wan ("Furious 7"), brings to the silver screen another real case of the paranormal from the files of renowned demonologists Ed and Lorraine Warren, who use their faith to drive out demons. The hair-raising thriller will hit theaters June 10.
Reprising their roles, Oscar nominee Vera Farmiga ("Up In the Air," TV's "Bates Motel") and Patrick Wilson (the "Insidious" films), star as Lorraine and Ed Warren, respectively, in one of their most terrifying paranormal investigations when they travel to north London to help a single mother raising four children alone in a house plagued by malicious spirits.
Although a straight horror film, the writers of "The Conjuring 2" want people to see that evil exists in the form of demons as written in scripture, but God will always triumph over them. The film also tackles spiritual warfare, prayer and faith in God.
Check out an exclusive clip from the film below:
The following is an edited transcript of Chad and Carey Hills' interview with The Christian Post in which they discuss the role Christianity has in this scary mainstream film.
The Christian Post: When most Christians think of a scary movie, they think evil and avoid it. But you are trying to spread a specific message in this film that you think will resonate with Christians, what is that?
Hills: For us, it's very simple; we love doing true stories of where good conquers evil. "Conjuring 2" is a story told through the eyes of believers, whose strongest weapon is their faith in God. Our film allows believers and non-believers to travel their journey with them, and in some ways, maybe affect someone who is on the edge of faith, and somehow give them the strength they need.
CP: What advice does the movie offer to help people have faith in God?
Hills: Have faith in God, because he's the winner. Through Him, evil is banished, a young girl is saved, and a family is brought back together. Without the Warrens and their faith, none of that would have happened, and this film is just one of millions of examples.
CP: In the film you talk about visions being a gift from God. Were you given a specific vision for this film and if so, who was this movie meant to reach?
Hills: We weren't given a specific vision, other than we wanted some of the movie to touch everyone out there, who may be able to identify with a piece of it. In the first film, our test audience of all ages loved it equally, which meant we had a broad audience, so we tried to do the same in the second one. One advantage we had in this film was more time to spend on relationships, as we didn't have to set up Ed and Lorraine's characters, as that was done in the first film. What the Warrens had was a beautiful, loving and committed relationship with each other, as well as God. In this film, you get to dig much deeper into who they really are.
CP: Can you give us a brief look into your own personal faith?
Hills: We both came to faith at a young age, and bring prayer into our everyday lives. We believe our talent is a gift, and look for the Lord's guidance.
CP: There's a quote in the movie that says, "God will be there for all who need." Where did this principle come from, and what can you tell skeptics who do not believe that?
Hills: It's something that we just believe in, and have had eyewitness accounts of that being truthful. Some may not see it as that, as they think what they need is one thing, and don't see what God has provided them. We would encourage the skeptics to open their hearts and minds, and take a step back, and really look at their lives, and track the good as well as the bad. They may just be surprised at the outcome.
CP: In the Bible every demon shall flee at the name of Jesus but in the "Conjuring" the main character says the cross has power to make demons flee. Were you implying Jesus or do you believe the symbol of the cross has power?
Hills: For us, other than one's own faith in Jesus, the symbol of the cross radiates that faith for those who hold it, hang it, and even tattoo it! Some may have a Bible in their home and think they're protected, but without studying it, and believing, it's like just any other book. Same with the cross. One must believe in what it represents.
We appreciate tremendously the support that has come from the religious community, and we believe there is a hunger out there for more films like this! We'd like to say a "big thank you" to all of you that have shown the support!
"The Conjuring 2" will premiere in theaters Friday, June 10. For more information visit imdb.