Conservatives Slam Disney's Display of Gay Characters Kissing in Cartoon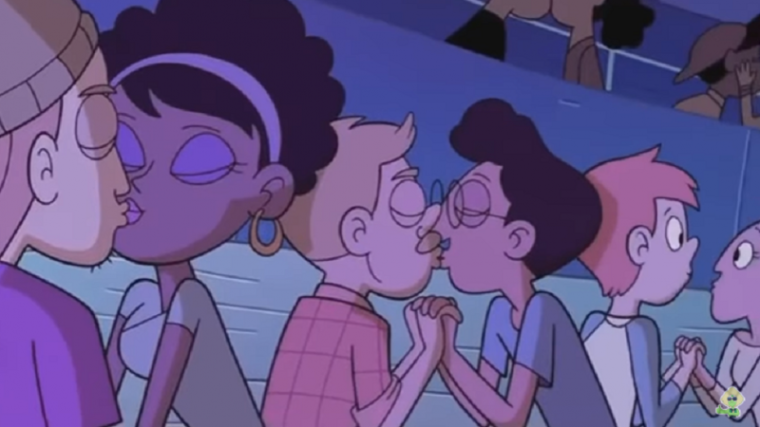 In keeping with what the company describes as a longstanding policy to be inclusive, Disney XD, for the first time in the company's history, included several gay characters kissing in an episode of "Star vs. The Forces of Evil," one of its most popular cartoons on Monday. And conservatives are not happy about it.
The animated show follows Star Butterfly, a teenage princess from another dimension, as she navigates high school, embarks on dimension-hopping adventures across the multiverse, and battles arch-nemesis Ludo and his monstrous forces of evil alongside her best friend, Marco Diaz. Disney XD, according to The Hollywood Reporter, has ordered a fourth season of the show, which stars Eden Sher, ahead of its third-season premiere.
In a scene where the characters sing "Just Friends" while at a concert, several gay and lesbian couples are featured kissing. Other characters appeared transgender.
While gay advocate Christopher Scott Ferreira, a teleprompter operator at Fox Business in New York City, wrote "Thank you Disney" on Facebook and celebrated with a gay pride flag and heart Wednesday, conservatives denounced the company for promoting an LGBT agenda.
"When I was growing up, we didn't have these kind of cartoons. They were simply fun entertainment with no built in sexual agendas. I believe folks ought be focused on something other than sex and their genitals ... and our children's genitals. Disney, you are getting ready to lose a chunk of change!" warned Janie Miles.
"Hollywood is such a disgusting cesspool. There is nothing beneath them. No morals. No values. No God. These are the same people that praise and award pedophile actors and directors," wrote Dewayne Kester.
Other critics like Kimberly McClung said the Disney Channel has always been "off limits" to her children due to the "boy/girl dynamics" while Demontre Dugger noted: "Parents I urge you to drop your kids from watching Disney. They're pushing that filth down the kids' throats."
HeatStreet reported that while this is the first on-screen same-sex PDA for Disney, the company has periodically included non-heterosexual relationships in its TV shows, including a lesbian couple in "Good Luck Charlie" and a gay couple in "Gravity Falls." Viewers also have speculated about possibly gay characters included in the films "Zootopia," "Finding Dory," and "Frozen."
The report noted that Cosmopolitan has expanded that list, suggesting that "The Little Mermaid's" Ursula, "Sleeping Beauty's" Flora, Fauna and Merryweather, and even "Beauty and the Beast's" Gaston may be gay.
The company notes on its website that inclusion of diverse stories in their productions is a hallmark of company policy.
"The Disney brand has always been inclusive, with stories that reflect acceptance and tolerance and celebrate the differences that make our characters uniquely wonderful in their own way. We constantly strive to live up to that legacy by continuing to create and share compelling storylines from our studios and media networks that entertain with inspirational and aspirational themes and reflect the incredibly rich diversity of the human experience," it said in a policy statement.
"Our stories are timeless because they speak to the heart; our characters appeal to children across gender, ability, and experience because they're defined by kindness, loyalty, humor, courage, wit and other traits that make a good friend. Disney remains committed to continuing to create characters that are accessible and relatable to all children."
[WATCH THE SCENE BELOW]