Coral Ridge Presbyterian Church Appoints Rob Pacienza as New Pastor After Tullian Tchividjian Resignation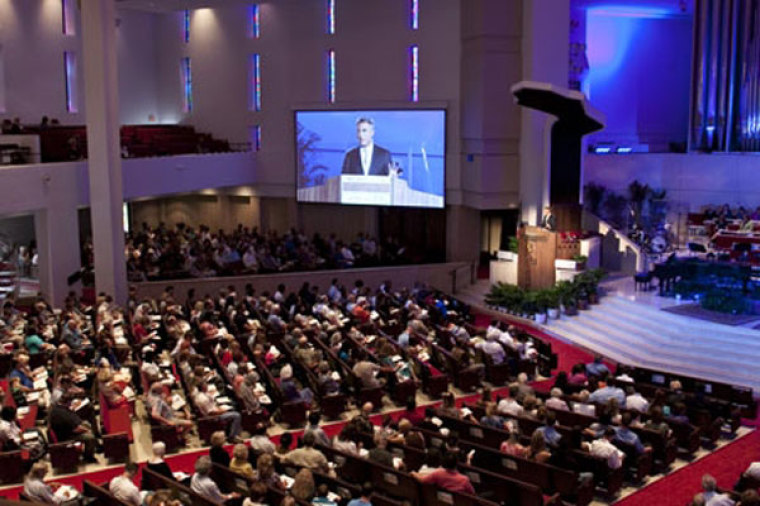 About a year after Billy Graham's grandson Tullian Tchividjian resigned as the pastor of Coral Ridge Presbyterian Church in Florida after admitting to an affair, the congregation has appointed Rob Pacienza, who has been on staff, to serve as its next lead pastor.
"After a comprehensive and exhaustive search, we are pleased to announce that we found the best candidate right underneath our noses," Rod Hayes, chairman of the church's Pulpit Search Committee, announced Sunday. "Rob brings a unique mix of appreciation for the history and tradition of Coral Ridge as well as a burning desire to capture the hearts of our city of Fort Lauderdale with the Gospel of Jesus Christ. We are excited about welcoming Rob to his new position of leadership at Coral Ridge and look forward to how God will use him in our midst."
Pacienza, who has been on staff of Coral Ridge for the past seven years and previously served as executive pastor, said he was "humbled and honored" by the congregation's decision.
He said the members have expressed their trust in him "to shepherd them through this next stage of what I believe will be an exciting time of faithful and fruitful ministry." He added that the church "is 'home' to me, and I cannot think of a congregation I would rather pastor."
The new pastor sensed God's calling about 20 years ago when Coral Ridge's first Pastor, the Rev. D. James Kennedy, asked him, "Have you ever considered the ministry?" His first job was pulling cable for the cameras on Sunday mornings at Coral Ridge.
He attended Samford University in Birmingham, Alabama, and continued to intern with the Coral Ridge student ministry during his summers. After graduating with a degree in religion, Pacienza got married and began serving as Student Minister at Rio Vista Community Church in Fort Lauderdale, Florida, where he eventually became executive pastor in 2007. In 2009, he returned to Coral Ridge, first serving as the inreach pastor and eventually as the executive pastor.
Tchividjian resigned last June, saying, "As many of you know, I returned from a trip a few months back and discovered that my wife was having an affair. Heartbroken and devastated, I informed our church leadership and requested a sabbatical to focus exclusively on my marriage and family," according to The Washington Post. "As her affair continued, we separated. Sadly and embarrassingly, I subsequently sought comfort in a friend and developed an inappropriate relationship myself. Last week I was approached by our church leaders and they asked me about my own affair. I admitted to it and it was decided that the best course of action would be for me to resign."
After Tchividjian's resignation, Pacienza said that he and the other church leadership were disappointed. "We are saddened by this news, but are working with and assisting Pastor Tullian and his family to help them through this difficult time, and asking people to join us in praying that God will bring restoration through this process and healing to all involved."
Last August, Tchividjian petitioned for divorce from his wife, Kimberly Tchividjian.
In an interview with The Christian Post in 2011, Tchividjian, the middle of seven children, shared his past struggles while growing up.
"Being the middle child, I couldn't figure out where I fit in the home. I couldn't figure out whether I was the youngest of the older three or the oldest of the younger three. You know, when you don't know where you fit inside the home and you're young and you're desperate to fit in somewhere, I'd figured where I would fit outside the home. So I made some obviously bad decisions about who I hung out with and the things that I did," he said.
"All of that culminated at the age of 16 when I dropped out of high school, got kicked out of the house. My lifestyle got so disruptive to my family that my parents had no choice but to say, 'You can't live here any longer if you're going to live this way.' So, I was thrilled about it – thrilled! No teachers breathing down my neck, no parents looking over my shoulder.
"I'm finally free to do whatever I wanted to do. All that was great fun until I was 21 years old. It wasn't one particular event or one particular crisis, it was just culminating sense of there's got to be more to life than what I'm experiencing, there's got to be more to life than what the world is telling me. And that's when God, the hound of heaven, tracked me down, wrestled me to the ground and raised me back from death to life."