Corey Feldman Says God Told Him to Expose Hollywood Pedophiles: 'This Is What You Are Here For'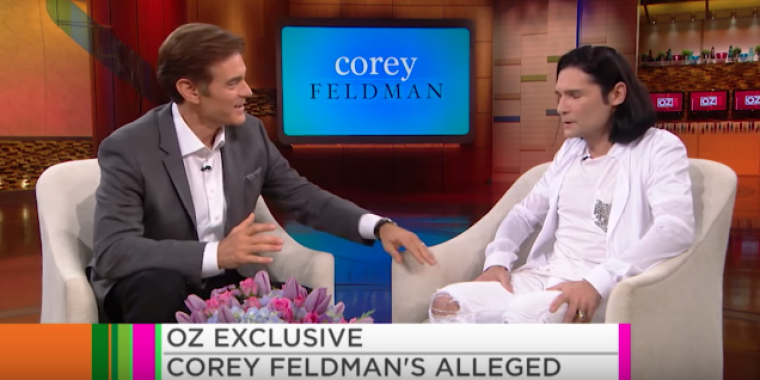 Former child actor Corey Feldman, determined to shed light on the sexual corruption happening in Hollywood, said in a recent interview on the "Dr. Oz Show" that God led him to expose those involved in pedophilia.
Feldman recently launched a full-on campaign to raise money in order to produce a film telling the full uncensored story of those in Hollywood that he says have been abusing child actors for decades, himself included. Feldman says the powers that be have tried to tarnish his career in the past for speaking out and recently even tried to kill him.
Host Dr. Mehmet Oz asked Feldman on the show to help support the brave entertainer giving him the assurance that he would help him get to the bottom of it all. In the past, Feldman had told the authorities the names of his abusers, but because it was past the statute of limitations, they were not able to help him.
Feldman told Dr. Oz that after his recent campaign announcement to expose his abusers, he ran into a number of legal issues. The multi-talented musician, also the leader of a band called The Angels, explained that he was detained in Oct. for having his license suspended. Authorities likewise arrested five others from his tour on other minor charges.
Feldman said after his arrest he was almost run over by two "monster trucks" that sped toward him and his band as they crossed the street one evening while heading to dinner.
"Me and my security guy were literally stuck on the little white line between the two trucks coming whizzing down on either side," Feldman shared.
Testifying, "If we hadn't aligned ourselves and had our minds in the exact same place at the same time, we wouldn't have survived it. But I call it a true miracle of God. I believe that God put his hand on me and moved me out of the way that day."
Around the same time, news broke that numerous women and actresses accused popular filmmaker Harvey Weinstein of sexual harassment and assault. Since then many others in the entertainment industry are under fire for abusing their power as well, such as director Brett Ratner, Oscar Award Winning Actor Kevin Spacey, and Amazon Studios head Roy Price.
Feldman's near-death experience prompted him to release a public video sharing his story of sexual abuse in Hollywood again as well as announcing his future plans to expose it all. He explained to Dr. Oz that the idea was divinely inspired.
"After that event, God told me, 'This is what you are here for, this is what matters.' I heard this in God's voice. I said, 'I have to put myself and my needs aside, [but] I am very afraid for the safety of my child and for myself.'" he admitted. "The only way I knew how to protect myself was to create a film where I can expose all of the truths and hopefully raise enough money through a campaign to get myself the protection that I need to get through this project."
Feldman says the film will take about a year or more to complete. He had not named the names of those Hollywood pedophiles publicly due to fear for his safety. However, because of the support he received from the iconic surgeon, Feldman named two of his abusers while on his recent visits to the show.
Dr. Oz provided security for Feldman while he was in New York City and contacted the Los Angeles P.D. with him on the phone, trying to get some answers.
As the show continued, and the 46-year-old named one of his abusers, actor Jon Grissom. Feldman told the audience and Dr. Oz that he wants nothing more but to receive help from the authorities.
"I'm not resistant here, people need to understand that. I'm here to carry God's message of love and light," Feldman maintained. "Let's let the truth be told people, the time has come for atonement, this is about atonement!"
Feldman, once a troubled actor addicted to drugs, first talked about his faith in God at the age of 20 years old, after already making millions, losing it all and successfully completing rehab.
He now hopes to raise $10,000,000 through an Indiegogo campaign to make the film that will take on the biggest project he's ever been a part of. According to the campaign, he will need the money to direct and distribute the movie, as well as hire legal counsel and around the clock armed guards for protection as he hopes to expose major power players in Hollywood and beyond.
Feldman has now named three of these Hollywood pedophiles. He told Megyn Kelly on "Today" that former child talent manager Marty Weiss is one the abusers, then revealed to Dr. Oz two other names — Jon Grissom and Alphy Hoffman, owner of popular '80s hangout Alphy's Soda Pop Club.