Creed's Born-Again Christian Frontman Scott Stapp Placed on Psych Hold Before Posting Video Saying He's Under Attack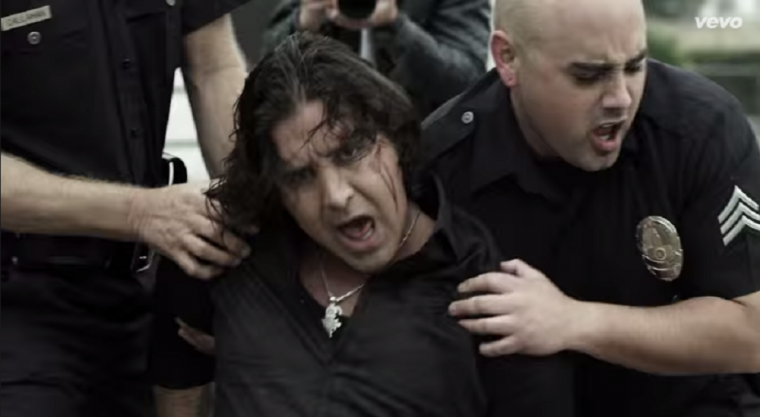 Scott Stapp, the born-again Christian frontman for the popular 90s rock band "Creed" who revealed he was broke and being persecuted by "evil" people on Facebook Wednesday, was placed on an involuntary psych hold less than two weeks earlier.
A report from a Madison County Florida Sheriff's Dept. obtained by TMZ, said cops found Stapp on the side of a road on Nov. 13 and he appeared intoxicated, incoherent and claimed someone was trying to poison him, forcing officers to place him on the 72-hour psych hold.
Stapp, who recently highlighted his struggles with substance abuse, said he has been trying to revive his career by dedicating his time to more Christ-centered music.
The Grammy Award-winning 41-year-old explained at the launch of his latest album Proof of Life just over a year ago that it was the most meaningful record of his career because he had turned his mess into a message.
"This is the most meaningful record of my career," said Stapp. "I've made a lot of messes in my life but I've learned I can take a mess and turn it into a message. This album chronicles my struggles, my journey and it's the most honest record I have ever written. The fans have always meant everything to me and over the years they've come to me and told me how through my music they've gotten through the worst of times and that hit me. With this album, it's the first time that when I listened back to the tracks, it became a cathartic experience for me."
In the lyrics to songs on the 11-track album like "Slow Suicide," Stapp appears determined to leave his troubled past behind him. He screams:
It's no secret,
 I can't pretend, I can't forget
 What I've done
 Every day I live with the consequences
 I let it beat me, let it kick me, let it throw me to the floor
 Those days are over
 I'm moving forward
 It can't hurt me
 and now I believe
His wife, Jaclyn Stapp, who filed for divorce earlier this month, however, alleged his past was still the present. She said in court papers that he disappeared from the home that they share with their three children in early October and has been using drugs again, citing text messages like: "I'm coming to get you Satan and children. No mercy. You know how this ends. God created you and now God is ending you" as evidence.
Stapp publicly reacted to those allegations in a 15-minute video which he posted to his Facebook page Wednesday. The video was later removed from Facebook but not before copies were made and uploaded to YouTube.
In the video, Stapp alleged that he recently discovered that people close to him had been stealing his money and the allegations about his drug use and mental health is a ploy to discredit him.
"I want my son to know that your dad is sober, no drugs, no alcohol. This is a vicious attack. Some people that we know and at the record company have stolen quite a bit of money and I guess that money can make people do evil things," said Stapp.
"There are people that have taken advantage and stolen money from me and they are trying to discredit me, slander me; I've even been threatened that if I even went public like I'm doing right now that any impropriety or anything I've ever done in my past that these individuals can get their hands unto to humiliate and embarrass and try to ruin my credibility that they would do that," he explained.
He also affirmed his faith and said he was trying very hard to maintain his Christian walk.
"As you all know, I have recently over the last couple of years rededicated my life to Christ and I'm a Christian and proud to be. And I love God with all my heart and I'm very excited about the future in terms of finally being able to fully dedicate my music and my life and my testimony and my message to share what God's done in my life and the power of Christ and how he's done so many amazing things for me," he said.
"It's hard for me not to be very angry, resentful, and bitter and want to seek revenge but as a Christian I can't do that as much as I want to. As much as I still battle with that inside of my heart, I have to pray every day that God just extends mercy and grace to me and to those that are doing this to me," he noted.
According to Windup Records, Stapp has sold nearly 30 million albums with Creed, had three Grammy nominations and one win for Best Rock Song with "With Arms Wide Open," and 11 #1 Singles with "My Own Prison," "Torn," "What's This Life For," "One," "Higher," "What If," "Are You Ready," "With Arms Wide Open," "My Sacrifice" "One Last Breath," and "Overcome." Creed put out six albums – My Own Prison (1997) 6x Platinum, Human Clay (1999) 11+ million (Diamond), Weathered (2001) 6x Platinum, Greatest Hits (2004) 2x Platinum and Full Circle (2009) Certified Gold.