Creed's Christian Frontman Scott Stapp Threatened to Assassinate Obama, Relatives Claim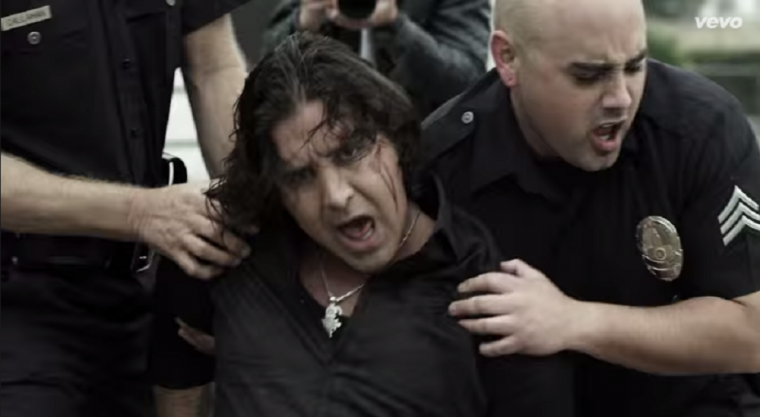 Relatives of Scott Stapp, Grammy Award-winning singer and former frontman of the popular '90s rock band "Creed," made a 911 call last month saying he believed he was part of the CIA, and was supposed to assassinate President Obama, according to a celebrity news website.
Scott was placed on an involuntary psych hold last month, but he went missing and was spotted cruising around his neighborhood, shirtless on a bicycle, his sister-in-law told a 911 dispatcher, reports TMZ, which obtained new 911 tapes.
She said Stapp claimed to be a CIA agent and his mission was to assassinate Obama.
Stapp's wife, Jaclyn Stapp, told the dispatcher that her husband had printed out about 600 pages of CIA documents, supposedly downloaded from the Internet, put them in a bag and took off on his bike.
Stapp also made a 911 call, and said his wife had stolen his truck which is why he was on a bike. He told cops later that his wife had stolen money from him, and decided to get him locked up after being confronted.
However, police eventually didn't find enough evidence about his mental instability to warrant a psych hold.
A report from a Madison County Florida Sheriff's Dept. earlier obtained by the entertainment news site, said cops found Stapp on the side of a road on Nov. 13 and he appeared intoxicated, incoherent and claimed someone was trying to poison him, forcing officers to place him on the 72-hour psych hold.
Stapp, who recently highlighted his struggles with substance abuse, has said he has been trying to revive his career by dedicating his time to more Christ-centered music.
The 41-year-old singer revealed in a Christian Post report a year ago when he launched his album, "Proof of Life," that he had found his way back to Jesus and was recovering from his drug-addled, suicidal rock star lifestyle.
Court documents recently highlighted by the Miami Herald, however, noted that Stapp's wife of eight years, a former beauty queen, had filed for divorce alleging that he was on a drug binge.
In the petition, she asks for full custody of their three children, charging that her husband is incapable of caring for them.
In a 15-minute video response posted to his Facebook page, the singer said the only thing that he's high on is his love for God; and that evil people have been working to slander and persecute him because he discovered his money was being stolen.
"About eight weeks ago I began an audit of not only my record company but my personal finances. During the course of that audit a lot of things were uncovered, a lot of money was stolen from me or royalties not paid and that's when all hell began to break loose," said Stapp in the video.
"There are people that have taken advantage and stolen money from me and they are trying to discredit me, slander me; I've even been threatened that if I even went public like I'm doing right now that any impropriety or anything I've ever done in my past that these individuals can get their hands unto to humiliate and embarrass and try to ruin my credibility that they would do that," he said.