Creflo Dollar Addresses Fatal Church Shooting, Thanks 'World Changers' for Prayers (VIDEO)
Former Employee Arrested After Shooting Bible Study Leader During Morning Chapel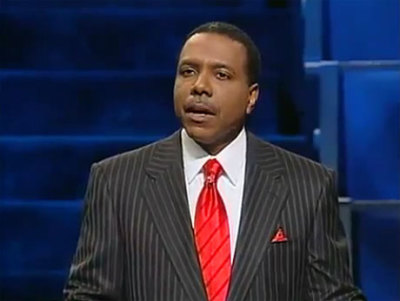 Creflo Dollar, pastor of World Changers Church International in Georgia, addressed his congregation Wednesday night after a former church employee walked into an early morning Bible study at the College Park campus and shot a member point blank while he prayed.
Dollar shared on his Twitter and Facebook networks yesterday the location for Wednesday night's Bible study, while expressing gratitude to members for their support.
"World Changers – Thank you for your prayers and support. Please note Wednesday Night Bible Study will take place tonight in the Dome, NY and all Satellite Churches. Join us with your entire family at 7pm EST. Again, we WILL have service tonight in the Dome. God Bless You and we look forward to seeing you there," wrote the popular Christian minister and best-selling author.
During that Wednesday night Bible study, Dollar told those in attendance that he first learned of the deadly shooting while he was in a morning briefing.
"While I was in my morning briefing, I got a report that some shoots took place over here in the chapel. So we were concerned, naturally, and we dispersed and everyone went into action," Dollar shared. "And we discovered that one of our very faithful, loving, kind servant... a gentleman, who serves our ministry on Wednesdays and Fridays and opens the door for my mother and for many of you, walked in on Wednesday this morning and – as his duties are on every Wednesday, making sure things are in place – but this Wednesday, as another very dear friend of ours, an employee of the church, a friend of the ministry, was doing corporate prayer and, while he was praying, he was shot several times and fell dead as he was leading corporate prayer."
The minister added, "I guess many people say 'what was that?' because we work so hard to try to be prepared for the evil that comes from the outside in, and we work so hard to be prepared for the challenges that come from the outside in. But sometimes you have to be careful because you can be clipped by something from the inside, from behind. That's what happened today."
The suspected gunman, who was apprehended hours after the 10 a.m. shooting in a room with about two dozen people, has been identified as Floyd Palmer, a 52-year-old former employee of WCCI.
The victim, 39-year-old Greg McDowell, was a member of the megachurch's production department and also worked with the maintenance department, police reportedly told the Atlanta Journal-Constitution. McDowell leaves behind a widow and their two young children.
Dollar called McDowell "a man of faith, a man of God, a man who I have known for a long time," and told those gathered Wednesday night that "now he is absent from the Body and present with the Lord."
Police say Palmer walked into the Fulton County College Park campus reportedly wearing a suit and tie and shot McDowell as he led prayer. Witnesses say the alleged shooter then left the scene in a black Subaru. He was arrested shortly before 4 p.m. at the Lenox Square in Buckhead, according to the AJC.
It has also been reported that Palmer, who left WCCI in August, has been charged previously with attempted murder, and was committed to a mental health facility in 2004 after being found "not criminally responsible" on an assault charge.
During the Wednesday night Bible study, Dollar called both Palmer and McDowell "precious brothers" and laid blame for the tragedy at the devil's door, and referenced John 10:10 while calling the devil a "thief" who comes to steal, kill and destroy.
The minister went on to vow that the church would assist McDowell's widow and children in everyway. A video of Dollar's remarks is included below.
Many supporters of Dollar's World Changers Church International have expressed shock and sympathy over the tragedy, with other ministers, such as Pastor Gregory Dickow, vowing to stand by the congregation.
"Standing with World Changers & my dear friend, Pastor Creflo Dollar. You have our prayers and support, from all your friends Life Changers International Church," wrote Dickow on WCCI's Facebook page.
According to the history shared on WCCI's official website, the ministry was established in 1981 and the first service of World Changers Ministries was held in 1986 in a school cafeteria. WCCI is nondenominational and home to about 30,000 members.
Messages left with WCCI's public relations department and the Fulton County Police Department were not returned by press time.
SHOOTING at Creflo Dollar Church World Changers