Darren Wilson: Michael Brown Autopsy Appears to Support Ferguson Officer's Self Defense Claim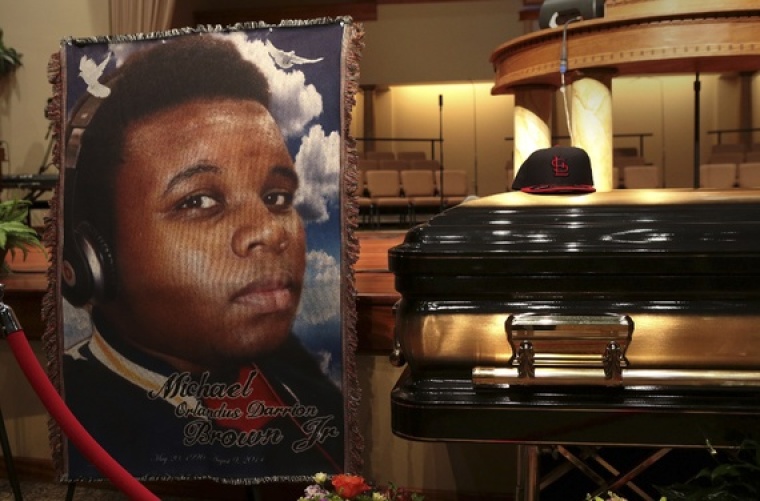 Ferguson Police Officer Darren Wilson has claimed self defense in the shooting death of Michael Brown and a newly released autopsy appears to support his claims.
On Tuesday a St. Louis Post-Dispatch analysis of Brown's official county autopsy revealed that on Aug. 9 the unarmed teen was shot in the hand at close range. This finding appears to support Wilson's claim that Brown reached for his gun during a struggle in his police car.
The six-year veteran police officer said that while he hit Brown with the first gunshot, he missed the teen with the second shot. FBI forensic tests reportedly show Brown's blood on the barrel of Wilson's gun, uniform and police car.
Wilson claims Brown ran away after the second gunshot and that he turned around and charged back at him, prompting the officer to shoot the teen again. The autopsy shows Brown suffered six gunshot entrance wounds.
A St. Louis County grand jury is still hearing evidence in the case and they are expected to decide Wilson's fate well before the Jan. 7 deadline.
On Friday, details surrounding Wilson's testimony appeared in a New York Times article and Ed Magee, a representative for St. Louis County Prosecuting Attorney Robert P. McCulloch, said he does not know how the publication obtained the information.
"I would assume that's how they got it," Magee told The Christian Post when asked whether the information was leaked. "I don't know."
Some legal analysts have questioned the timing of the Times report, which they say suggests there is a strong possibility of no indictment.
Magee would not comment when asked about the possibility of no indictment for Wilson. He said the outcome is ultimately in the hands of the 12 jurors (nine white and six black).
"No, the case is still being presented to the grand jury," he said.
Brown and a friend encountered Wilson while walking in the middle of the street at the Canfield Green Apartments in Ferguson. The officer reportedly demanded that they use the sidewalk when trouble ensued.
Since the shooting death of Brown, protesters have taken to the streets of Ferguson everyday demanding justice in the form of Wilson's arrest. Residents are said to be concerned about potential uproar should Wilson be cleared.
Angela Whitman, a Ferguson resident who was among activists meeting with U.S. Attorney General Eric Holder in August, found Wilson's account "hard to believe."
"There was speculation probably about a week ago that Wilson will not be indicted, and that he is going to get off. People are more angry now. There's more anger now than when the incident happened," Whitman said.
Also on Tuesday, Missouri Governor Jay Nixon announced the formation of a special Ferguson commission that will study various issues and find solutions to the underlying social and economic issues in Ferguson.
"When you have this level of energy and when you have what has happened over the last 73 days, you can rest well assured that we are focused and concerned on what could be the most problematic of scenarios," Nixon told reporters.