Daughter of Imprisoned US Pastor Andrew Brunson: Turkey Should Not Get Away With This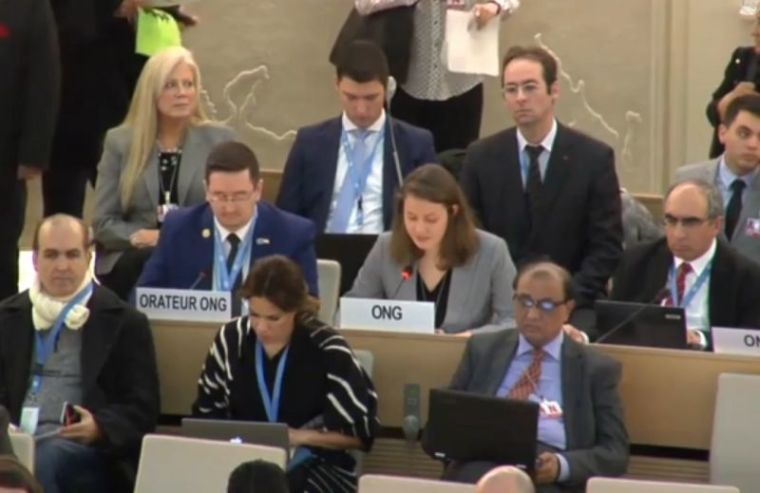 The daughter of imprisoned U.S. citizen Pastor Andrew Brunson in Turkey told the United Nations Human Rights Council that the terror allegations against her father are "absurd," as she shared a letter from him who said his only crime is being a "Christian pastor."
Jacqueline Brunson, speaking on behalf of the European Center for Law and Justice in Geneva on Friday, told the Council that her father has been wrongfully imprisoned for close to a year and a half, but is yet to be formally charged.
"Turkey should not get away with holding my father one more day," she maintained, urging the U.N. to do all it can to help see him get released and returned to America. 
"Having grown up in Turkey, it has been hard for me to understand the situation. My family loves and respects the Turkish people, and my father has been dedicated to serving them for over two decades," she said.
"I know the allegations against my father are absurd. He is not an armed terrorist trying to overthrow any government, my father is a peaceful pastor. My family has suffered greatly during the past year and a half, which has been filled with tears, and countless unanswered questions."
Pastor Brunson, who formally led Izmir Resurrection Church, has been caught up in a political net related to the Turkish government's crackdown on figures suspected to have played a part in the attempted coup in July 2016.
The American Center for Law and Justice said that authorities have presented no evidence proving Brunson's involvement, and accused the government of using him as a political pawn.
Turkish President Tayyip Erdogan suggested in September 2017 that a deal can be made to release Brunson if the U.S. hands over Fethullah Gulen, a Muslim cleric living in Pennsylvania whom Erdogan accused of staging the failed coup. But there has been no development on that.
Jacqueline Brunson told the Council that she was allowed to visit her father last August, where it was hard to see him "broken, thin, desperate."
She shared a note from the pastor last week, where he wrote:
"Let it be clear, I am in prison not for anything I have done wrong, but because of who I am — a Christian pastor. I desperately miss my wife and children. Yet, I believe this to be true, it is an honor to suffer for Jesus Christ, as many have before me. My deepest thanks to all those around the world who are standing with and praying for me."
In February, the ACLJ published another letter Brunson wrote to his wife in jail, speaking of his deep struggles.
"I am very discouraged. Please have prayer for me," the evangelical pastor told his wife, Norine, via an embassy official.
"I love you — can't handle the thought of growing old in this place, without you."
In January, when marking his 50th birthday, he shared his thanks to all those who have not forgotten him and his plight.
"I am deeply grateful to all who have prayed for me. This trial — time in prison — has stretched me far more than I ever would have imagined. I have been very weak, had many doubts, felt very alone. I know that God's grace is sustaining me, even when I do not feel that grace, and I know that the prayers of God's people are surrounding me and giving strength," he wrote at the time.