Pastor Prays Inside Tunnel in North Korea, Asks 'Gates of Hell Not to Prevail Against Church'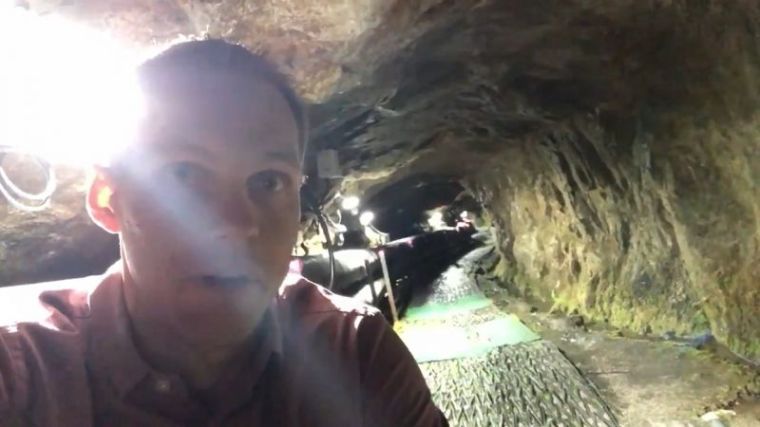 Pastor David Platt recently visited the border between North and South Korea, praying for persecuted believers outside a demolished church and inside a secret tunnel.
Platt, who leads McLean Bible Church in Washington, D.C. and serves as president of the International Mission Board, a position from which he has said he will be resigning from, posted several video clips on Thursday of him praying for Christians in the world's most oppressive regime.
In one video posted online at the Demilitarized Zone on the Korean Peninsula, Platt revealed that he was standing outside a church building that was destroyed by Communists, leading to "all kinds of torturing and killing" happening inside.
"The history goes back to before even the Communist takeover," he revealed.
"When Japan was ruling here, and the pastor of this church refused to participate in shrine worship, the pastor was martyred. Right behind me is a picture of faithful saints who in the last century worshiped Christ here and paid for it with their lives. It's a reminder of church buildings like this all across North Korea," he said, noting that all have been destroyed, or converted to be used for other purposes.
The pastor asked, as part of his prayer, for "the gates of Hell not to be able to prevail against the Church of Jesus Christ."
In a follow-up clip on Twitter, Platt revealed that he was inside a tunnel that North Koreans had dug in an attempt to get into South Korea.
"Theories are that they were preparing for a sneak attack, that kind of thing," he said.
"Above this tunnel there is massive border that is extremely hard to get across," he added.
"Unreached people are unreached for a reason," Platt noted, urging Christians to "pray for the spread of the Gospel through any possible way."
In a blog post on Radical.net ahead of his three days of preaching in South Korea, Platt urged Christians to pray for their persecuted brothers and sisters.
"God, in places where it is dangerous to proclaim Your Word, we pray that you would give them grace and boldness to proclaim it. Boldly, wisely, humbly, God, knowing that there is risk to their lives in that, please oh God, help them," he asked in his prayer.
"Please strengthen them. God, as persecution comes we pray that you would stand by them, be with them, deliver them. God, we pray, please help them. Please, please help them, so that Your Word would go forth in North Korea. God, please help our brothers and sisters not to stay silent with Your Word in North Korea. Help them to know how to share it," he pleaded.
Persecution watchdog group Open Doors USA, which lists North Korea as the worst place for Christians in the world, recently offered an analysis for why leader Kim Jong Un remains "afraid" of the religion.
"It's likely because people who are following Jesus and who are committed to one another mean there are people he can't control, and who follow a greater King. It means there are people who practice radical love for each other and for Jesus — who won't so easily follow Him and the lies of his regime," the group said.
"This is why Christians continue to be seen as 'dangerous' and are also part of the hostile class, according to the country's social system called songbun. What this means is that anyone who is known to be a follower of Jesus is immediately assumed to be a hostile political figure."
The 300,000 or so Christians in North Korea are forced to practice their religion in total secrecy, with untold numbers sent to prison camps and even executed for their faith, the watchdog has warned.