DeVon Franklin, T.D. Jakes, Joe Roth Producing 'Miracles From Heaven' Film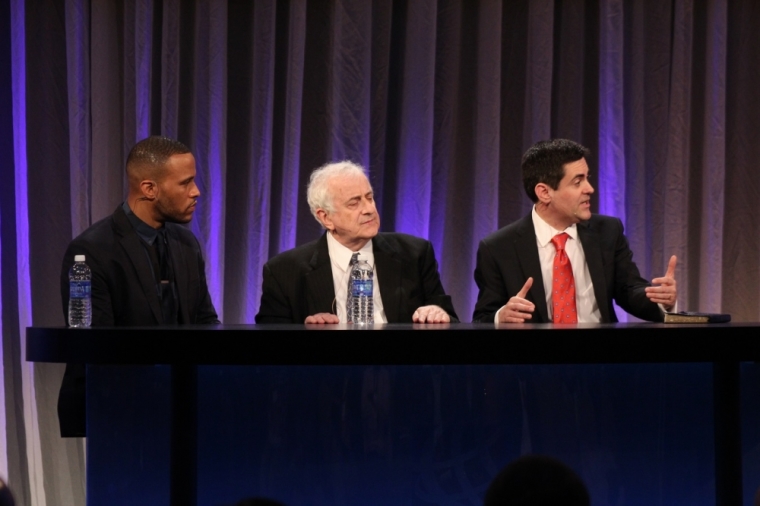 Bishop T.D. Jakes, DeVon Franklin and Joe Roth, are teaming up to bring a new faith-based film, "Miracles From Heaven," to the big screen.
Franklin, the 36-year-old Hollywood executive and Seventh-day Adventist minister, began his own production company called Franklin Entertainment earlier this year. He helped present a proposal for the upcoming book, Three Miracles From Heaven: A Sick Little Girl, Her Journey to Heaven, and the Lives Forever Changed, written by Christy Beam, according to The Hollywood Reporter.
The story is a true tale about the Christian Texas native, Beam's daughter, who miraculously overcame a rare disorder that forced her to eat with tubes and carry colostomy bags instead of using toilets. After Beam's daughter fell three stories, the memoir reveals the young girl visited heaven and was cured of her rare condition.
Although the book is not due to be released until next spring, plans for it to be turned into a film next year are already in existence, according to The Hollywood Reporter. Jakes, the 57-year-old senior Pastor of The Potter's House Church, is also joining the project to produce alongside 66-year-old film producer Roth.
The pair teamed up to produce the film "Heaven Is for Real" earlier this year with Franklin and will reunite to bring Miracles From Heaven to the big screen. Earlier this year Franklin spoke about his Franklin Entertainment production company working with Sony to change people's lives one film at a time.
"It's about finding great content with mass appeal that still has an uplifting quality about it," Franklin previously told Millennial Magazine. "I want people's hearts to be touched, their lives to be touched, and I want the evidence of that to show up at the box office."
Franklin also explained how he is able to merge his Christian faith and career.
"The more I started embracing the ministry side, the more it actually added to my career in Hollywood," Franklin told The Hollywood Reporter earlier this year. "Knowing what challenges people are facing and then working on movies that can address those real-life issues gave me a path in this business."