Dinesh D'Souza Resigns as Head of Christian College Amid Controversy
Dinesh D'Souza resigned as president of The King's College after a magazine story revealed that he was engaged to another woman while still married to his wife of 20 years.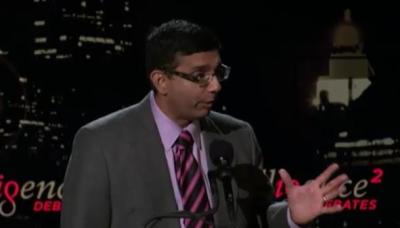 The Board of Trustees of The King's College, a Christian institution based in New York, accepted his resignation Thursday.
"God has a mighty future for Dinesh, but there are some things he has to go through first," said Andy Mills, who will serve as interim president for the third time. "Christianity is about truth, but it's also about mercy. The love and care and attention of the board for Dinesh is amazing."
"This has been a very difficult period for the board and the college," he added, according to The Empire State Tribune, the college's student publication. "The success or failure of an institution is not based on a man. It's based on what God does."
The board spent hours in meetings this week after World Magazine reported that D'Souza and a young woman, Denise Odie Joseph II, stayed in the same hotel room last month. The two were attending an apologetics conference in South Carolina where D'Souza was invited to speak about his box office hit "2016: Obama's America."
D'Souza had introduced Joseph as his fiancée to several attendees, according to World.
The Indian American, who was raised Catholic and now identifies himself as a nondenominational Christian, accused the magazine of libel.
He stated Wednesday that he and his wife, Dixie, have been separated for two years.
"Dixie approached me and demanded this before I came to King's College to become its president in late August 2010," he stated.
He also maintained that he and Joseph, whom he met three months ago, have not been having an affair and denied sharing a hotel room.
"I clearly told [Alex] McFarland that Denise and I stayed in separate rooms," he asserted.
World had reported that D'Souza told conference organizer McFarland that nothing happened that night though they shared the same hotel room.
The apologist and film producer filed for divorce on Oct. 4, after the conference, but he clarified that he began working with a San Diego law firm on the divorce weeks before.
Denying any wrongdoing, D'Souza stated, "I sought out advice about whether it is legal to be engaged prior to being divorced and I was informed that it is. Denise and I were trying to do the right thing. I had no idea that it is considered wrong in Christian circles to be engaged prior to being divorced, even though in a state of separation and in divorce proceedings.
"Obviously I would not have introduced Denise as my fiancé at a Christian apologetics conference if I had thought or known I was doing something wrong. But as a result of all this, and to avoid even the appearance of impropriety, Denise and I have decided to suspend our engagement."
D'Souza accused the magazine of sensationalism and of having a "vendetta" against him, noting that the editor of World, Marvin Olasky, resigned as provost of The King's College when D'Souza was appointed president. World has denied the claims.
The King's College will begin its search for a new president immediately. Mills said they want to find someone who shares the vision of the Christian college.
Answering Difficult Questions