Donald Trump Announces Run for President; 'I Will Be the Greatest Jobs President God Ever Created'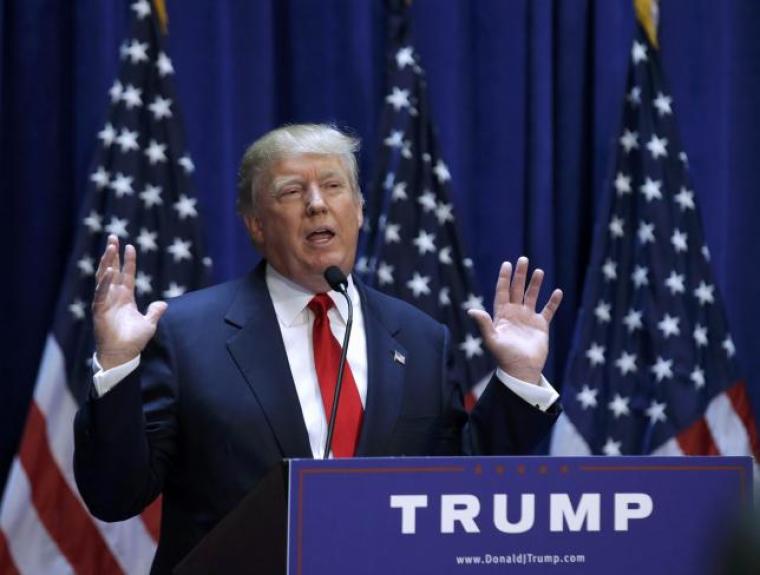 Real estate mogul and reality TV star Donald Trump became the 12th candidate to jump into the growing pool of 2016 Republican presidential candidates Tuesday when he declared in a 45-minute speech that he wants to be in the White House and promised that he "will be the greatest jobs president God ever created."
"So, ladies and gentlemen, I am officially running for president of the United States, and we are going to make our country great again," Trump told a supportive crowd at the lavish Trump Tower on Fifth Avenue in New York City.
Trump, who declared his net worth to be nearly $9 billion ($8,737,540,000 to be exact), launched withering criticism at both the domestic and foreign policy agenda being pursued by the Obama administration on signature issues such as healthcare, immigration, trade and nuclear weapons.
"Obamacare kicks in in 2016, it is going to be amazingly destructive. Doctors are quitting. I have a friend who is a doctor and he said to me the other day, 'Donald, I've never seen anything like it. I have more accountants than I have nurses. It's a disaster. My patients are beside themselves. They had a plan that was good, they have no plan now.' We have to repeal Obamacare and it can be replaced with something much better," said Trump.
He said the "greatest social program is a job" then declared "I will be the greatest jobs president God ever created, I tell you that."
He added: "I'll bring back our jobs from China, from Mexico from Japan from so many places. I'll bring back our jobs and I'll bring back our money. Right now we owe China $1.3 trillion. We owe Japan more than that, so they come in, they take our jobs, they take our money and they loan us back the money and we pay them in interest, and then the dollar goes up and then the deal is even better."
Trump, who identifies as a Christian, also criticized America's current crop of leaders as "stupid" for some of the trade and foreign policy deals that were made and said President Obama "doesn't have a clue" about negotiating and making deals.
"How stupid are our leaders? How stupid are these politicians to allow this (terms of trade deals with China, Japan) to happen? How stupid are they?" he asked as the crowd chanted "we want jobs."
"Our president doesn't have a clue" he's not a good negotiator. Bergdahl.
He criticized the nuclear negotiations with Iran and said if Obama "makes that deal Israel won't exist for very long." He also said the deal involving the exchange of Sergeant Bowe Bergdahl who was held captive by the Taliban for nearly five years for five Taliban members who were being held at the detention center at Guantanamo Bay in 2014 was a bad deal.
"I'm a free trader but the problem with free trade is that you need really talented people to negotiate for you," said Trump.
If he's elected to the White House, Trump said his priorities will include: a repeal of Obamacare; constructing a great wall on the southern border that Mexico will pay for; getting tough on ISIS; stopping Iran from making nuclear weapons; supporting the Second Amendment; rebuilding America's infrastructure and saving Medicare, Medicaid and Social Security without cuts.
"If I get elected president I will bring it back bigger, better and stronger," he said.
Watch his full speech below.