Donald Trump Declares His Favorite Book Is 'the Bible;' Prophet Says God Told Him Billionaire Is His 'Trumpet' to America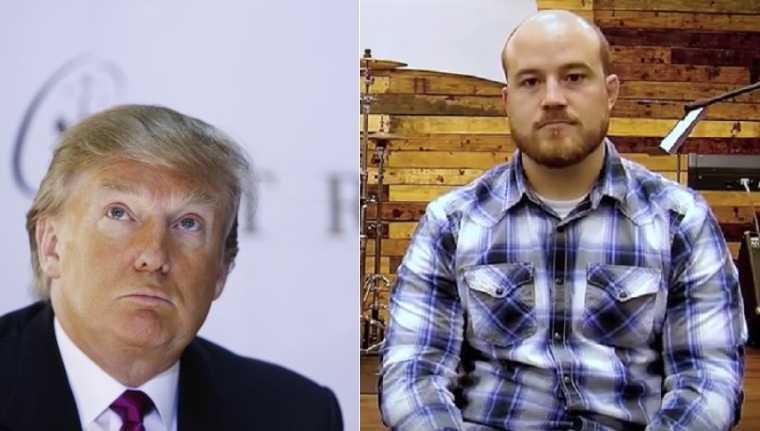 When it comes to books in the world of 2016 GOP presidential frontrunner Donald Trump, "nothing beats the Bible." No, not even his second favorite book which he wrote himself, The Art of the Deal.
Stumping in Birch Run, Michigan, on Tuesday in a 52-minute speech delivered to an adoring crowd of 2,800 people who paid $25 a head to hear him speak at the Birch Run Expo Center, the "proud Presbyterian" declared his love for the Good Book above all else.
The declaration came when, according to The Washington Post, the real estate mogul asked the crowd how many of them had read The Art of the Deal, his first book. Hundreds of hands were reportedly raised.
"It's my second favorite book of all time," said Trump. "Do you know what my first is? The Bible! Nothing beats the Bible," he added to applause.
The comment comes on the heels of a controversial declaration made by Florida preacher Jeremiah Johnson of Behold the Man Ministries a few weeks ago, in which he said God told him that He will use Trump as His "trumpet to the American people."
"I was in a time of prayer several weeks ago when God began to speak to me concerning the destiny of Donald Trump in America," Johnson noted on his website.
"The Holy Spirit spoke to me and said, 'Trump shall become My trumpet to the American people, for he possesses qualities that are even hard to find in My people these days. Trump does not fear man nor will he allow deception and lies to go unnoticed. I am going to use him to expose darkness and perversion in America like never before. But you must understand that he is like a bull in a china closet,'" Johnson said God told him.
"Many will want to throw him away because he will disturb their sense of peace and tranquility, but you must listen through the bantering to discover the truth that I will speak through him. I will use the wealth that I have given him to expose and launch investigations searching for the truth. Just as I raised up Cyrus to fulfill My purposes and plans, so have I raised up Trump to fulfill my purposes and plans prior to the 2016 election," he continued, recounting what he claims God revealed during prayer.
"You must listen to the trumpet very closely for he will sound the alarm and many will be blessed because of his compassion and mercy. Though many see the outward pride and arrogance, I have given him the tender heart of a father that wants to lend a helping hand to the poor and the needy, to the foreigner and the stranger," Johnson's statement ended.
After his purported revelation was first published by another media company here, Johnson said on his Facebook page that he has received a lot of backlash for the post and sought to clarify any misconceptions.
"I will not attempt to defend myself here, I will leave that up to the Lord Jesus now and when I stand before Him and give an account for every word I've spoken. The goal of this post is to strictly help those who read the article and have questions and what largely appears to be a gross misinterpretation of what was published," he said.
He then noted:
What the article does NOT say:
1. Donald Trump will be the next U.S. President.
2. Donald Trump will be the GOP nominee.
3. That I (Jeremiah Johnson) personally support and endorse Donald Trump's personal moral decisions or anything he has publicly said regarding politics (including the past).
4. Donald Trump is a devout Christian and His life aligns with biblical principles.
"First of all I'm Protestant. I'm Presbyterian. I'm proud of it. I'm very proud of it," Trump declared in an interview with CBN's David Brody a month before he announced his candidacy in June. "Believe me, if I run and I win, I will be the greatest representative of the Christians that they've had in a long time."