Trump Under Fire for Saying Transgenders Have Right to Use Women's Bathrooms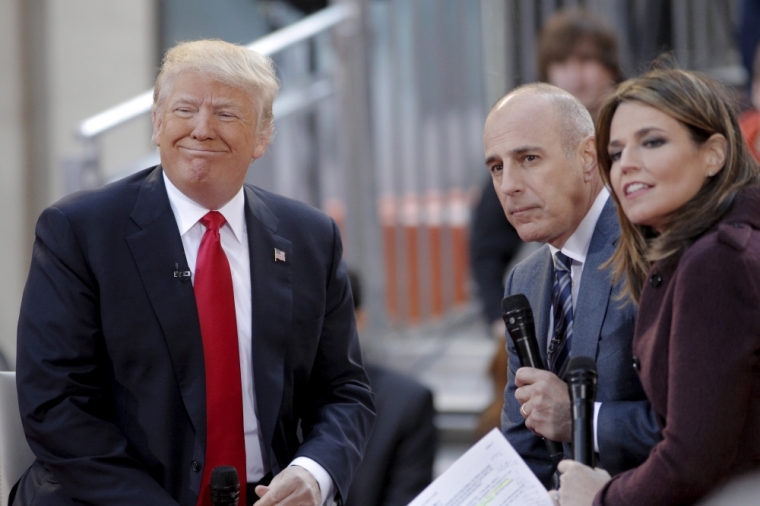 Republican presidential frontrunner Donald Trump said Thursday that he is alright with transgender individuals using whatever restroom or changing room they feel is appropriate and criticized North Carolina's recently passed transgender bathroom law.
During a town hall-style event in Manhattan's Rockefeller Center hosted by NBC's "Today" show, the billionaire real estate mogul was asked about his position on transgender bathroom rights and the recently passed North Carolina law that prohibits local governments from forcing businesses to open women's bathrooms to men who identify as female.
"Leave it the way it is. North Carolina, what they're going through with all the business that's leaving, all of the strife — and this is on both sides. Leave it the way it is," Trump argued.
Trump added that people should use whatever bathroom they feel most comfortable with.
"There have been very few complaints the way it is. People go. They use the bathroom that they feel is appropriate," Trump said. "There has been so little trouble. And the problem with what happened in North Carolina is the strife and the economic — I mean, the economic punishment that they're taking."
Trump also decried the idea of gender-neutral bathrooms.
"There is a big move to create new bathrooms. The problem with that for transgenders … I think that would be discriminatory in a certain way," Trump reasoned. "It would be unbelievably expensive for businesses and the country. Leave it the way it is."
Trump was also asked by host Matt Lauer: "If Caitlyn Jenner were to walk into Trump Tower and want to use the bathroom, you would be fine with her using any bathroom she chooses?"
"That is correct," Trump responded.
Trump's comments, which conflict with the views of many conservative Republicans, drew the ire of Trump's campaign rival Texas Sen. Ted Cruz. Cruz issued a tweet Thursday criticizing Trump's comments.
"Common sense: grown men shouldn't be in bathrooms w/ little girls. @realDonaldTrump told us he could be PC, but wow," Cruz wrote.
Earlier in the day, Cruz addressed the issue of transgender bathrooms in an interview with Glenn Beck, suggesting that America has "gone off the deep end."
"You have got the Obama education department suing to try to force [middle schools] to let teenage boys shower with teenage girls. That's crazy. That is not a reasonable position," Cruz explained. "It is simply crazy and the idea that grown men would be allowed alone in a bathroom with little girls — you don't need to be a behavioral psychologist to realize bad things can happen and any prudent person wouldn't allow that. It is only the lunacy of political correctness."
Cruz also criticized ESPN for firing Curt Schilling for speaking out on Facebook about allowing biological men in women's bathrooms.
"ESPN fired Curt Schilling for making the rather obvious point that we shouldn't allow grown adult men, strangers, alone in a bathroom with little girls. That's a point anyone who is rational should understand," Cruz said.
Trump's comment was also criticized by the reelection campaign of North Carolina Gov. Pat McCrory, which defended the intent of the law.
"Governor McCrory has always said that North Carolina was getting along fine before the Charlotte City Council passed its unneeded and overreaching ordinance. Now that it has been overturned, businesses can adopt their own policies — like Target has — instead of being mandated to allow men into women's restrooms by government," McCrory's campaign spokesman Ricky Diaz said in a statement. "Where the governor disagrees with Mr. Trump is that bathroom and shower facilities in our schools should be kept separate and special accommodations made when needed. It's just common sense."