Dr. James Dobson, Son Ryan: How to Share Your Christian Faith With Children in a 'Self-Centered Culture' (Interview)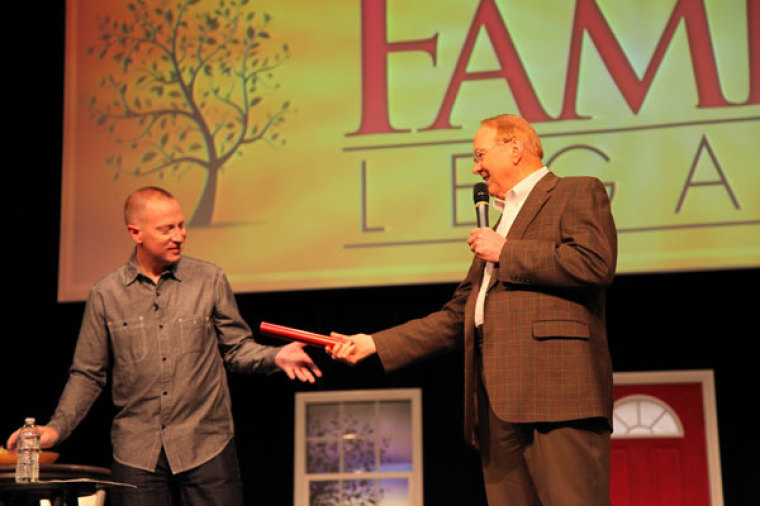 Dr. James Dobson and his son, Ryan, recently stopped by CP Voice to discuss their new film series, "Building a Family Legacy," and to share how parents can pass along their Christian faith to their children who are growing up in a self-centered culture.
Ryan talked about the sexually charged and self-centered culture that parents must deal with when raising children today and explained how it differs from when his father was parenting.
"[Parenting today] is harder," said Ryan Dobson to The Christian Post. "The oversexualization of our culture is just insane. And the self-centeredness, the entitlement nature that we have. I did a piece for The Wall Street Journal not long ago about Kim Kardashian. She's got a new book coming out, it's called Selfish. And it's all photos of herself. And I think what a terrible legacy to leave behind."
Ryan defended his father's legacy in the process and explained how all of Dr. Dobson's efforts are made to impart his wisdom, knowledge and faith in Jesus Christ into other families.
Speaking about how parents can start talking to their children about their faith in Jesus Christ, Dr. Dobson said he believes the process should start at a young age.
"Start very, very early," Dr. Dobson told CP. "You begin by telling children about the trees and the clouds and the flowers when they're just very, very small. I learned to pray before I learned to talk, because I heard my parents pray. I didn't know the meaning of the words, but I knew that there was something going on there. I was a little over 1-year-old when that occurred."
Dr. Dobson further emphasized that starting to impart faith early on can build a strong foundation for children going forward, and added that he believes the teachings will stay with them throughout their life.
The founder of Family Talk, Dr. Dobson also told CP about his latest book, Your Legacy: The Greatest Gift, which he believes is the capstone of all of his work.
"I began writing in 1970," Dr. Dobson said. "My first book was Dare to Discipline. That book and all of those that came after have been pointing toward what I said now in Your Legacy. It has to do with the Christian message that you're trying to convey to your children And the essence of it is that everything else that you accomplish in life, all the other significant moments and things that you've done [as a parent], will pale in comparison with that understanding that [your children] know who Christ is, they know what He asks of them and they understand Scripture."
"Building a Family Legacy" is available at DrJamesDobson.org. Your Legacy: The Greatest Gift and Wanting to Believe are available wherever books are sold.
                                                WATCH THE CP VOICE INTERVIEW HERE