Early depiction of Jesus discovered in Israel: Curly hair, long face, 'not like Western image'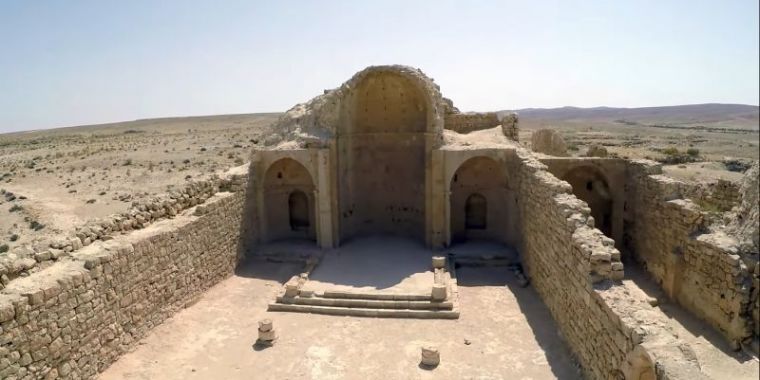 A newly discovered artistic depiction of Jesus in the ruins of an ancient Israeli church portrays Christ differently from Western conceptions, with curly hair and a long face.
Art historian Emma Maayan-Fanar told Haaretz that the painting was discovered in the ruins of Shivta, formally a Byzantine farming village in Israel's Negev desert. 
"His face is right there, looking at us," Maayan-Fanar said of the eroded painting found at the ruins of a church, meant to depict Jesus' baptism.
She explained that unlike Western perceptions that often portray Jesus with flowing long hair, the Shivta painting depicts Him with short curly hair, a long face and an elongated nose.
The exact date of the artwork is not yet known, though Shivta is believed to have been founded sometime in the 2nd century C.E.
Another painting of Jesus in the ruins of Shivta discovered earlier symbolizes the transfiguration, but does not depict His face.
Though the ancient village was first discovered in 1871 and has been the subject of much archaeological work, Maayan-Fanar believes she is the first to discover it is Christ's image underneath the centuries of dirt on the painting.
"I was there at the right time, at the right place with the right angle of light and, suddenly, I saw eyes," the art historian recalled. "It was the face of Jesus at His baptism, looking at us."
Dror Maayan, her husband, took hi-res photographs of the site, which further allow the image lost for over 1,5000 years to become clearer.
The find is said to be "extremely rare," given that early depictions of Jesus' physical appearance are practically non-existent in Israel.
The question of what Jesus really looked like has long been the subject of debate by historians and theologians. A book earlier in 2018 by Joan E. Taylor, professor of Christian origins and Second Temple Judaism at King's College London, tackled that precise question, and looking at what His skin and hair color, height, and attire might have been.
"The early depictions of Jesus that set the template for the way he continues to be depicted today were based on the image of an enthroned emperor and influenced by presentations of pagan gods. The long hair and beard are imported specifically from the iconography of the Graeco-Roman world. Some of the oldest surviving depictions of Jesus portray him as essentially a younger version of Jupiter, Neptune or Serapis," Taylor wrote in The Irish Times.
He said that in reality, Judaeans of Jesus' time were closest biologically to modern-day Iraqi Jews.
"In terms of a colour palette then, think dark-brown to black hair, deep brown eyes, olive-brown skin. Jesus would have been a man of Middle Eastern appearance. In terms of height, an average man of this time stood 166 cm (5 ft 5 in) tall," the author of What Did Jesus Look Like? suggested.